1. Four Flush VNDB
In the future, the cities of the Earth merge into a single megalopolis. Life has stabilized, and each new day is similar to the preceding one. Human beings have lost connection to the culture of the past. The huge city doesn't even have a name, and is simply called "City". Poor people live in the slums, and have no access to the quarters of the rich. Corruption reigns. The hero of the game belongs to an organization of assassins known as "Card". His last mission is to kill corrupted policemen who have been trafficking drugs. The hero must hide, but his relationships with other "Card" members are anything but clear...
Hard boiled SF setting with good visuals, sound and frequent animation. What's more to desire? Sometimes there's just something missing. Commands vary for each scene, so immersion is greater than in usual interactive adventure. But after great introduction the work lingers without much tension. Drawing is done my popular manga artist, but it won't be to everyone's taste. Story ends in a satisfactory fashion, but lacks excitement. 
  2. Lipstick Adventure 3 VNDB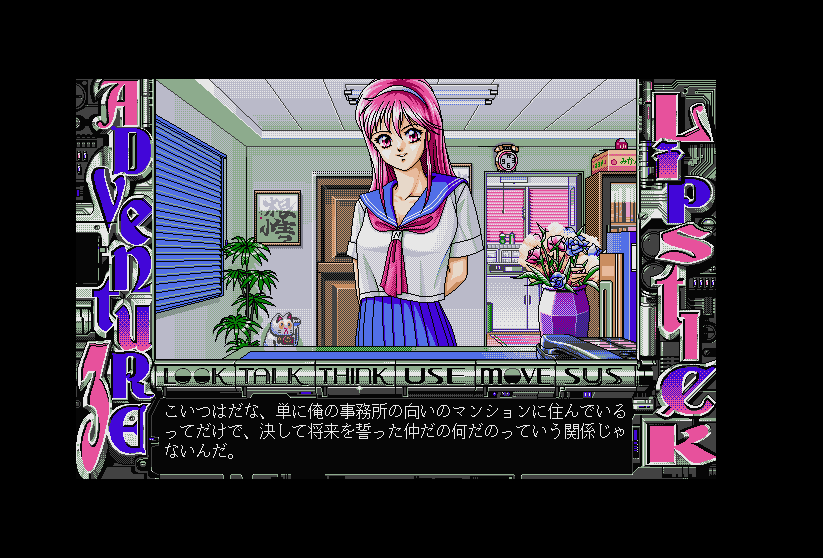 This entry in the Lipstick Adventure series continues the story of the young private detective Gorou and his sweetheart Otomi. After attending a friend's marriage ceremony, they return to Gorou's office and find a strange package in the flowers. The package contains pictures of Otomi and several other girls, her schoolmates, some of them naked. Gorou heads to Otomi's high school to begin the investigation, without realizing that he will soon become involved in a sinister conspiracy...
Final work of the series. Well, there was 4th game 8 years later made by a new company, but that was an ordinary eroge already. So in 3rd Lipstick Adventure Mami is again a schoolgirl and events take place roughly a year after first game. It's also new for the series to finally have a good sound support. From time to time perspective changes to Mami's eyes. H element was totally eliminated with provocative moments and occasional naked breast being all that's left. The plot got an unexpectedly serious dimension. First you find photos of Mami's classmates naked, then the spouse of former school director was found dead. So story was not too light-hearted. Overall good old Lipstick Adventure was back in its most technologically advanced form. It's still a great game, especially for those who played previous two parts, but compared to audacious newcomer VNs of 1993, it's fabula just got old.

3. Metal Eye VNDB
In Metal Eye, the player takes the role of a young weapons expert named Findhill. His father was apparently involved in a project that dealt with creating artificial life forms. But recently he has disappeared without a trace. Findhill remained alone, in a small town surrounded by vicious monsters. He wants to become a hunter, just like his father once was, to get rid of the monsters roaming the wilderness, and get to the bottom of his father's disappearance and his mysterious project.
As the next Elf game, it was stormed out of the stalls by the army of Classmates fans. But actually Mr.Hiruda was not in charge of the scenario this time. The battles balance was laughable, the encounter rate high, but need to struggle through to get to the real game, right? Not really - you fight through and see bed scenes with beautiful girls, that's how VN rpgs work. So many players felt betrayed. It was actually a good SF story with animated battles some novelty RPG features. So quite an average RPG, but the problem was that such average games hurt Elf reputation greatly.

4. Quintia Road 2 VNDB
News Chrome is a young FBI agent who was pursuing an evasive target on a mission. Suddenly, the suspect disappeared into a portal. Following him, News found himself in a desert. Before long he meets a princess named Sarah who asks him to aid the inhabitants of the magical world Quintia against a mysterious sorcerer.
Unlike prequel, there's no English review for this game and information is scarce. In the world News was teleported to magic got out of control. Fairies and dragons became an everyday sight. And evil magician Edwin Rune was preparing to dominate the world. Same five kingdoms persisted, same commands, including feature anxiety command that could do something good or something bad. Game got light RPG elements as heroes got stats, basic inventory items and real tactical battles. But at the same time story got linear, you can't choose where to go anymore, so satisfaction was not high. Playing the prequel is required to understand the gags scattered around the same locations.
5. Ranma 1/2 - Byakuran Aika VNDB
The game features an original story centering on a new character, Arisa Nanjo. After Ranma Saotome's friends go missing, it is up to him to track them down.
There is a sufficient number of English reviews here.
6. Shinc VNDB
The plot of Shinc is as simple as its title: the hero - aptly named Hero Narcissus - is a lone adventurer in search of a job. He arrives at a town which is populated mostly by young sexy women. The hero hasn't even enough money to visit the local brothel. Since the king hasn't asked him to rescue a princess (yet), his first quest, given to him by the pretty weapon shop owner, is to venture into a nearby cave, "Realm of Anguish", to defeat the monsters lurking there and retrieve valuable items. Naturally, this is just the beginning of a long career, which involves saving the kingdom and becoming a true hero.
RPG with quite simplified rules for this genre. The only prominent feature of this work is scrolling CG, so that 1/3 of the screen is seen to up to 1/8th of the screen. Quite mediocre plot, so game may have value only for RPG fans.