Fabulous on Fuwa - February!
---
Introduction
Welcome, fellow Fuwamembers, to the FuwaRecognition thread. Starting this March, we'll be highlighting some of the best contributions made by our members each month. From snazzy blog articles to delicious forum threads, and perhaps even a few things more on the shitpost part of the spectrum, we'll keep an eye out for the cream of the crop. And then we'll gather them here. Just for you.
*holds up giant APPLAUSE sign*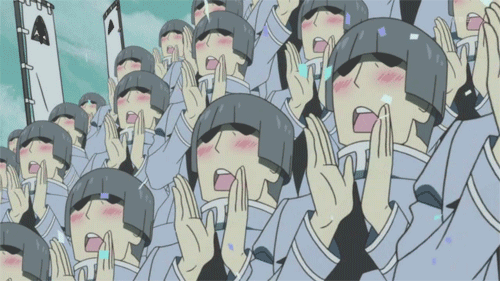 A-hem, so this is the first time we're doing this and it might be a bit rough; next time will be at the end of March. Anyways; without further ado, let's get to our highlights. 
By @Zakamutt.
Threads
Our first highlight on threads comes from two Ask Me Anything topics posted in the span of this month: from our dear provisional Tay, @Kaguya, and from the anti-moege task force founder himself, the saltlord himself @VirginSmasher.
It's now Kags' fifth year on these dear forums, and members of new 'n old had a lot of questions, climbing over to 50 comments, almost unheard of in this day and age of lacklustre forum interaction. Even after the glory days of lolis long passed, Kaguya still swears close to his heart how they indeed are the master-race that rule over this weeb-dom, mostly in nukige form. Charming.
@VirginSmasher's AMA, on the other hand, is mostly an appreciation of past glory and his good friends, met before he died out, but he also remembered some newer members who are already becoming an integral part of these forums of today. Quite a lot of internal banter and jokes flew here and there, but it is quite touching to see even older members returning from long breaks of apparent irremovable death.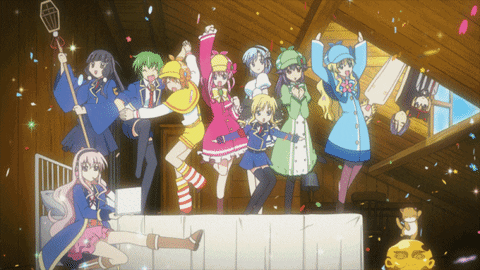 As you might have seen, we have a new EVN on the horizon, or rather, KickStarter: One Last Crane, developed by @Blissful-Works This visual novel is being developed by an Indonesian team with some members over at Tokyo, Japan, and it has a an odd goal amount of 10,052 dollars, though this is due the publicization of the project being handled from Japan, which also makes the whole project page ask all money in yens. A risky play, let's see if it pays out for them.
The novel is planned on being released for four languages: English, Japanese, Chinese, and Indonesian. Quite the amount for still quite a small goal, but we'll have to see how it pans out in the end, at least they are in no shortage of ambition.
While the art-style itself is quite generic, it does look modern and does its job as presentation well enough, not to mention that the KickStarter page itself is quite stylish, but only time will tell how it'll go over. All we can do is wait.
@EastCoastDrifter has done something unique on the forums that no one would even think of. He loves space, and he has extended his love to the members of the Fuwanovel community by creating a Fuwanovel Solar System. Using a program called Space Engine, Drifter has taken the liberty to name all planets in this system after very prominent Fuwamembers. It's a great tribute to the community and you should really check it out. Furthermore, Drifter says he's not done, and has plans to create more Fuwa solar systems to feature more members in the future. If you want a planet named after you, feel free to post in the linked thread or contact Drifter personally.
By @Arcadeotic and @EastCoastDrifter.
Blogs
Hi I'm Zaka and I'm the only one that cares about blogs on the team. Maybe. I didn't actually ask the other guys. Shit. So uhh, here's my recs...
@Clephas writes accessibly about (for the most part) untranslated Japanese visual novels. This time, we have some posts about the recently released third VN in the Otome wa Boku ni Koishiteru series, of which the first actually has a translation by MangaGamer. Unfortunately, the second is where people think it actually got good. We start with a more general note on the series, then move on to a review of Otoboku 3 itself.
While Clephas has been writing for quite a while, @MaggieROBOT is a bit newer to the scene. She focuses on Otome and BL VNs, and for this post we'd like to show you her post on an upcoming BL visual novel (fresh from the pot, baby. That thing is probably the first blog post to come right after this one. Oh yeah. That's how we roll. - Kaguya) as well as her review of the robot-romance Otome VN Sakuya. Go ahead and look for her post complaining about a trap in a moege not having a route if you like things on the more humorous side of the spectrum
Just For Fun!
During the process of writing this post.
Well you know I'm all about that nepotism baby. That's right, this is just for you. Rising 1.8% female readership (thanks Maggie) local GM and blog post connoisseur Kaguya here. To close the blog review section up, we'll be highlighting the post where I wonderfully delve into the mind of writer Setoguchi Ren'ya, explaining his past and his involvements with the little-known work The Shawshank Redemption as well as how that work affected the VN industry, finishing things with a bang as I explain his history and the hidden messages within Swan Song.
And finishing things off in a suitable grand scale, much like a writer who traps himself into writing continuously larger powerlevels until his shounen manga gets to a point where it doesn't even resemble the original, we will be looking at two posts made by Fuwanovel's current closest figure to Jesus, @Kiriririri (Who unlike our creator, did revive. How about that?)
He died for our sins as he bravely made two deep posts about the current state of the VN community that were completely hidden by the evil staff... Until now. Gaze upon them and marvel, this is the true work of a genius!!
February is over. We bled. We sweat. Friendships were broken and renewed, and old members revived from their graves and mingled with the new pringles to take us where we are now. And the community persists, as glorious as ever. 
March is here. And in this rewind, I declare FebruaryFuwa absolutely Fabulous!