World War 2 and Nazi Germany aren't completely atypical themes in VN and manga/anime – some beloved and high-profile titles, such as Dies Irae or Hellsing take a very direct inspiration from nazi imagery and legends about NSDAP's elites' dealings with the occult. More down-to-Earth war stories are however much rarer in this context – prominent franchises such as Valkyrie Chronicles or Saga of Tanya the Evil not only utilize much less controversial political and military framework of WW1, but also add significant fantasy elements to the mix.
          To apparently remedy this sorry state of affairs, a small OELVN titled Panzer Hearts was recently released on Steam. Developed by HELYEES, this game promises a story of war and romance in an alternate universe WW2. To this it also adds the theme of tank-building, that should probably excite every military geek such as myself. However, as fantastic as this all sounds, can this tiny indie game actually deliver on all that?
The game's vision of totalitarian society is believable and well thought-out, but with an around 5-hour long story, it's ultimately too short to explore it to a satisfying degree
The game's story follows Bastian, a young soldier of the totalitarian, expansionist Empire (vastly resembling Nazi Germany, but with the national-socialist imaginary replaced by Ancient Egyptian themes), who idealistically enlisted for the army and was humiliatingly wounded the first time he saw combat. After heavy recovery and an emotional breakdown, he's personally enlisted by an influential officer, colonel Kontar Ackermann, to work at a new tank factory, starting a journey that will lead him either to embracing or rejecting the oppressive system he lives in, while falling in love with one of two girls, each of them pretty much representing polar opposite stances on the Empire.
          The focus of the story definitely lays on the political reality of Bastian's homeland and his personal struggle to understand the reality around him. The losses inflicted upon his family by the war, indoctrination he went through and his naive idealism are all explored in pretty interesting ways and the way they clash with brutal realities of the Empire's terror and violence are the driving force of the plot. Also, the writing makes clear the moral ambiguity of pretty much all of the possible choices – while the Empire is clearly a brutal, potentially genocidal dictatorship, rejecting it also means betraying all the people that aided Bastian and laid their trust on him after he returned from the front. From this point of view, loyalist ending is maybe the most interesting part of the game, not only resolving the moral conflicts of the story in a convincing manner, but also pointing out to the rewards an authoritarian offers to it's most loyal and capable servants and the allure of power that it can grant to an individual.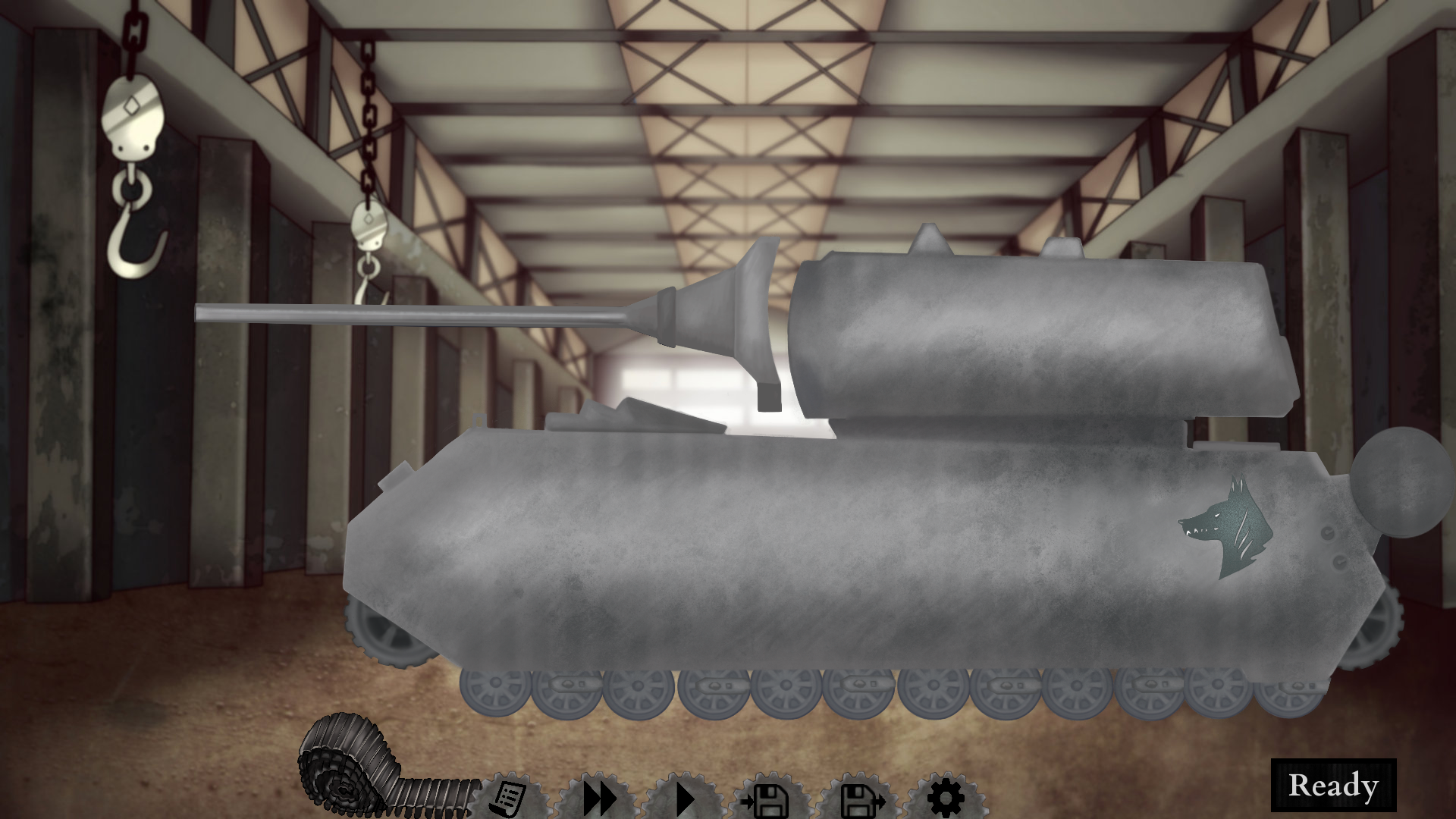 Tank-building segments could've been a very nice touch if they were even slightly more involved and varied
What, however, is very praiseworthy in the general outline, it not always as good when it goes to details and the way some of these ideas are executed. Panzer Hearts on many occasions shows the cracks within the Empire's perfect facade and various heresies against the dominant ideology, often coming from those publicly most loyal to the system and the first ones to silence anyone questioning it. This subplots, however, are pretty much never explored much beyond the sheer fact of their existence – and some of them begged to have deeper ramification and expose the characters more deeply to the dread of totalitarian violence, rather than just showing the inherent hypocrisy of ideology-driven regimes. Dialogues also disappoint slightly, feeling a bit unnatural and chaotic when they go into ideological discussions and conflicts between the characters – they never seem to reach the depth and impact that the authors obviously wanted them to have.
          However, a really major disappointment for me came from the tank-building "mini-game", which was marketed as one of the selling point of the game and in reality can barely be even described as a gameplay element. Only a few "assembling" segments are present in Panzer Hearts  and all of them consist of simply dragging the parts vaguely around their appropriate places, without any skill or challenge involved. While they're well-embedded within the story and relevant for the plot, they just begged for more variety – the German armored vehicles of WW2 are a huge source of interesting designs and trivia and using that potential seems like an obvious choice for a game that seems like it was meant to appeal fans of military history and equipment. Sadly, the game stops at absolute basics, just borrowing a few famous tank models and vaguely describing their capabilities.
The game's simple visuals sadly take away some of the impact from the very dark, oppressive setting and storyline
Another issue, for many probably much more important, is the choice system in the game, which is pretty much meaningless past a few paths that lead you to immediate bad endings and the final decision that determines the ending you get. The games give you Telltale-style feedback to most of your actions (including the always-ominous "X will remember what you said about Y"), making you feel like you're working towards something on every step, but none of it actually changes the plot, which branches out only at the very end of the story – I personally didn't mind it very much, but those hating having only an illusion of control might be heavily disappointed.
          The possible dealbreaker, however, comes in the form of game's visuals – while the quality of the art is not dreadful, it definitely has a problem of not really matching the extremely heavy subject matter. I have a feeling that the same story, presented with a more refined and darker aesthetic, could be much more impactful. The artist's take on Egyptian themes also looks quite interesting and at times appealing, but lacks the polish necessary to really make it convincing. Of course, considering that Panzer Hearts was made by a tiny, more or less amateur team there's no point in bashing those aspects of the game, but they're definitely something to consider as a consumer.
          In the end, though, I do recommend giving this VN a chance – it's a decent attempt at telling a kind of story and building a setting that we don't really see within the medium, done with obvious knowledge and understanding of the topic is tries to tackle. Because of that, it's something I would definitely like to see more of in the OELVN scene and if HELYEES decides to create another title in similar style, I'll be very interesting in seeing it. However flawed, it's a good start, hopefully, one that will lead towards more polished and expansive projects.
Final Score: 2,5/5
 
Pros:
- Unique setting
- Serious approach to topics of war and totalitarianism
Cons:
- Mediocre dialogue
- Simple visuals
- Doesn't capitalize on some of its best ideas