NaNoRenO 2020 Highlights, Pt 3 – Romance VNs (Non-otome Edition)
---

Hello there and welcome to the third and final part of my NaNoRenO 2020 highlights! While in the first two posts I focused, respectively, on otome and horror VNs, this last batch of recommendations will be about other romance stories submitted to the event. I have to admit upfront that this is likely the least exciting list of the three, with no game standing out to me in a similar way as Enamoured Risks did among otome entries or Eislyn's Apocalypse did among horror ones. However, there's still a bunch of solid and interesting titles in this category, my favourite being probably Café in the Clouds, with its lovely visuals and memorable dreamworld sequences. Also, the jam has something to offer for fans of all typical romantic configurations, with BxG, BL and Yuri couples strongly represented.
                 As always, all the games I'm writing about are completely free to download, and clicking their titles below will get you straight to their Itch.io pages. Also, I've skipped projects that were submitted to the event but proved low quality or did not offer a complete experience (meaning I exclude all demos and prototypes by default). So, please join me as I wrap up this insane, months-long project of thoroughly covering the biggest NaNoRenO in history – hopefully, you'll find something interesting among my recommendations.
Love Rewind: A Magical Time Travel Romance (BxG/BxB)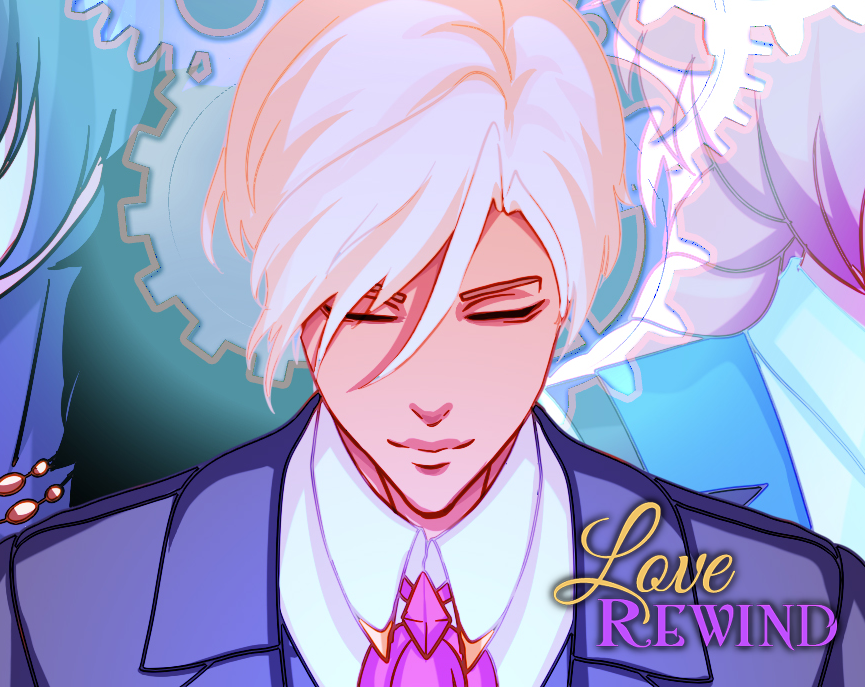 Love Rewind is a short romance story with one male and one female love interest, themed around regret and desire to change the past. Yuki, the protagonist and young mage-in-training, loses everything in a futile attempt at saving his terminally ill mother. Broken by this failure and the destroyed relationship with his fiancée Quinn, he isolates himself from the world – an empty, depressing existence that would likely last for the rest of his life if not for the appearance of a spirit, taking form of a cat. This powerful creature forces on him an opportunity to relive and change the events that led him to ruin, and regain the love he lost – or maybe forge a different path altogether…
                  This VN, while a bit rushed and lacking the proper buildup particularly for the BxB arc (Quinn's route at least have the background of protagonist's relationship from the original timeline), has a few things going for it. Yuki is a decent protagonist, whose desperation and pain are easy to emphasize with, and the core story has all the satisfaction inherent to plots where you avert a looming disaster. The love interests simply don't have enough time to develop as characters and truly shine, but they work well enough as incentives for the protagonist to not repeat his past mistakes. The end result is not a great romance VN, but a nice short story in its own right – and one that looks and sounds very solid for a game jam entry.
Final Rating: Recommended