nothing & nowhere (Western VN Review)
---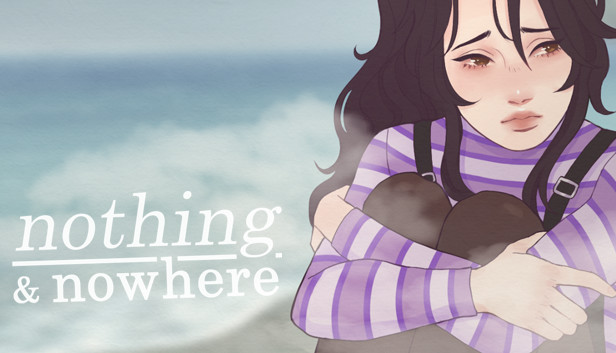 Note: I was provided with a review copy of the game by the developer.
To talk about the latest slice-of-life VN by ebi-hime, nothing & nowhere, we have to start in a less-than-obvious place. Nearly two years ago I made an overview ebi's freeware games and one of the most memorable and unique of them was Lynne: a heavily stylized, pixelart horror game about a teenager crumbling under the pressure from her dysfunctional family and societal expectations she's unable to truly meet. Full of suffocating atmosphere and visceral dream sequences, it is to this day one of the most effective horror experiences I've seen in the medium and one that ends on an abrupt, but appropriately disturbing note. Nothing & nowhere, while representing a completely different climate and stylistic, is basically an alternative timeline spin-off of that game, offering something probably every person that read Lynne wished for – some form of respite and hope for the future to the game's tortured protagonist.
                Interestingly enough, after being released in mid-May 2020, nothing & nowhere was not marketed directly as a sequel or spin-off of Lynne. Even the Steam page only mentioned the connection at the very end of game's description, suggesting it's above all a standalone story, despite sharing the central character with its horror predecessor. In my experience, however, it was exactly that link, and the extra context being familiar with Lynne provided me with, that made the new game a truly worthwhile. More than that, I'm willing to argue it's likely be the same for most potential readers, for a few crucial reasons.