Yuri Game Jam 2019 Overview (Updated)
---
The Yuri Game Jam is a yearly event celebrating my favourite romantic setup in visual novels in all configurations imaginable. Each edition attracts both newcomer and experienced developers, flocking to share their work of various sizes and various states of completion, and while it's not a purely VN-oriented event, in practice it was always dominated by those. From the early days of my interest in VNs as a medium, it held a very special place in my heart, spawning both celebrated classics, such as The Sad Story of Emmeline Burns, and dozens of overlooked, but lovely games I've mentioned in my past coverage and retrospectives.
                At the same time, like most Itch.io events, Yuri Game Jam is fairly crowded and full of demos and prototypes that can be interesting only to the most dedicated yuri fanatics – for this reason, I once more took upon myself to search out complete VNs submitted to the event and assess them for all of you, making it easy to find out which games are truly worth your attention. As always, I'll be skipping the in-development titles in my coverage, mostly because the unfinished projects can very easily stay that way forever in the world of indie VNs. And if a game I'm writing about catches your attention, you can go straight to its Itch.io page by clicking its title – all Yuri Game Jam entries are free to download.
                Yuri Game Jam 2019 was the smallest YGJ edition to date, with even fewer entries than the first event in 2015 and less than two-thirds of last year's submissions, a drop from 60 games to just 39. It's also pretty objectively the weakest one yet, with very few titles standing out and the overall production quality of the games being particularly low. Same applies to the length of the visual novel entries, as none of them was much longer than an hour. This is a sad thing to see, but also made my work a bit easier his year, with 9 complete projects to go through, all of them pretty short and straightforward. The highlights of the event were several sci-fi dramas, with Remeniscience Overwrite interestingly touching on topics of memory and communicational barriers, and Package Chat surprising me with its fresh ideas and uncompromising narration. My pick for the best game of the event, however, have to unquestionably go to Crescendo's Café Bouvardie, which combined lovely art direction with a unique setting and greatly-written characters, turning out to be the most feature-complete and satisfying experience this time around. I still encourage you to read through the whole list though, as depending on your preferences, there might be more games worth your attention – so, let's get started!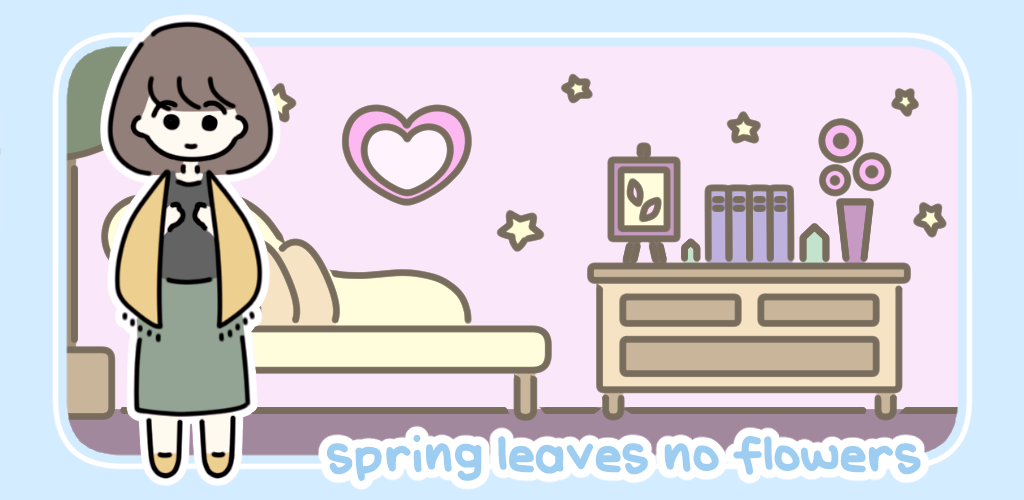 Npckc is an author of cute, small VNs about being different, and the prejudice and discrimination that comes with standing out from the "normal" society. Spring Leaves No Flowers is the third game of a trilogy focused on Haru, a young transgender woman living in Japan and her two friends, Manani and Erika. The first two entries in the series, One Night, Hot Springs and The Last day of Spring, mostly explored the exclusion and misunderstanding transgender people experience in everyday situations, by the example of a visit to hot springs. The third one switches things a bit, focusing on Manami and her struggle to understand her own feelings, after she discovered that she might also be different in the way she experiences relationships and her attraction to other people...
                Those that are familiar with this author's work, will know exactly what to expect – Spring Leaves No Flowers is minimalistic, to the point and offers a believable glimpse at experiences connected to its subject matter, which this time is being asexual and/or aromantic. It avoids pandering or being overly moralistic, but simply shows typical situations members of sexual minorities find themselves in and different ways of coping with them – both negative and positive ones. If you're looking to learn a bit about these issues, or they're already part of your experience and you're seeking a relatable story in a different cultural context, you should be satisfied with what you find here.
Final Rating: Recommended