Welcome to the second and final part of EVN Chronicles' NaNoRenO 2019 coverage (if you missed the first part, you can find it here), where I'm going through my highly subjective picks from this year's submissions to the biggest annual visual novel game jam. While I don't think any of the games listed this time could seriously threaten the position of Mnemonic Devices as my personal "winner" of the event, there are at least two worth giving closer attention to – Monochrome Blues, which is another excellent story tackling the topics of grief and depression (even though it adds a much more questionable sci-fi subplot to the mix) and Cooked With Love, which stood out with excellent sense of humour and compelling mix of comedy and smart SoL content. Of course, every VN featured here gets my genuine recommendation and I think they're all worth the humble amounts of time they require to fully read through – especially considering that, once more, they're all absolutely free and clicking the titles on the list will lead you straight to DRM-free downloads on itch.io. So, let's find out what else NaNoRenO participants have prepared for us!

OS-simulation games, where you interact with a story through an imitation of a computer interface, have a pretty rich history in NaNoRenO, with Christine Love's Digital: A Love Story being probably the best-known example. While RE:BURN is not the most innovative or intricate iteration of this formula, it tells an intriguing, short story using UI of an e-mail client and an online communicator, and the mechanics of deleting or replying to messages instead of typical dialogue choices. The protagonist, a female student who took up a job as an editor in her college's scientific journal, is tasked with clearing out old emails from the paper's official account. As the messages slowly synchronise, she starts uncovering more and more strange correspondence and even starts receiving popup messages from someone claiming to be her predecessor at the editorial job, giving her borderline-incomprehensible warnings – and whether she listens to them might have some serious and unpredictable consequences.
                RE:BURN's intrigue is not particularly deep or memorable, but where the game truly shines is in its inclusion of various writing styles, unique to every character in the story and creating a sense of danger and urgency despite the rather static manner in which you interact with it. I would love to see more interactivity or some Easter eggs hidden within its Windows-like interface, but even as it is now, it's definitely worth your attention for its brief, 30-40 minute runtime.
Rating: Recommended

While at first Monochrome Blues looks like a simple story about artist's block and finding inspiration, it features many twists and surprising elements that leads it into a direction that is pretty much impossible to fully anticipate. Although I have some issues with how the plot developed later on, the overall experience of playing through it and reaching the true ending was excellent, espetially due to its more down-to-Earth and emotional story elements. Maja, the burned-out storybook author starting a new job in a preschool after months of deep depression is interesting and likeable, while the descriptions of her grief, lack of inspiration and struggle with simply keeping up with everyday life are believable and compelling. The five four children she takes care of are similarly charismatic, with their drawing sessions and conversations with Maja being among the clear highlights of the game. With a pleasant artstyle and overall solid writing, it's a small treat that everyone should seriously enjoy… At least if you can forgive some over-the-top twists, that will seriously challenge your suspension of disbelief.
Rating: Highly Recommended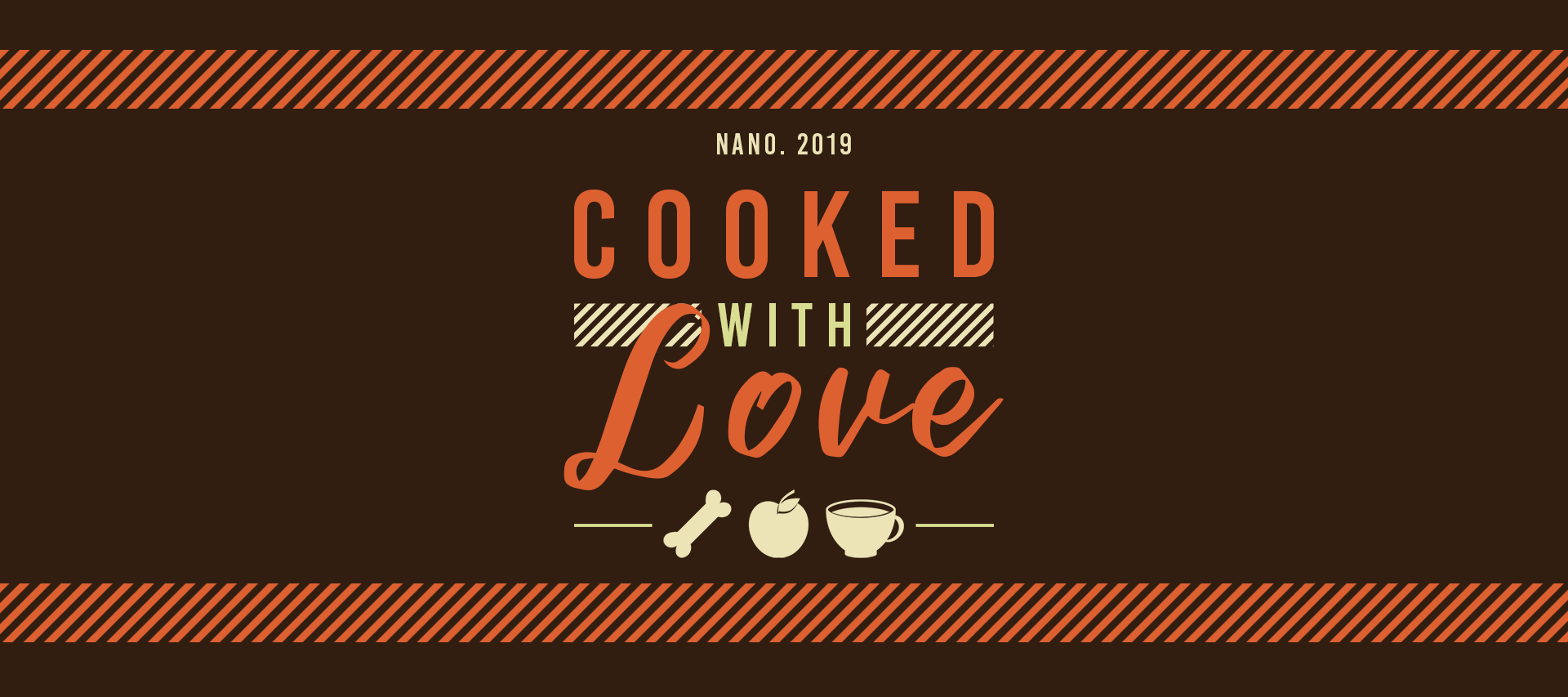 Cooked with Love is a somewhat ironic VN about a messy college student (you can choose their gender and name) trying to prepare an ad-hoc dinner for their crush, after their wallet, along with the money for their date, mysteriously vanishes. The first part of the game consists mostly of a mini-game, where the protagonist tries to combine the underwhelming selection of ingredients they were able to find in their house (which they share with two other students), without a real clue what they're doing, as they have no experience in cooking whatsoever. Then, they have to decide whether to go on with the date, or rather cancel it altogether and share the miserable results of their work with their roommate, Brooks. This creates two brief routes, with multiple possible outcomes depending on your "cooking" and dialogue options you choose.
                While relatively short and simple, the game charms with its humour and witty dialogue – the overall silliness of the story is coupled with characters that are exaggerated, but ultimately likeable and relatable in some ways, to a rather compelling effect. I've had quite a lot of fun exploring different, desperate "dishes" you can prepare with ingredients such as old instant noodles and an egg salad stolen from your roommate, and the dialogue they provoke after being presented to protagonist's date. The "right" dish & dialogue combination that will lead you to optimal results are sometimes quite hard to find, but it only takes a bit of patience to crack the "puzzle" by trial and error. The visuals are stylish, making for a really nice overall package – definitely one of the best games in the event and one you shouldn't miss out on.
Rating: Highly Recommended

Robot Daycare is a short (about 1,5h of reading) story primarily about friendship and dealing with loss, but adds a very interesting twist in form of an AI observing the three main characters' crumbling relationship and learning either the best or the worst of human nature, depending on player's choices. The AI – a robot created as a college project by the said group of friends shortly after their roommate committed suicide, might witness them either coming to terms with the tragedy they went through and reconcile after a period of denial and shifting blame, or tear each other apart with accusations and hateful outbursts. The former scenario will lead you to a heartwarming and SoL-focus good route, while the latter will quickly devolve into a full-on horror story.
                This seamless fusion of genres is Robot Daycare's most unusual feature and one of the main things that make it worthwhile, but the general quality of the writing and the game's visual aesthetic are not bad either (although the art is simple and somewhat cartoonish, and the default resolution of the game is quite low, making it run in a rather tiny window). While I didn't enjoy some of the overly-optimistic developments in the good route, the drama the game portrayed and its both positive and negative consequences were quite compelling to read through. The same can be said about an AI trying to comprehend human emotion and going haywire is a few different ways because of that – this might not be the best implementation of that idea that I've seen, but still one definitely worth experiencing.
Rating: Recommended

Npckc is an author that uses simple art and stories to tackle the issues of otherness, prejudice and discrimination. A Hero and a Garden is one of the larger and more interesting attempts on their part, subverting the traditional trope of a knight rescuing a  kidnapped princess from an evil witch. Our protagonist, who tried to be a hero like the ones from the medieval epics, ends up in humiliating captivity, cursed by the witch to help restore the monster village he destroyed during his misguided rescue attempt. While he tends to magic plants growing incredibly potent "berries" (this introduces a simple, clicker gameplay mechanic), he interacts with inhabitants of the village, the princess and eventually the witch herself, learning that nothing is as simple as he thought (while we learn the surprising nuances and tragic elements of his own backstory).
                While the message of tolerance is just as present here as in other npckc's games, A Hero and a Garden makes an especially interesting commentary on how social expectations and roles we are assigned to by others shapes our lives and perspectives. Its simplicity makes it the kind of game I would love to see presented to children and talked about in classes, but even for an adult reader it's a nice, casual experience, with enough thought-provoking and creative elements to be worth investing an hour or so into.
Rating: Recommended
And this concludes my NaNoRenO posts for this year. Last time, due to RL issues, I didn't get to cover the event at all and it was a really fun experience to go through all those wildly different, creative games that often stay heavily underappreciated just because of how crowded and relatively niche the jam is. I hope my highlights convinced at least some of you to give these VNs a chance. I'd also like to give shout out to two games that narrowly didn't make it to the list: Mikomi Kisomi's Alice in Stardom, which offers a fun, but slightly shallow story about chasing your dreams against all odds and HitOrMissy's Fetch Quest, which won me over with its humour and fun approach to "fantasy" storytelling, but disappointed with its lack of sound and music.
                So, thank you all for going with me on the journey through this year's NaNoRenO VNs! I hope I'll be able to repeat this after the next edition of the jam and be sure to look out for my Yuri Game Jam summary later this year – that event is something I'll never skip on, as long as my blog is active. Have a great weekend everyone!