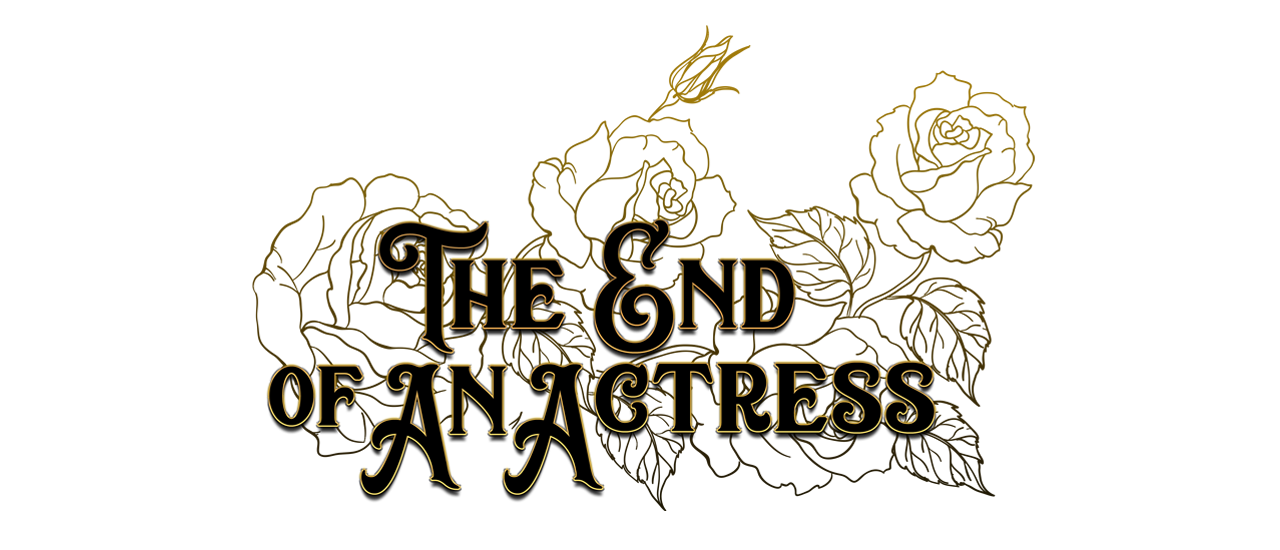 Human beings are contradictory creatures, whose behaviour is rarely as consistent as we would like to see and whose motivations are often complex, to the point they're not fully understood even by the specific person themselves. This fact is often minimized in fiction, which instinctively strives for clear narratives and characters that are ultimately possible to fully understand and assess according to some kind of moral standards. At the same time, there's undeniable value in exploring the ambiguity of the human condition and ebi-hime is one of the EVN authors that do it with a borderline-painful consistency, often creating harsh or melancholic plots and populating her stories with deeply flawed, realistic-feeling characters. And her latest release, The End of an Actress, definitely do not break this trend.
                Released on Steam in late February 2020, this new title by ebi is loosely based on the last years of Marie Antoinette's life, where she was imprisoned by the revolutionaries and eventually executed for her perceived crimes against the French people. It transfers these core events and many features of the queen's biography into a fictional setting, closely resembling 18th-century France, but without any pretences for full historical accuracy. However, instead of a grant political tale, what plays out on this stage is a very intimate drama involving the deposed queen, Liliane, and Marcus, a revolutionary who led the assault on her palace and unwittingly became her jailor. In isolation and hopelessness, the relationship between the two will be redefined in a few possible directions, fluctuating between naïve fascination, hate and, possibly, mutual understanding and affection, making for a rather captivating literary experience and one of my new favourites in ebi's catalogue. But what makes it this special?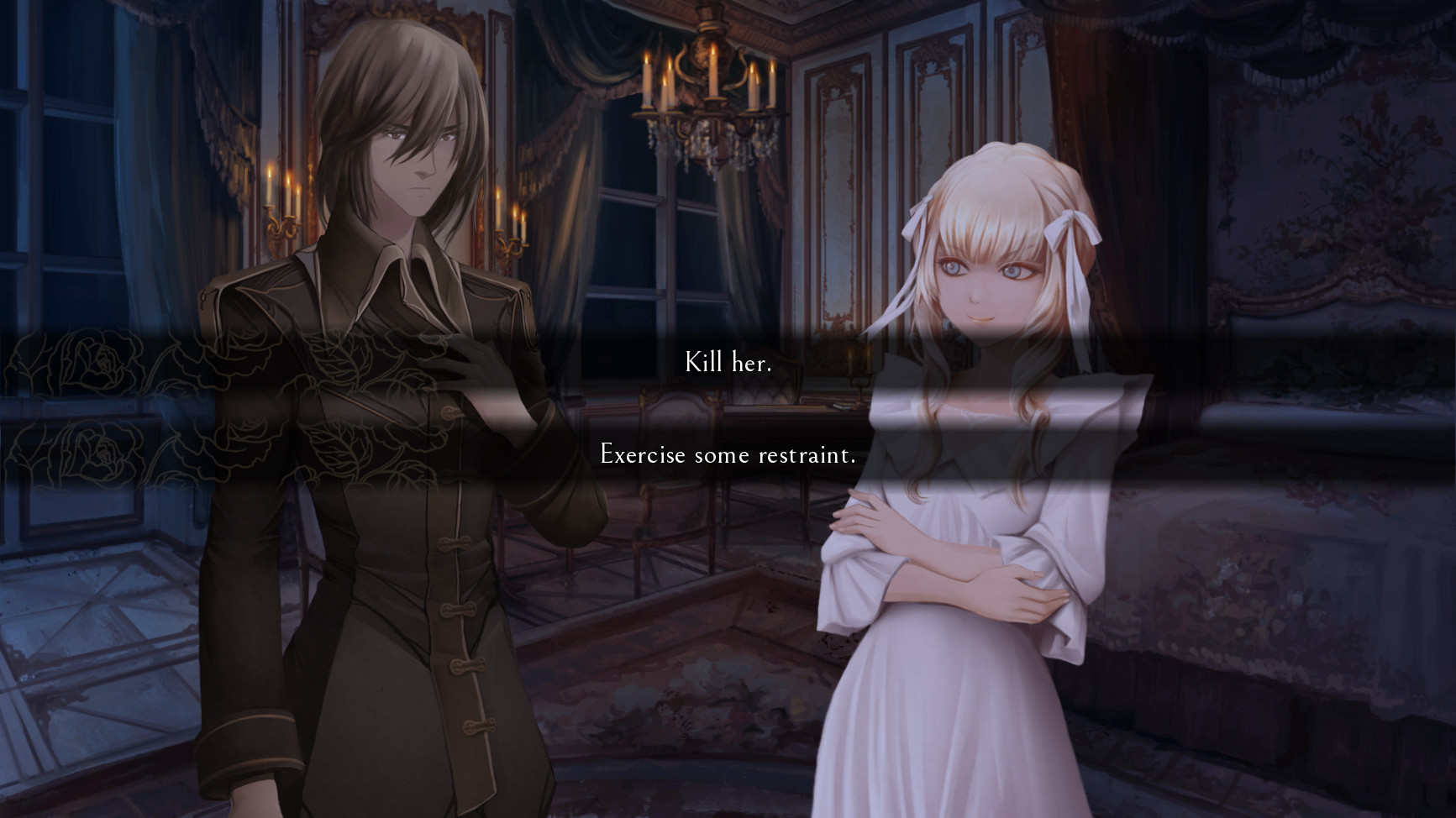 Considering its inspiration, the game's plot leads to some predictably grim conclusions – however, it's hardly a full-on utsuge, featuring many ambivalent, and even hopeful moments
Me calling The End of an Actress "intimate" is connected less to its romantic elements and more to its storytelling formula, focused very heavily on interactions between Liliane and Marcus, with other characters present in a purely episodic manner, usually without even having sprites. After capturing the queen, Marcus is tasked with keeping her imprisoned in her palace until she can be tried for her crimes – a process that is constantly prolonged by the legal and political disputes between the revolutionaries. With Liliane permanently confined to her bedroom and Marcus, as the most trusted agent of the revolution's leadership, unable to leave his post as her jailor, the two become the only meaningful sources of human interaction for each other for months-on-end. In this time they have many opportunities to rework their preconceptions about each other and the peculiar "relationship" they shared – a hopeless fascination of a poor orphan, sparked by the queen that once embodied hope and national pride, but became the reviled symbol of monarchy's corruption, turning all that love into disappointment and hate.
                While we observe the story primarily from Marcus' perspective, the most interesting part of it is probably still the queen. Proud and arrogant, she never allows herself to show fear or weakness, even when her life is threatened by the revolutionaries. She also seems to show little remorse for the disastrous reign, despite being confronted with her failings by Marcus on multiple occasions. Over time, however, she shows more of her true thoughts, as fatigue and new tragedies striking her family make her persona crumble. Her relationship with Markus evolves accordingly, although how far this change will go depends on the player's choices. There's even an option in which Markus kills Liliane immediately after storming the palace, which is more or less the outcome she hoped for, allowing her to escape the humiliation of being imprisoned and executed like a criminal. Other endings, while also tragic in their own ways, involve Marcus and Liliane getting closer to understanding each other and forming a genuine bond – with the "best" ending blooming into a short, hopeless romance.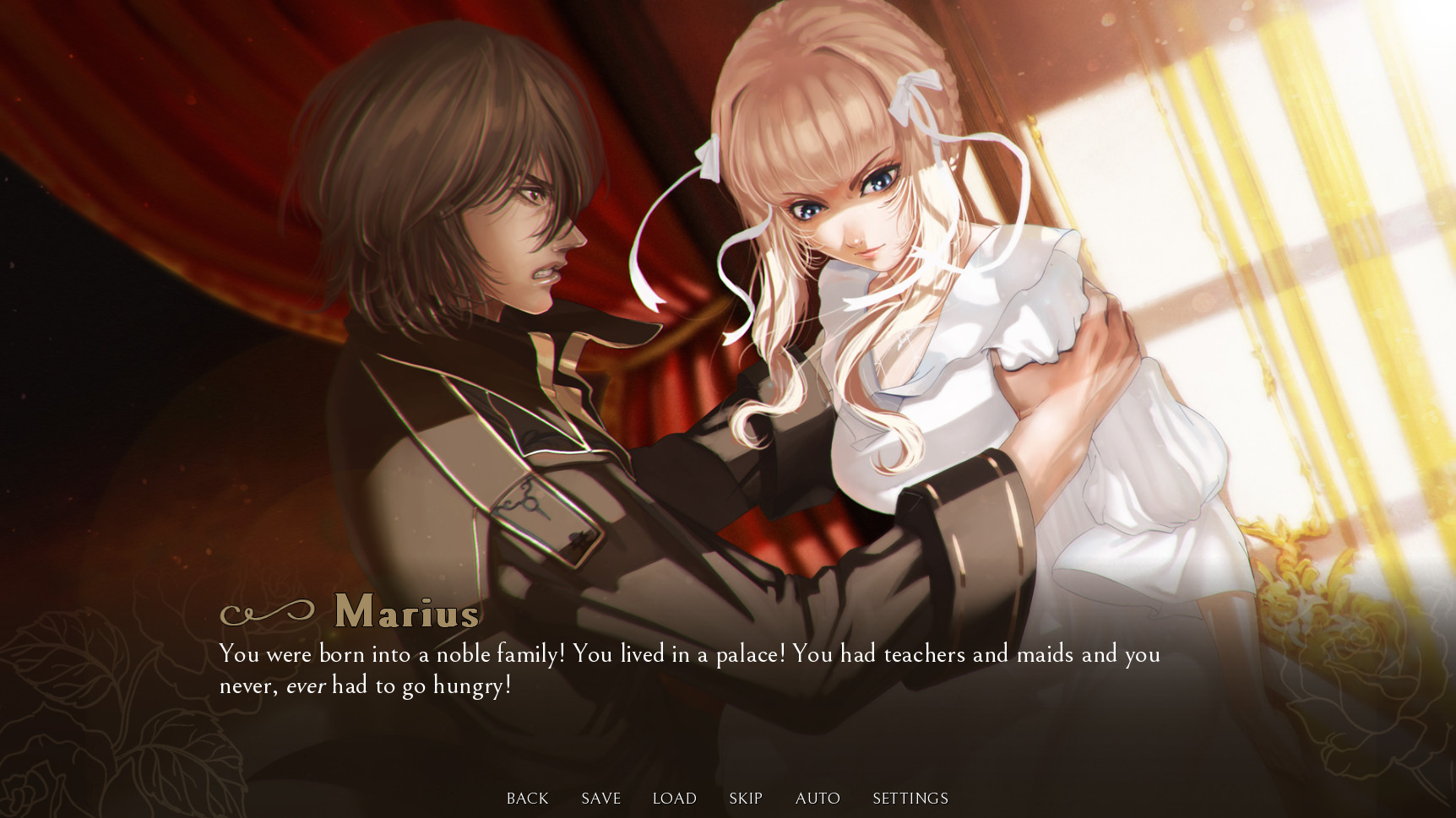 The game's art, with its level of detail and otome-feeling character designs, does a good job of presenting the quasi-historical setting and building appropriate climate
While the game definitely has an utsuge vibe, with no "happy ending" that could fully circumvent the characters' hopeless circumstances, I wouldn't necessarily call it depressing. It focuses less on the impending death that is awaiting Liliane, and more on the paths that led her and Markus to this point, along with their clashing personalities and ideals. The true strength of the VN lies exactly with how compelling they are as characters – both are essentially wearing masks, playing roles they think they're obliged to perform while hiding their true feeling and the pain the current situation brings them. The more their façades crack, the more complex things become, with internal conflict, regrets and vulnerabilities showing up on each side. Particularly the character of Liliane is, even at her most sympathetic moments, highly ambiguous, quite like her historical counterpart. Her unhappiness and limited influence in no way absolving her selfishness and careless pursuit of pleasure at the time when her kingdom was crumbling, but lets the reader understand her better. At the point they're at, neither Liliane nor Markus can hope for redemption, but they can achieve some kind of closure and the endings in which this happens are, in my opinion, more touching than plain sad.
                In the "best" route, the romance between the queen and Marcus leads to the game's sole sex scene, which is quite like the one I complimented last year in ebi's The Language of Love – not overly explicit and very much story-relevant. I was quite worried it would feel out of place considering the dire circumstances the characters are at, particularly in the later parts of the story, but it felt like an appropriate and believable conclusion to the troubled romance, exploring the characters in new ways. I find this "softcore" formula a lot more meaningful than the typical h-scenes and I'm glad that's how the erotic content was dealt with in this case. And speaking more broadly, I have a hard time pointing out something I didn't like about the story in The End of an Actress. The biggest one I can think of is that between the 5 different endings, not all of them are very distinct. Also, not everyone will be satisfied with its small-scale, melodramatic approach to topic, resembling a minimalistic stage play rather than an epic political drama, but I think that it was excellent in what it was trying to achieve. Even the way the queen's character has been modified, being younger and less politically involved than her historical inspiration, shows that this was meant to be, above all, the story of her and Markus as people, very much succeeding in this task.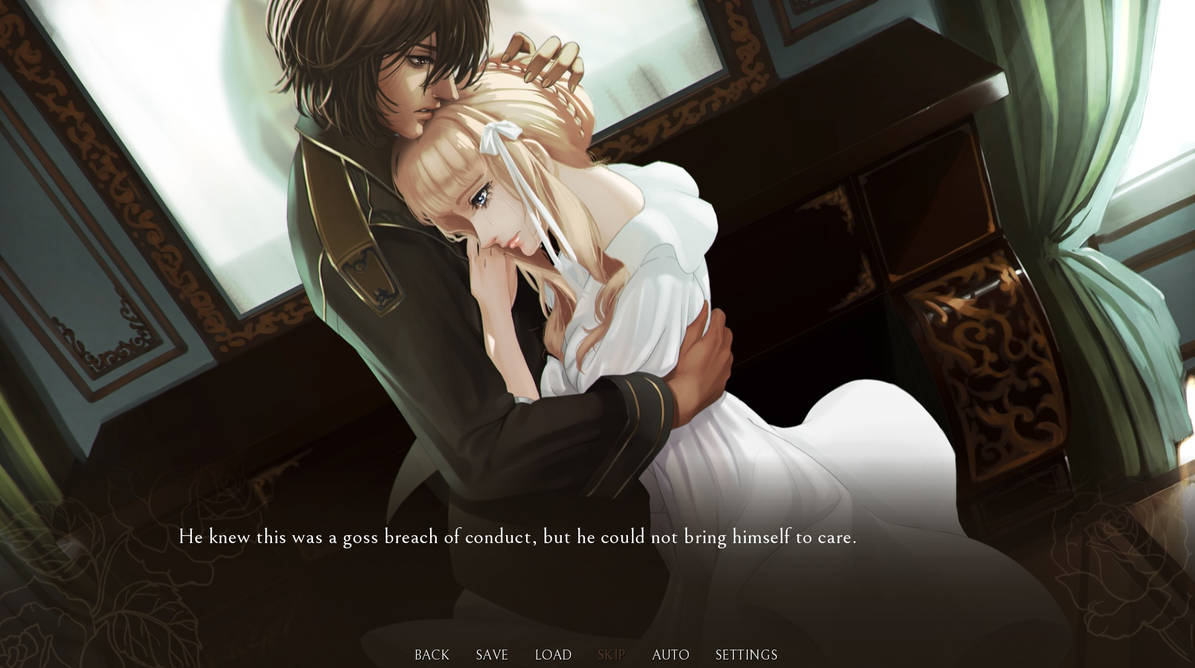 The typos in the initial release often showed up in most unfortunate moments, but in my experience, such details are pretty much as far as this game's flaws go
Visually, the game uses a rather detailed artstyle somewhat resembling otome games, which are also quite often period dramas – this also applies to Markus' design, as he could easily pass as an ikemen in an Otomate title. The setting, while fictionalized, represents XVIII-century France in a rather believable manner, with environments and various details of daily life seeming decently-researched and consistent. For history buffs, the highly-simplified version of the French Revolution, starting with the abolition of monarchy and imprisonment of the royal family, might be something of a disappointment, but it's believable-enough as its own story and gives all the necessary context for the core narrative, that is one about the relationship between Lilian and Markus. The minimalism of the story also made it possible for the few backgrounds and CGs being decently-detailed and while the game does not linger on the extravagance of the royal palace or show much of Liliane's life before imprisonment, it gives a good-enough impression of its lavishness. And finally, the music consisting mostly of classical tunes, would not be out of place in a good TV drama set in the same period – it's nice to listen to, despite the overall sad tone and enhances the climate of the whole experience. There's even an original song that kicks in during some of the most touching moments of the story and although I usually prefer instrumental background music in VNs, this one blended in very well without taking me out of the experience.
                Ultimately, The End of an Actress was a highly refreshing and satisfying experience for me, using a formula heavily under-utilized in VNs other than otome and telling a genuinely emotional, impactful story. While its clear focus on personal drama and romance will not appeal to everyone, it delivered on its promises and kept good pacing and climate all the way through. While I had a somewhat ambivalent experience reading ebi's previous period drama, Blackberry Honey, being tired of the persecution the protagonist constantly suffered through and the extremely slow story progression, here I was kept engaged by the character progression and thought-provoking ambiguity of the events. It wasn't perfect, as the romance didn't avoid a few cheesy moments and the first bad ending CG got a clearly-unintended chuckle out of me, but such details could not really undermine my overall, extremely positive impression. If this kind of story is even remotely within your preference, I deeply recommend giving this VN a try – in its category, there are few better ones.
Final Rating: 4,5/5
Pros:
+ An interesting, complex relationship between the main characters
+ Well-constructed quasi-historical setting
+ High-quality art
+ Climatic soundtrack
Cons:
– Some endings feel similar to each other/repetitive
– The political context is only vaguely portrayed, as a background for the personal/romance drama