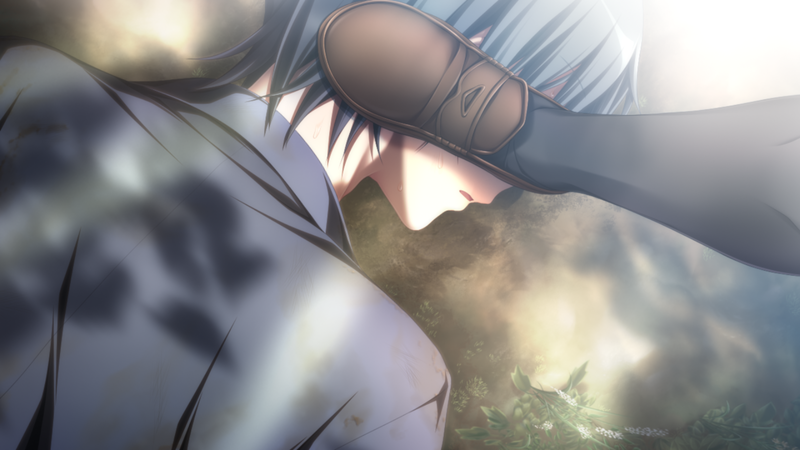 ... it's been a while since my feelings on a VN have been as complex as my feelings for this one are.  I say 'feelings' because this VN has massive emotional impact... not as much as Hapymaher, but nonetheless a lot of emotional impact. 
To be blunt, Makoto is nothing like Hapymaher's protagonist, so if you were hoping for more of his 'consumed by sorrow and despair but still living my life' personality, sorry, no luck here.  Makoto is... a blank slate.  I don't say this in a bad way.  For better or worse, Makoto has lived his life in an isolated village where people literally don't talk any more than is absolutely necessary, lest they accidentally compel one another with their power, 'kotodama'.  Makoto has a fiance named Mana (and no, not that kind of lukewarm, 'distant fiance' sort of thing you see in some VNs, since they actually get down to business), and a rather nice, slow life in that village... However, he yearns for the outside world, where people can talk to people without restrictions.
He escapes from the village and collapses from hunger in a small town four days later, where he is saved by the first of four heroines, Kokoro.  From there the story begins, as he makes the journey from an innocent 'kami' to a real human being with all the baggage that comes along with it. 
A lot of the most interesting parts of this game come from the fact that he naturally doesn't understand much about the outside world.  Makoto's innocent, unstained viewpoint, combined with his natural kindness and willingness to embrace new experiences, feel surprisingly refreshing.  Things other 'normal' protagonists would worry over don't even occur to him, and he is so laid back he makes the drugged hippies of US in the sixties seem tense.  While he does change as part of the story, his personal 'lens', through which he sees the world, remains remarkably clean throughout... not to mention the guy has absolutely no sense of sexual morality (in other words, his idea of sexual morality is 'don't use his power to compel people to have sex with him').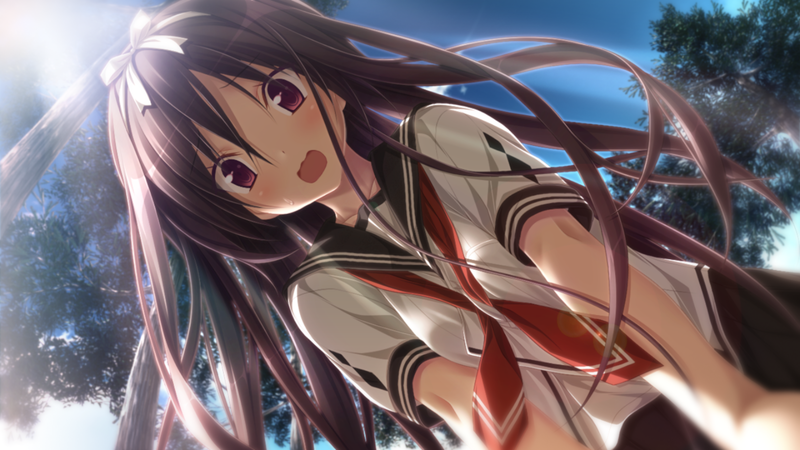 The first of the heroines, Kokoro, is a shojo manga addict who has fantasies about immoral relations with older brothers.  She is a natural at unconsciously grasping the hearts of others around her without trying, and she is pretty much the picture of a heroine who 'exists to be loved by everyone'.
The second heroine, Kyouko, is a miko that can see dead people (yes, I went there).  She has huge self-esteem problems and is more than a little weird... for one thing, her reaction to Makoto is one of the more unique heroine reactions to a protagonist I've encountered over the years... for another, she is abnormally self-derogatory in both action and word.
Mana... is the protagonist's fiance from the village.  She is pretty much apathetic about other people, unless they have the decency to provide her with food (from her point of view, people who give her food move up from 'stone in the road' to 'slightly adorable insect' in most cases).  She is a bit of an S, when it comes to Makoto, and Makoto is pretty much her reason for living.  Because of a careless use of kotodama by another member of the village, she is always cold and in her eyes, it is always snowing.
Hotaru... is the true heroine of this story.  Cheerful and active, not to mention highly intelligent and perceptive... she is actually a fairly attractive heroine from the start.  However, she has less initial impact than Mana or Kokoro, for reasons that are fairly apparent.  Since that is by design, I actually am not complaining about this, though.
Now, to get to the downside of this game... it uses the G-senjou 'ladder' story structure, wherein the story progresses arcs where you choose to either pursue the heroine associated with that arc to an ending or move on with the main story.  I can say that the path endings for the non-true heroines were actually pretty good, but having played the true path, they are comparatively low-impact.  A lot of this is the fact that the major events of their 'paths' are in the arcs they branched off from, so little is added by their endings save for more sex and some minor tying up of loose ends. 
To get back to the main game... the true path is the impact I was talking about.  The main arcs were all emotional, so I guess you can say that the other heroines' 'paths' were also emotional, but, as I mentioned above, there is a definite sense that very little was added by choosing one of the other heroines.  Hotaru's path is easily the most powerful 'arc'.  In fact, it is so emotional and powerful that there are two ends for it.  The first one (which you are required to watch first) is... sad, to say the least.  It isn't a bad ending, but it is a sad one.  I know I cried.  For the second ending... well, let's just say it is a good one and leave it at that.
Overall, my viewpoint on this game is... just as mixed as I said above.  My conclusions on the G-Senjou story structure are unchanged in the least.  I still believe that all VNs that use that story structure should be changed to kinetic novels, just so I don't have to deal with heroine endings that are neglected by the creators of the stories themselves.  While all stories with true heroines inevitably put a much larger emphasis on the true heroine, the way this story structure trivializes the other heroines is really irritating, especially when they are good heroines, like these were.  However, if you take the arcs, characters, and the true endings separate from that source of irritation, it is a great VN.  It just happens to use the single worst VN story structure in existence.  Indeed, that story structure and the inevitable realities it brings along with it are the only thing that kept me from naming this as a kamige. 
PS: I will erase any and all comments that spoil anything in the last arc.  I say this because this is the type of VN that can only be enjoyed to the fullest once, not the type that merely changes flavor with each playthrough, like Devils Devil Concept.  Anyone who spoils this VN should have their skin sliced open, drawn back, then have salt rubbed into the exposed flesh. 
... *Clephas drools and goes off to make BBQ*