VN of the Month April 1998 - Love Escalator
---
Love Escalator, Kojin Kyouju: La Leçon Particulière and First Kiss☆Story are the masterpieces of the month, but Love Escalator is a more accessible and original story.
You are awaken without any memory of your past. You don't know where you have come from, you don't even know your name. You are found by a kind-hearted little girl who brings you to the best swordsman on the Western Continent. You live happily. But you know that you've had a life before that. You are determined to discover your true identity. You travel to the Eastern Continent, hoping to find someone who knew the real you. But you don't know yet that your story is entwined with the fate of the entire world...
Oudou Yuusha is a RPG with the single hero (default name Zanba) fighting enemies, collecting treasure, and leveling up. Dialogues and cut scenes are displayed as text super-imposed on still anime-style pictures, like in Japanese adventures. Once in exploration mode, the screen is divided into a large auto-map, statistics screen, and a small window that shows pictures of the location the hero is currently in. The turn-based battles (occurring at set points) are viewed from a platform perspective, like in fighting games, with the health bars of the hero and the opponents displayed above. The hero can attack, use items, or charge to execute a stronger attack.
There's an English review for this game
The game begins with the teacher, who is the player married with one of his students. The principal finds out and asks the student to be expelled from the school. The teache makes a deal with the principal that this secret life with his students will not be revealed to the public and he also promises that he will coach his students all the way to an A when they graduate.
There is an English review for this game.
Elly and her space station crew of four other women must defend the base from an alien invasion.
This is the fourth and last game in Guynarock franchise. I've made a full playthrough of it. I liked that it's not just a remake, but a new story which makes for the third volume with distinctive storyline. The synopsis of all the works is the same, but the enemies are absolutely different each time. Here there are evolved species with titanium cores, the toughest enemies so far. I liked the story behind the enemies, the animations and conflict resolution. I also appreciated the minimal attention to H events and the very unexpected ending scene.
6 teenagers, 3 boys and 3 girls, 19 years old each, and a mature woman offering her help for the daily cooking, are spending one week together in a villa...
Most of them never experienced a first love yet and it's clear some of them are expecting a lot from this opportunity...
As one of the boy you are tempted to either seduce the girl you have a crush on, or protect an innocent girl from the evil lust of a cold hearted comrade... The choice is yours...
Short multiple endings game. One playthrough takes only some 2 hours. Protagonist is quite cool here as he's bad mouth on the surface, but gentle and protecting inside. Heroines have distinctive and funny personalities. The game is too simple to take seriously, but there should definitely be fans of bright short character-driven branches.
One year have passed since final battle of first game. During this year Ichiro Oogami was abroad and he returns to Kagekidan in the beginning of the game. Soon new enemies are showed themselves. Kokkikaigogyoushuu (lit. - meeting of five demons) and ther leader - Oniou (lit. - demon king) trying to destroy a peacefull life of Imperial Capital. At the same time two new members joined Kagekidan - ladylike half-Japanese/half-Italian Orihime Soletta and quiet and serious german Reni Milchstrasse. While game progresses it is appeared that Oniou is not a real leader of new enemies but he has his own mystery...
Game has many English reviews
In the game, the player plays the role of a new high school teacher who is asked by numerous girls to instruct them in private lessons to prepare them for college entrance exams. Right. I'm sure that's the only thing going on here...
It's a dating SIM, but first you'll have to raise girl's stats and your own stats... it's not unusual for this game to pop up quiz out of nowhere. The nature of questions is of junior high school level, so younger players probably won't be able to pass further. Girls are also very beautiful and truthfully written, so it's possible to name this game a masterpiece.
Assistant Shinichi is having a sweet dream of chasing a girl, but is woken up by Ryouko who is pleasing Shinichi. Ryouko is so starved for love that she even satisfies with man's company now. She sends Shinichi out to find new young girls in order to give them love consultation.
This part is the most erotic of the three. There's much less time for talking and joking now. The number of animated scenes increased.
Yuichi Okamoto keeps seeing the same dream every night. It is about a girl pleasing herself in a bungalow. At school he sees his classmate Shinagawa Shinna who is the same girl that appears in his dreams.
The next day during the dream she opens up the curtains, approaches and says "hug me".
Game is single road, but there are choices that result in immediate game over. It's comfortable that previously chosen bad choices are lighted in different color. There are six heroines including the main one. Game is quite obscure.
In search for Ayumi her most loyal follower Pochi goes on a big adventure. However, in the absence of invincible monarch a clever trap is set up by the west demonic gods. Will Pochi rescue Ayumi?
It's a different main heroine this time as well as game system - it's of suguroku style as you roll dice and move to destined location. Story is very difficult to control this way and ending is elusive. But the crazy bakage style humor and eroticism of the prequel are still here.
Shoji Kano thought to confess to the childhood friend Chiharu after passing entrance exams to the university, but failed to pass. A letter from distant relative and first love Mizuho arrives asking "Would you want to come and visit us?". The same letter comes to Chihary so they go together. Mysterious events will happen to them there.
Story has a flavor of fairy tale since heroes start seeing mysterious girls under the sakura tree at night. The whole text is shaped as protagonist's monologue. Story lacks excitement and the highest point is anticlimactic. Chiharu root is the only true ending and other characters roots are seen as bad ending.
A collection of three short stories featuring characters slightly resembling heroes of great wars from Taisho to Showa era.
Polygons are used for map moving. Stories are of romantic touch followed by 7 animated H scenes for each episode.
12. 
Find Love 2: The Prologue
 ファインドラブ2 ザ・プロローグ [980410] Lyceen
Main character finds himself in his room. There are a lot of promotional materials of new game "Find Love 2" scattered around. Among there there is a videophone device with the ability to talk remotely to three different girls.
Basically, just a demo fandisc
Haruomi Megumu suddenly became a woman due to mutation of hormones.
The main aim in the game is to get back to male form, but you can just focus on finding a lifelong partner instead. Since we don't get to change to male soon, there's place for les love here. Period is 20 days. There are five heroines for capturing with the overall number of endings being 26. A big minus of the game is that it starts with the day 2 and nothing is really explained. The difficulty is very high and gameplay is frustrating.
You play the role of young warrior named Ashu. One day you meet a girl who is attacked by a monster. Saving the girl, you find out she is the daughter of a village elder. The girl's father is impressed by your skills and tells you you must venture into the monsters' lair. But as you come back, you discover the monsters have kidnapped the elder's daughter! Now you must find companions for your quest (all female) to rescue the girl and to find out what causes monster attacks.
There is an English review.
The third high school year is about to begin, and Takashi Kurosaki decides that it should be a memorable year - at least from the point of view of romantic adventures. His best friend asks Takashi to help him win the heart of Rie, a girl whom Takashi liked in junior high school but hasn't seen much since. However, when Takashi meets Rie, he begins to realize that he may have feelings for her, and is torn between friendship and romance.
This is a famous work for being the last pc-98 visual novel (not counting recent VA-11 HALL-A port). A serious love triangle story and with with Umitsuki Production style unique animation. There is also SIM element as we repeatedly choose places of our destination each week. The main problem of the work is the protagonist being a hetare type. Game got a remastered and heavily animated Lovers version in 2003.
300 years have passed. 
Main character is a court priest in a certain kingdom.
An alchemist predicts that kingdom can be driven out of crisis with the help of homunculus. Protagonist happens to be the person of choice to train the homunculus human emotions.
Game really follows the path of the prequel. Some prologue at the royal castle followed by training. This time training is not really limited to H matters, but includes other useful court skills training. It was a surprise to see this franchise get a sequel at all.
Nice to meet you. I brought love.
Four people transfer to a new school and follow individual paths only to get together in grand finale.
All four main characters appear as friends in every chapter even though heroines do not overlap. In each story there is main heroine and one subheroine, but in order to reach grand finale all four main heroines must be captured. There is also a touch of comedy, so genre is best described as romantic comedy. The four stories aren't anything special outside of school routine, but with many friends and protagonist with a face there's no loneliness feeling.
18. 
Maou to Iu Ikikata
 魔王という生きかた [980421] Softhouse [A]
A sound novel where main character encounters demon king. This encounter is the beginning of a new love...
Some discontinued at dlsite ancient doujin crap.
Main character witnesses a woman illuminated by scarlet moonlight standing in the classroom.
"You're the only one I won't kill". So says the girl, and atmosphere of madness starts to cling to the protagonist...
What's only known is that there are two bad endings and six good endings with two heroines getting two good endings and another two heroines only one. Setting is school one.
Jingūji is tormented by hideous dreams of his past. The mystery begins as Yoko unwittingly decides to investigate a requested case.
Seventh installment of detective Jinguuji Saburou series that keeps bugging me since 1987. There's an English review of it.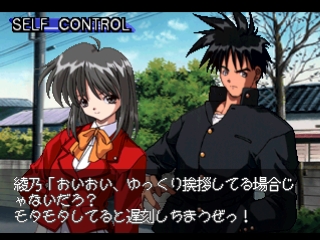 At the beginning, First Kiss Story lets you name the protagonist. Since this stud gets to flirt with twelve chicks (most games stop at five or six), I named him "BIG ZIG". Like every other gal game in the world (...in Japan), some kind of unrealistic situation forces you to get unnaturally close to a bunch of unnaturally cute girls. In this game's case, your parents have suddenly decided to move one month before your high school graduation. That's obviously not a good situation for a college-minded kid, so your parents conveniently agree to let you live with your classmate Kana, her little sister Manami, and their unusually attractive mother.
There is an English review of this game.
Main heroine is a school psychological consultant. She needs to diagnose correctly psychological problem of six girls and help them overcome those problems.
Well, a normal Interheart game. Lots of animation and lots of H-action
Hero is a social studies teacher at a girls' school. He founded runners club and is going to raise champions in there.
Raising SIM about jogging or running and on top of that with big randomness factor depending on dice. Difficulty is pretty high and reaching the end for the first time should take about 40 hours.
Star cat Nyantaru Pu together with star duck and star snowman come to Earth to buy a new game "Magical Blonde 2". But the clock go past 24 hours showing 25 etc hours, tomorrow is not going to come and so the game won't be ever released. Nyantaru Pu starts his investigation on time distortion.
That's a very weird game. Both the general systems and gameplay systems are a mess. We walk around the city choosing locations on a map, fight, earn exp and money. Very few people managed to clear it even with walkthrough.
An angel girl carries our "sin" and gets attacked dropping the carriage. What is the identity of "Guiltia"? Is it our libido sacrifice? Hop in to find the answer.
Parody game that contains all kinds of references, especially for Evangellion. There are also battles and even SM training parts. Story is so messy that it's almost impossible to follow. There are multiple endings including bad ones.
Tokugawa shogunate. Idyllic atmosphere of cherry blossom in spring. Each day passes like a dream around insults between prostitutes and their customers. I want to lift their burden and heal their wounds. Your love is waiting for you.
Command selection ADV. Decadence and somewhat dark atmosphere of Tokugawa shogunate. There are two main scenarios - "Childhood familiarity" and "Daughter of Samurai" both lasting for about three hours. It's pure love story with individual ending for each heroine, although there are dark scenes as well. Ange always produced weird games and this is one of its best masterpieces. Only small volume and weak graphics are its flaws that prevent it from being a real masterpiece.
27. 
Mamoribito
 護人 [980428] Softhouse Bonbee Bonbon
Phantom beast world where furry inhabitants live exists as parallel to human world.
Kisaragi Kyosuke is working in Tokyo in a major company. On his 25th birthday he was informed that he is no a guardian to keep the balance between two world and prevent interference. Is it possible for him to maintain the balance between these two worlds?
Command selection ADV. There are five chapters and the gameplay time is also around 5 hours. This game really lacks a better explanation. Close to nothing is explained about phantom world, secret organization danger and even reaching the end does not really explain much. An attractive fantasy story with a half-baked feeling.
Ryouko is now back in Japan after her home stay in the States. She starts by telling you how comfortable she feels to be back and so on. But why is that? Could it because you make her feel this way? She seems to think so.
The system of the game is exactly the same as that of the prequel. And that's already enough to stop looking into it. Summer vacation had horrible inner time feature so you'd need to meet her around 4 p.m. of real time on some day - we don't have a week off to pull that out! You only can meet Ryouko at certain time of the day! It's not us playing the game anymore, but the game plays us.
Main character buys some magical medicine in the adult toy shop. 
It is a medicine that allows to travel to a lewd world. After drinking he finds himself in front of a Western-style mansion. The house steward requests him to train three lewd demon girls: sister type, loli type and innocent sister type.
It's just SM ADV with aggressive H development.
The neighbouring all-girls school is haunted. Your council president girlfriend has a plan to do something about it, and drags you into it.
Since it's MBS Truth it's all about H events. The system is annoying since it's needed to move room by room which takes a lot of time.