VN of the Month March 1998 - EVE: The Lost One
---
EVE: The Lost One is the only masterpiece of the month.
The store manager escaped with 10 million yen and hero is forced as a new store manager and he needs to earn this sum within a month. Most of the staff left after the incident leaving you with only four sales girls.
Contrary to the synopsis, it's not really a SIM, but rather an ADV. There are still three times of the day. Earning money is not difficult, but getting flags for girls is challenging. The feelings part is serious, but game's filled with a good portion of laugh.
She'sn (aka "season") is a visual novel love adventure game which focuses on a four different stories through all four seasons. The player can select to play the story of any season in any order. Different season also features different heroines and different love stories to play through. The spring story revolves around a forbidden love with your sister-in-law. The summer season tells the love story with your childhood friend. Love story in the fall is about the school romance. And the winter season is a sad love story between the protagonist and a girl with an incurable disease.
Game's too ordinary and multiple stories make for hasty progress.
The game is divided into 2 different parts:
- The first part is the childhood of the main character (takes places in the first 2 years in the magic institute) at the age of 9.
- The second part is between the age of 14 and 16 up to graduation.
The objective of the game is not to graduate, but to to save the world from total destruction with the acquired magical skills and the help of one of 10 girls.
EVE: The Lost One is a sequel to Eve burst error. The events of the game take place three years after those of the first game. The player is able to control two characters - the female detective Kyoko and the mysterious Snake, as they try to solve a complex mystery full of betrayals and political intrigues. In order to complete the game successfully, the player will have to to experience it from the perspectives of both heroes, helping each other to gather clues and to unlock events.
I've prepared a full review.
The world is guarded by the goddess Gertruz. The queen who governs this world is chosen from the best girl candidates. One of the candidates got ill and hero's nephew is going to try to become the next queen.
Fantasy raising SIM to raise the best girl worthy of Queen's title. 300 days is the period (1000 days for other candidates), week by week. The events vary from fighting competitions to beauty contests. At first only 6 candidates are available, but with time all 12 open up.
A small town in the mountains. Hero is a doctor who works there with a nurse. One day a girl affected by some incurable disease comes to this doctor after hearing about his prowess.
There are three girls, each one with her own problem and sad past story. A girl who is poor and being affected by an incurable disease. A girl who closed her mind through parent abuse. A bad-looking little girl who was forcibly put in the hospital while parents participate in the election. Finally some quality nakige started to show up. Curing leads to a happy end while failing to do so leads to patient's death. Scenario is good, but hospital nakige is a genre not for everyone.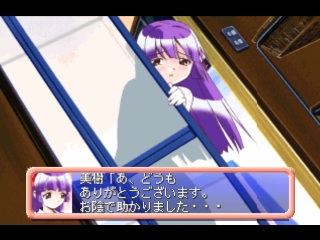 The main game's hero has to start living by his own when his parents had gone due to a job transfer. He got an apartment and started living with a girl.
The SIM part is repetitive and dull. The scenario is mediocre at best. But game is released for PS and has lots of animation and cute heroines.
8. 
Hiza no Ue no Partner ~Kitty on your lap~
 ひざの上の同居人 ~Kitty on your lap~ [980312]

 

1 2
The game is a dating simulation that centers around the player winning over a female (feline) partner through the power of text. Visuals are displayed in a classic anime style with fully-animated scenes.
The player assumes the role of a college student who adopts one of three Cats who turns out to be a cat-girl. Hijinks ensue.
PS exclusive about training cat girls. You decide schedule and await events. The number of events is big and there's communication mode at regular intervals to talk with the cat, so gameplay is not boring. Training is not difficult and happy endings is easy to get. It's possible to fast forward schedule routine and just read interesting part - this way one playthrough takes from 3 to 4 hours. There are also endings for sub-characters who are not cats.
Two months after the prequel. It's the period when hero and heroines started to have feelings for each other.
Sequel is praised same as original. The magical pixels are same intact. Number of heroines increased to 10 with 7 former ones and 3 new ones.
The player is a mercenary from the east travelling to the kingdom of Dolphan, modelled after middle-ages Europe. He had been hired to aid the war fought by the country, which will last throughout the following three years of the game, where the player will meet a number of the different characters and develop a relationship with them.
There are English reviews of this game.
The setting starts off from the Queen ED of Angelique Special 2. The protagonist is the same as Special 2, the series only RPG.
There is an English review.
12. 
Changing My Heart ~Kokoro o Kaete~
 Changing My Heart ~心を変えて~ [980320] Mesa
One winter day you're forcibly pulled by a bad friend to visit a Comiket in Tokyo. Will you spend your time there with the classmates, cosplayers or total strangers?
Story takes one day... no good story can come out in one day. There are three acquaintances and two strangers to pick up. The flow is absolutely ordinary. A nice feature that you can decide on your clothes and girls clothes.
There is a girl who has lost memory. To regain it hero needs to use hypnotherapy to follow the flow of her memories. There are three girls each with a unique story.
There are three girls each with two story branches. Both stories are needed to be read, then there's a recollection mode to get full picture. Branches are very short and of erotic nature.
In this case Kindaichi & Mijuki were having a discussion when they found that the police had found a man hanged in a park, so Kindaichi offers his help and goes to investigate the theme park and that's when the game starts.
There are as many as 7 games released about this child detective Kindaichi. I have not watched even any of its 148 anime episodes and not going to.
15. 
Tokimeki Memorial Drama Series Vol. 2: Irodori no Love Song
 ときめきメモリアルドラマシリーズ Vol.2 彩のラブソング [980326] Konami 
1
2
3
4
It is 17 days to the Culture Festival and your band (Irodori) is going to participate in the band contest. On this day while your are practicing a group of girls gathers around your band to talk to Takumi while you just ignore them and practice. After practicing Takumi meets his classmate Katagiri Ayako and goes over to talk to her. You will not know who she is at this time. Suzune will follow you on your way home.
At this point you will learn that she actually has some feelings for you, but you will not realise it. During lunch time you go to the rooftop to write a new song (Tears Angel) to participate in the Band contest. After school you can walk around to meet the other girls.
There is enough information in English about this game as well as one European language review.
16. 
In Days 3
 淫DAYS3 [980327] Lunar Soft
A collection of four short stories:
1. Country Study~後編~
2. 
玉置勉強氏が原画を担当!
パイオツ フォーエヴァー
3. 咲 香里氏が原画を担当!
Friends~フレンズ~
4. マンドラゴラ
Third bullet in the series. This time there is not a single review, but box cover features 4 erotic stories.
Three years have passed since the last big fight.
Masato receives a challenge from a person called "master" who summoned monsters to the island. Will Masato defend the girls? The curtain of a new battle rises again ...
The same gameplay is inherited - story advances by winning fights. Game is mostly for old players who have nostalgia. New players did not like messed up fighting system with the need to search weak points. Text in H events is kind of trashy.
A sequel to Pompom Pretty Parfait Okosamayou.
A year has passed. The main character was returning to normal college life after winning the game of sales in the previous game. And when the university studies came to vacations, a letter arrived from his mother's friend requesting to help with managing coffee shop "Muchimuchi Parfait".
The game system is totally different from prequel - that was a management SIM - this time it's AVG. There is a map of the city where locations are picked to set flags. However there is also girl training mode where you need to click at body parts to train physical strength, sexuality etc. One heroine playthrough is about 2 hours without skipping.
The girls' dormitory of Shukusei Music Academy is home to some of the most talented young female musicians in Japan.
In such an elite school, appearances count for everything, but behind closed doors the sounds of screams, whimpers, and dull moans can be heard echoing through the halls. The school handy-man, Shusaku, cleans up after the girls and picks up all their dirty secrets, which he uses to blackmail them into some very un-ladylike private performances.
Shusaku may get paid to clean up the building, but his true calling is just the opposite- sexually defiling and disgracing the innocent and high-strung musical maestros.
There are two English reviews. Game is generally rated high, but it goes contrary to my principles to name such games masterpieces.
Two terrorists have fled the prison and joined two travelling women as a result of hitchhike. They all took a break from the travel in an isolated mansion. But their identities are leaked through mass media. The two guys have nothing to lose and they don't plan to leave witnesses.
The short introduction is quick to transform into an insult nukige. There are a lot of mansion hosts and guests to abuse.