VN of the Month January 1994 - Fuzoroi no Lemon
---
Marble, the young and innocent apprentice of magic, has always been curious about one of her master's possessions, the magic "Wand of Wishes". One day the curious girl uses the wand; as a result, an evil demon is unleashed into the world. The spirit of the wand, a rabbit-like creature known as Sirius, tells Marble that it is now her responsibility to save the world from the demon, whose vile plan is to brainwash and sexually abuse ripe pretty young girls!
So there are seven stages, at which we... place carrots to summon a rabbit and watch HCG between the scenes. Something tells me this game is not so much about the story... Anyway, game even has English translation and a big faq in English... for those who want to reach perfection in placing carrots!
The protagonist of the game is a college student named Yuuji Shibata. One evening, just after hearing on the news that someone has stolen a tiger, he goes out to a convenience store. On the way back, in a dark alley, he notices a strange creature, a young girl with cat ears and tail. She doesn't seem to remember anything about herself, except her name beginning with the syllable "Mi...", which afterwards earns her the nickname Mi. Yuuji brings her to his house and tries to introduce her to the world of humans. (which, naturally, also involves techniques of human procreation). But will Yuuji be able to keep Mi as his companion (sexual and otherwise), or will he have to face her mysterious past?..
I've prepared a full review of the game.
In this episode Lime, Bass and Mizuki go to a fair and watch a magician's show. A BEM has disguised itself as one of the props, and Lime must become a magician herself in order to trap it.
A light comical episode with circus focuses as theme. It's still far till the end, so fooling around is in full blossom.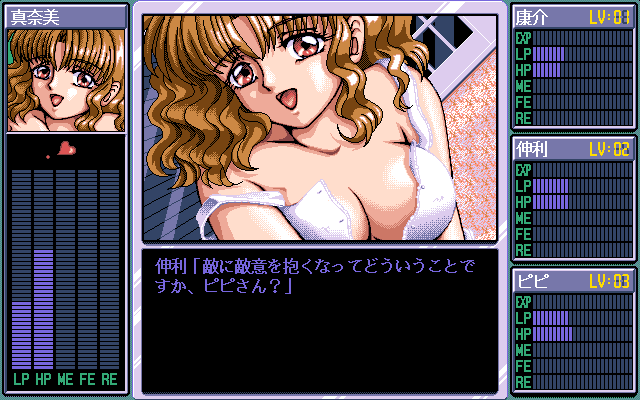 Kosuke is a graduating high school student who lives alone in Shinjuku. He has a secret passion for his classmate Miki and is anxious to confess his feelings to her before the final exam day. But as soon as he settles a date with Miki she dissapears and an unknown floating girl appears in a flash, then stumbles and looses consciousness. Girl is declares that a "holy war" is approaching and that the fate of humankind and Miki depends on Kosuke now. It turns out that legendary princess Kaguya actually married one of her five guards and while Miki is a descendant of Kaguya-hime, Kosuke comes from the line of her husband. In order to save Miki, Kosuke needs to sublimate passion of other girls.
I can't help surprise seeing such elaborate plots devised just to chase girls. We circle around the subway stations looking for girls. But actual process is done in simulation manner. There are even stats for it. Game does not have a single japanese review or impression and I did not go far either.
A collection of three main stories and several short kinetic stories:
1. 小犬のワルツ
2. UNDERDEEP
3. パラゴンの災難
4. FORUM
5. BA散歩
6. しおりの部屋
7. minimum hour
The structure and the content are very close to the previous part. Same over-sized body parts present.
Machida Haruko, nicknamed "Faru", is a young girl who was living together with her sister Mei. Mei has mysteriously disappeared, and one day Faru received a package, which contained a video showing her sister, tortured by unknown people, crying in agony. The young heroine heads to the high school Mei studied in. She tries to get a job there, in order to investigate the circumstances of her sister's disappearance, and bring her home safe...
Yet another Classmates rival and this time even with the time concept. Main character is a shemale... so trap protagonists attack started in yearly 1994... Heaven's voice system was particularly useful, it's basically tips of what to do when stuck or bored. Game is strong in every division. There a lot of unique and cute characters. Story tries to have a serious narration, but with a shemale in girls school gags are inevitable and game manages to keep that balance of seriousness and bakage. So you wonder around the school , talking to several teachers and several students in order too proceed with the story. Characters can be absent at their spots and it's possible to miss an important event. For that the system of moving back in time with a nursery cabinet is introduced. In the second half of the game money is used a lot so it's important not to waste assets on fortune telling and such. Irregular lemon actually managed to save the fun parts and not to fall behind in any aspect, so it's definitely a masterpiece game.
Miho Premium Collection no.003 is dedicated to predominantly sexual experiences of a Japanese young woman named Miho during her work at a hospital as a nurse. The game's story is rather sparse, consisting of various encounters with doctors, staff members, and patients, most of which lead to sexual scenes, often with unsavory medical undertones and torture.
Red-Zone title with hospital as theme. Does not have value apart of H.
Player controls film director of Cinema House on the planet Paraiso which is in the middle of war. Much of the crew was conscripted, military censure is ravaging, but for a man of passion everything is possible.
Each character has behavior patter lasting for 24 hours. According to that pattern we devise a plot and arrange actors in SLG part. Mostly we just approve or disapprove suggested variants, so it's not difficult. It's possible to talk to actors and those talks are masterfully done. If you done screening but want to start anew or shoot additional scenes, the schedule gets tight. There is also human relationships dimension and unexpected troubles that come up. Parents would naturally object in indecent role offered to the child. But the ADV part of the game is probably even better. You can walk around the town talking to inhabitants in the top down camera Classmates style immersing in the atmosphere of warring city. Even though the length of the game is not big, the degree of freedom and the replay value is great. Believe it or not, many people are calling this game their favorite game among all the pc-98 games and it's definitely a masterpiece.
The game has a rather simple premise: the protagonist is a young man who is looking forward to his first day on a new job, that of a teacher at the prestigious St. Erika Girls' High School. Naturally, he won't be busy with teaching alone; the goal is to get acquainted with the various female characters that populate the school, including the nurse and many of the students.
A game with huge map and lots of walking around. Point-and-click system does not make things easier as well. It's difficult to get to H events and huge time investments seem to be needed to figure out the rest.