Get it? Because it's not boring?
Right?
Listen, it took me about 20 minutes to come up with that one.
So anyway, in case you haven't figured it out, I will be talking about Horizon Zero Dawn. A new ip from the developers Guerilla Games, best known for the Killzone series. Horizon Zero Dawn isn't just another success story to place on top of the already pile of success stories out there. No, no, no, no, no, no, no it is not. Horizon Zero Dawn is a beacon of hope to any company thinking of taking a risk with a new ip. Before it was released, Horizon Zero Dawn already was garnering interest from its audience because of it's sort of mix between Brave, Turok:Dinosaur Hunter, and Terminator.
Hey, I'd watch that. And now here we are one year later with the game selling over 7 million copies and a new DLC, The Frozen Wilds, proving that despite what EA loves to shove down our throats that singleplayer focused games aren't dying and don't sell well. Now games with multiplayer do sell better as well of games with a connection to a previous universe, such as Call of Duty games, Black Ops, Doom, Gears of War, etc, etc. Horizon is none of these. All it has going for it is its characters, settings, game play, and story. And it succeeds on all.
You play a young, redhead girl named Aloy. No, that's not how you pronounce that name. Look at how it's spelt, imagine how it's pronounced based on that and then forget about it. That's how you pronounce her name. An outcast raised by her guardian to pass a trial she will face when she comes of age so she can finally be accepted as one of the tribe. Aloy being an outcast shapes her actions in the game. As an adult she doesn't go insane with talking with herself to be annoying but just enough to be informative. She also has some nice idle animation and even non idle ones, such as placing her hands just over tall grass so they can skim on her fingertips. Holding out her hands to feel the rain or snow. Little touches of this helps the gamers be immersed with the character and the world. Of course it does help that this is one of the best looking games in recent memory.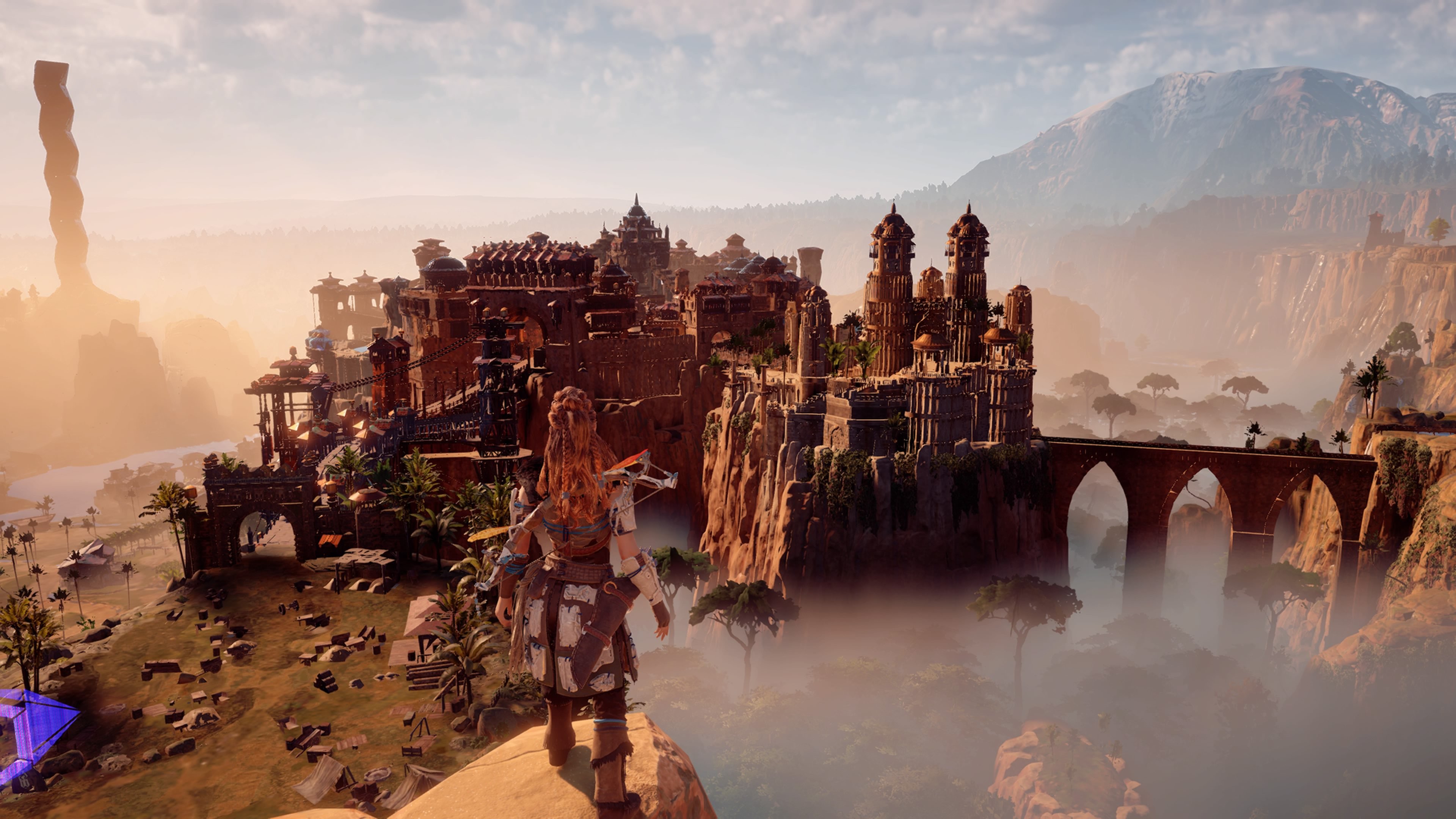 I got Horizon and it's DLC while it was on sale, luckily and was very surprised on how immersed I found myself in the game. The mechanics work well in the game and are effective in your journey to avenge your tribe. Speaking of, I kind of feel they lost an opportunity here for some interesting conflict. You see, early on, Her tribe is attacked and a large portion of them are killed. Aloy was just freed from being an outcast literally less than 5 minutes ago, and being an outcast means that no one from the tribe can have contact with you, or accept you as their own. So she, aside from her guardian, Rost, had been living on their own with their wits to help them survive. Now, as they are attacked, Aloy then gets a personal reason to go after the attackers. I felt like this is a missed opportunity for Aloy to have a personal struggle with the whole thing. Like now that she's seen as someone who's useful to the tribe while before everyone treated her like she didn't even exist. She only took the trial so she could find answers about her mother. Just imagining her fighting the tribe that abandoned her and looking past her rooted feelings on the matter would've been interesting to experience.
So, besides hunting with your bow and setting traps, Aloy has another tool in her arsenal, a kind of like bluetooth headset. This allows her to basically go into batman mode and get more information on the world around her. Except the drawback is she can't run while having it on and it also has a very limited range. This works well because one, it's mostly an open world stealth game and two, it allows you to not rely heavily on it. HOWEVER, there are times for sidequests where you must use it to track an item or person or a target. This is when the thing becomes way to simplified. It's basically turn on your bluetooth, point at the glowy bit and then press R1 to make a trail to follow. Sometimes reach the end of the trail and press R1 again. Felt like this tool should've been a tad more complex, like having filters for chemicals, heat, or unique properties that you need to manually cycle through until finding the right one. Something, ANYTHING other than "point at the thing and press a button."
Speaking of press the button, I've gotten to a point with some kind of ancient underground facility and as I approach a control panel for a bridge, Aloy says aloud "How do I get that to activate." Yes, quiet the conundrum here, Aloy. What do we do? Perhaps we find a machine with some kind of pass for the internal workings of the facility? Maybe we play a quick hacking mini-game that's time based to get passed this? Nope! Just hold triangle next to the thing and that'll sort everything out. Again, I wish there was a bit more complexity to the mechanics to the game. I mean, FFS, I need several different bows to fire different elemental arrows, for some reason. Make the one thing that seems like it would be complex complex! AND LET ME PICK UP RESOURCES I'VE USED! Like wire traps or arrows that missed. You can place wire traps that are explosive or shock the enemies that you can't pick up when you want to move them. If you place them in a spot the enemy isn't nearby anymore, you have to adjust yourself so they charge through the trap. Or, if you realize you don't want to fight the enemy anymore, you cant just leave. Otherwise you waste a tripe wire or two since you can't pick them back up.
But anyways, small gripes in an otherwise great game. Certainly pick it up when you get the chance. On sale or full price, you can go wrong with this unique experience.
Oh, right. You fight robotic dinosaurs.