Random free EVNs worth reading #1
---
Welcome back my dear readers and welcome to this new, irregularly-posted segment on EVN Chronicles! 
As some of you might know, beyond my general burnout which made me put the blog on indefinite hiatus, late last year I've developed some health problems that pretty much killed my will to read VNs and my ability to contribute meaningful content on Fuwa... For a while. As I come back to life, both physically and mentally, I've decided to resurrect this space and log my adventures through mostly short, free EVNs, sharing with you all the most notable finds among the game jam entries and random passion projects I read through. So, do you want to read some hidden gems, all available for the very reasonable price of $0.00? You're sure to find some on this little list, and the ones that come in the future!
Optimal Conditions for a Sacrifice | Yuri/Fantasy/Comedy | ~20 min

It's rare for extremely short VNs to charm me, but Optimal Conditions for a Sacrifice has just the perfect combination of humour, wit and well-delivered punchline to made this kind of tiny experience memorable. The game plays on mythological themes and a rich set if metaphors to construct an intriguing narrative about the nature of love – all while never taking itself seriously or trying too hard to be profound. And this last part is crucial – from the game's Ith.io page, through its net of riddles and on-the-nose social commentary and to the purposefully jumbled ending, you can feel the fun the author had writing all of it and molding it into a VN. And while this kind of experiment has always a high risk of missing the mark and becoming an unreadable mess, the genuine-feeling and relatable messaging it ends with makes it better than it had any right to be. And with a nice artstyle as a bonus... It's very much worth it to sacrifice 20 minutes of your time to check it out. 
My Dream Is To Be a Model, Not a Maid! | Yuri/Drama | ~1h 20 min
Team ANPIM are regular authors of cliched G/G romance, always present for the annual Yuri Game Jam with a new piece of heartwarming fluff. While their output in the past three years was a bit of a mixed bag, often lacking interesting twists to keep the formula fun, My Dream Is To Be a Model, Not a Maid! is what I'd call a return to form. Starting with a silly premise of an aspiring (and awfully unsuccessful model) getting coerced into becoming a lived-in housekeeper for a young daughter of a CEO, it provides a well-paced and fun piece of romance between two people of vastly different backgrounds and live experiences. While the short runtime limits how deep the story can get and the overall structure of the romance plot is utterly typical, the characterisation and humour make it all solid enough to be a very enjoyable, one-sitting read. And with a bunch of really nice-looking CGs added to the mix, it's exactly what you would want from this kind of bite-sized piece of yuri fluff.
My Crush My Bully | Yuri/Drama | ~30 min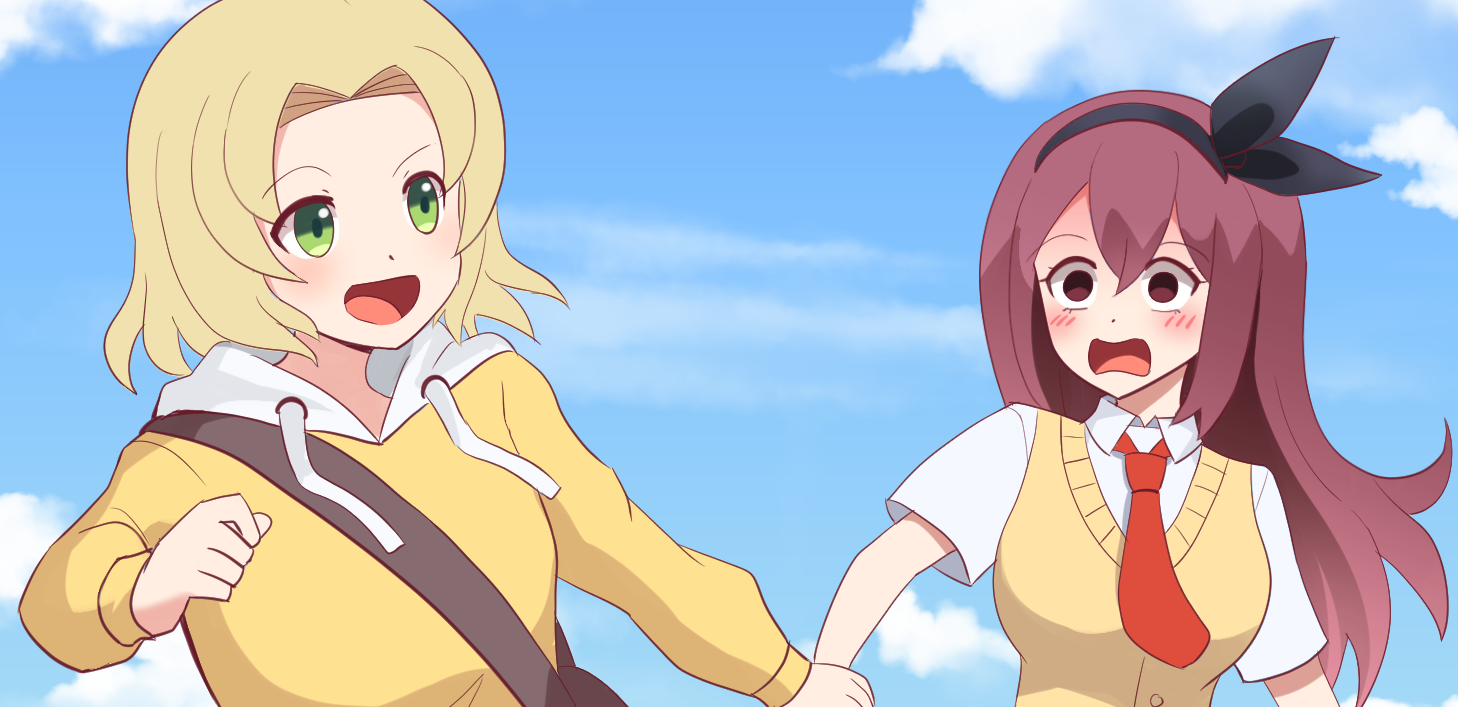 Written by one of my favourite VN writers on the freeware/game jam side of the market, PunishedHag, My Crush My Bully is a short story about an awkward, nerdy girl who unexpectedly encounters her school tormentor on a trip to library. While trying to stealthily buy the newest book in her favourite fantasy series, she's caught by the titular bully, but there's something off with the interaction that follows... While the game is maybe a bit too short to reach its full potential, its strength lies not only in good characterisation of the main characters, but also in providing two vastly different viewpoints on the relationship it depicts. The perspective shift took me by surprise, providing a sombre, emotional backstory to the somewhat whacky-feeling romantic plot. Without it, the whole story would just be a decently-written piece of yuri fluff, but the additional depth and social commentary it adds makes the whole experience worthwhile despite the short length.
Wolfskin's Curse | Fantasy/Horror/Mystery | ~1h 30 min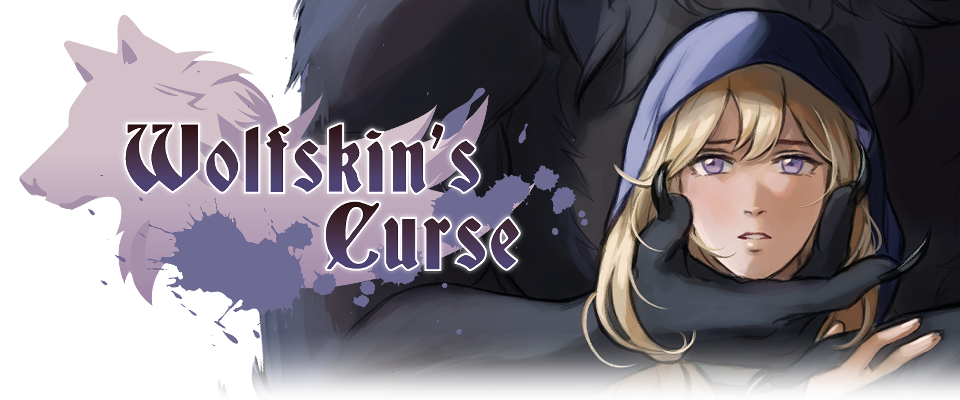 Probably the most involved and well-produced VN on today's list, Wolfskin's Curse offers a mystery plot about a former priestess and a werewolf running away from tragedy and persecution, only to be caught up in a new chain of deaths and being framed as perpetrators. A very climatic piece of dark fantasy, this short story offers most elements you would expect from the formula: a gloomy setting, tragic romance and a cast of ambiguous and tortured characters trying to survive in a hostile world. It also includes high-quality art and full voice acting – that last part being something I usually avoid in freeware projects due to it rarely being good enough to be more enjoyable than just reading the dialogue yourself, but here it was done with decent quality and care, particularly for a game jam entry. And whether you mute the voices or not, the VN will be an interesting and emotional journey – at least if you don't mind reading something pretty depressing in tone.
And that's all for now! As I'm trying to take things slow, this segment will show up at random intervals and likely with different amounts of content. However, I'm going to keep the mission of spotlighting notable EVNs alive as long as I'm able to – if you're interested in those, be sure to follow the blog and if you have recommendations for free EVNs worth checking out, make sure to leave them in the comments. Thank you for reading!