I Love You, Colonel Sanders! A Finger Lickin' Good Dating Simulator (Free VN Review)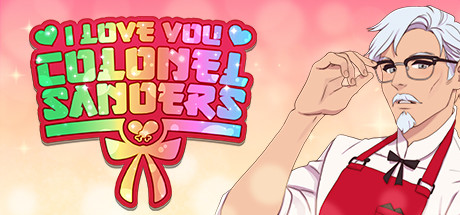 As it's probably very clear by this point, I like visual novels. Like, a lot. I also happen to like KFC, which definitely places in my top 3 of fast food chains available here in Poland, occasionally coming very close to claiming that number 1 spot. The only thing stopping me from enjoying its antibiotic-filled, industrial chicken goodness every other day is the lack of convenient locales (in stark contrast to McDonald's, as the closest one is in a very cosy corner just 10-minutes' walk away from my place, just beckoning me to claim those coupons for cheap coffee). Thus, there should be nothing preventing me from enjoying a parody/advertisement VN aimed at stroking that unsatisfied urge for greasy, over-salted chicken treats. I Love You, Colonel Sanders! A Finger Lickin' Good Dating Simulator, released on Steam two weeks ago and developed by a niche studio under the name Psyop, had the potential to not only be a whacky marketing tool for KFC, but also a fun joke VN – with the backing of a giant corporation and a team of not-completely-clueless people working on it, it could've easily exceeded everyone's expectations. However, it really, really didn't…
Whatever you might think about this game, it's hard to argue with the extreme, masculine charm of its iteration of Colonel Sanders. Quite a… FILF? No… DILF? Ugh, nevermind…
I Love You, Colonel Sanders! was created with a very clear agenda in mind – it's a device to promote KFC's new mac and cheese dish and, more broadly, make you think about its blood-vessel-clogging menu for much of your reading experience. In this regard, it seems to be extremely successful on both macro and micro scale. It was the talk of the day on social media and even gaming sites for quite a while, achieving that for what was probably a tiny fraction of the cost of a traditional marketing campaign. It also really made me want to go to KFC, although that feeling was deeply bitter-sweet (bitter-salty?), as nearly none of the menu items featured in the game are a thing in the Eastern-European shithole I live in. We actually have some crappy "California" seasonal menu with pineapple in everything – a major turnoff, if you ask me. But, if I actually was in US, I'd be rising my cholesterol levels with that disgustingly-fatty pasta dish until I got sick of it – thus, I think the advert part works well enough.
                When it goes to the visual novel itself, it's exactly the wacky collection of memes, caricatural characters and paper-thin plot you would expect it to be. Some say it's just another pseudo-parody VN making fun of anime tropes, but those are really less prevalent than pure randomness. Also, all those absurd "gags" probably sounded way more fun in the script than they actually are after being brought to life. You start as a genderless student enrolled in a crash-course cooking academy, having to navigate your way through a number of "funny" choices in order to achieve two goals: show your fellow student, Colonel Sanders, that you're a person worth his affection, and a chef good enough to become his business partner (both parts are connected to different choices and getting the cooking part right is actually a bit tricky). In all of it, there's a pretty clear message about simple cooking being supreme over snobbish culinary experiments, and Colonel Sander's chicken dishes being exquisite, so I guess it conveys something akin to KFC's driving philosophy. The ending you get mostly depends on whether you follow these "ideals" in your choices. There's also a tiny bit of charisma to Sanders himself and the protagonist's best friend, Miriam, and a few jokes connected to those two were actually amusing. The whole rest of the cast and the "main plot" itself are garbage.
The exaggerated, wacky characters and abundance of memes would not be a major issue if they were employed in witty, genuinely funny ways – they are not…
There are also other elements in I Love You, Colonel Sanders! that you would expect from this kind of meme game, like random game-overs (you can thankfully go back to the choice just by clicking "try again") and over-the-top music. The latter might actually be the worst part of the whole experience – it gravitates between utterly generic and seriously obnoxious, with the loud cacophony that kicks in during all more intense moments (like the cook-off sections) being simply unbearable. Interestingly enough, the game also isn't a dating sim by any definition – while you have to deal with a few timed choices (pretty annoying and unintuitive when it goes to which answers are the correct ones), there are no gameplay mechanics to speak of. From the technical viewpoint, it's extremely limited even for a visual novel, with no manual save (this is thankfully not so problematic with just how short it is), no backlog and dreadfully bare-bones options menu – basically just sound sliders and two pre-set graphical levels. This probably stems from the fact that it wasn't made in a dedicated visual novel engine (I assume it was done in Unity), but it's still an embarrassment for a semi-experienced studio to ignore quality-of-life features to this degree. Options like textbox opacity (hope you like white text on white background), text speed or skip-read options are in every modern VN for a reason, and I find ignoring them unacceptable even in a game this short.
…I mean, your teacher is a talking Corgi! Sitting on a pedestal! That's funny, right? Right???
If I can find something good about this VN, it would probably be visuals – most character designs are fun and assets are all-around solid. The variety of expressions on sprites is very satisfactory, and there are even some surprising traces of actual effort, like the alternative clothing made pretty much exclusively for the short ending sequence of the game. The opening animation could be described as pretty awesome and I'd be genuinely impressed if the VN itself was this vibrant. The fact it isn't, and how messy its script is, makes me think that the production was rushed, without much time for devs to get really creative – which is a shame, but on the other hand, it's hard to argue with the memetic spread of this game and the generally-positive response it got. People were definitely amused by it, and that's what the whole project was about. We can complain about how uninspired it is or how it lacks substance (unless you count chicken grease, there's a lot of that), but that doesn't change the fact it was effective.
                And, as the last issue, there's the immortal question of "what does it mean for VNs"? Unlike with the cases of DDLC or Devgru-p's Hitler waifu game, I Love You, Colonel Sanders! enforces the image of visual novels as those whacky, shallow anime games not only through its outer appearance, but all of its content. It also, as mentioned before, mixes up what a dating sim and visual novel are, playing into popular assumptions. I'll still ask all those crying about the damage to VNs image to calm down – I assure you, 99% of those that discount VNs as just waifu games for weebs wouldn't be interested in them anyway. And, in the long run, the formula being used in all kinds of ways might be better than it being dead beyond our hermetic niche. I just hope that the next game of this kind will be just slightly more competent, showing at least a bit of the technical functionality and storytelling potential of modern VNs. It only takes a bit more effort to achieve that.
Final Score: 2/5
Pros:
+ Works as an advertisement
+ Good visuals
Cons:
- Mediocre humour
- Story? What Story?
- Music that will make your ears bleed
- Embarrassing lack of quality-of-life features