DoraKone (Free Yuri VN Review)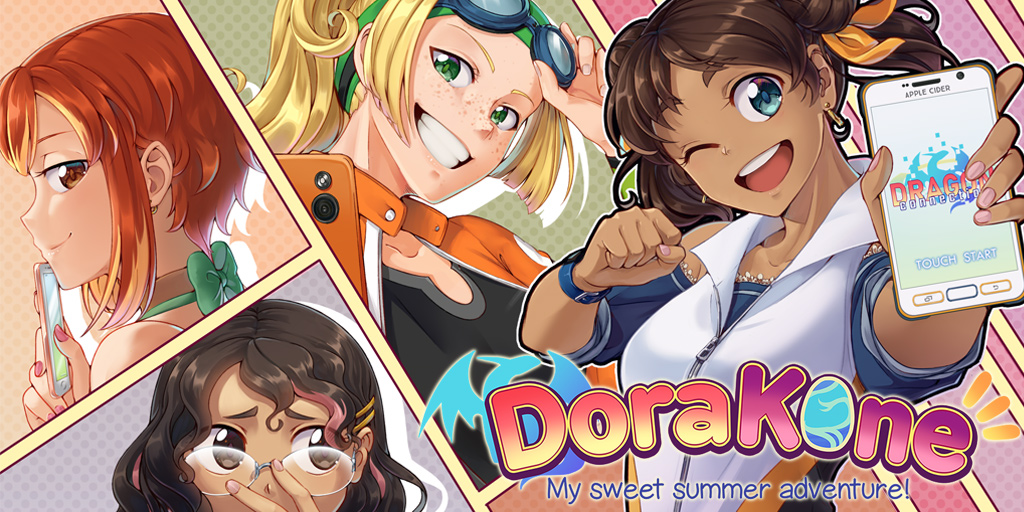 While it's easiest to find high-quality free EVNs during popular game development events such as NaNoRen0 and Yuri Game Jam, from time to time there are small gems that pop up more or less out of nowhere, created either by hobbyists or as side projects by veteran developers without any particular occasion. One of the most interesting (even if infrequently active) collectives that created this kind of games in the past few years is Apple Cider, a team co-founded by DejiNyucu, a Chilean artist known for her distinct and high-fidelity character art. Over the last 10 years, she was involved in numerous visual novel projects developed under various labels, including my all-time favourite erotic VN, Cute Demon Crashers. This personal fondness of her work made me that more excited when I randomly discovered Apple Cider's latest release, free yuri VN called DoraKone.
                Released on Steam in December 2018 despite its summer theme, DoraKone is an extremely cute, comedic GxG romance VN. It features four girls that meet and befriend each other over a dragon-themed, Pokemon GO-style augmented reality game Dragon Connection (DraCo for short), all of this in an unusual setting of an unnamed Chilean town. The energetic protagonist, Dulce, is a newbie that starts her adventure with DraCo after buying a new smartphone and quickly encounters three more experienced players: shy and kind Rayen, rash and competitive Brin, and spoiled rich girl Honorée. Depending on your choices and meeting events you pick, Dulce will get closer to one of the heroines, becoming a close friend with her, or even something more, while also either winning or losing the DraCo tournament held in her town. This creates over twelve possible endings, nearly all of them wholly pleasant and lighthearted.