Plk Lesiak's Shovelware Adventures: Beach Bounce series
Beach Bounce was the second title introduced by AJ Tilley, the creator of Dharker Studio, just a few months after his debut with the infamous Sword of Asumi. It stood out from his other work in a slightly paradoxical way – while Tilley's other projects dealt with different breeds of fantasy or experimented with unusual plot elements (ex. Highschool Romance's gender-bending), Beach Bounce was meant to be a much more standard nukige, placing our average male protagonist in a summer resort with a substantial number of scantily-clad, horny women and no competition in sight (to the point one might think the rest of the male kind was wiped out by some global cataclysm, but the story at least doesn't mention any such event taking place). The game initially followed an episodic formula, with the first part released in August 2015 and the second one two months later. However, with the termination of AJTilley.com label, under which it was originally published, it disappeared for a while and then re-emerged in a new form, as a full, "Remastered" release by Dharker Studio – this final version of the game went live in late February 2019.
                That's the simplified version at least, as the confusing network of Dharker's sister companies created and terminated by AJ Tilley over the years, including Brightly Studios, BurstRay Games and StudioX, among others, is hardly worth deciphering at this point. Still, whatever label is attached to a Beach Bounce game, it's always Dharker Studio hiding underneath and that's pretty much the only part of the puzzle that is genuinely worth knowing. Going back to our main topic, while the "Remastered" label might've been quite a stretch for a game that never before saw a full release, it doesn't mean things didn't change – the overall plot, the characters and their relationships were rewritten in rather significant ways and the complete story now included seven different love interests, with multiple h-scenes for most of them. This meant quite a lot of anime smut in a time when porn VNs weren't available in such as abundance as they are today, especially on Steam. Thanks to all this, while not necessarily a critically-acclaimed title, Beach Bounce proved successful enough to warrant two sequels, Beauty Bounce and Bunny Bounce, released literally two weeks apart from each other, in February and March 2017. Setting aside the question of what went wrong with those development cycles, I'll focus today on taking the closer look at the Beach Bounce trilogy and find out whether they deserve the dubious honour of being some of the lowest-rated VNs on VNDB.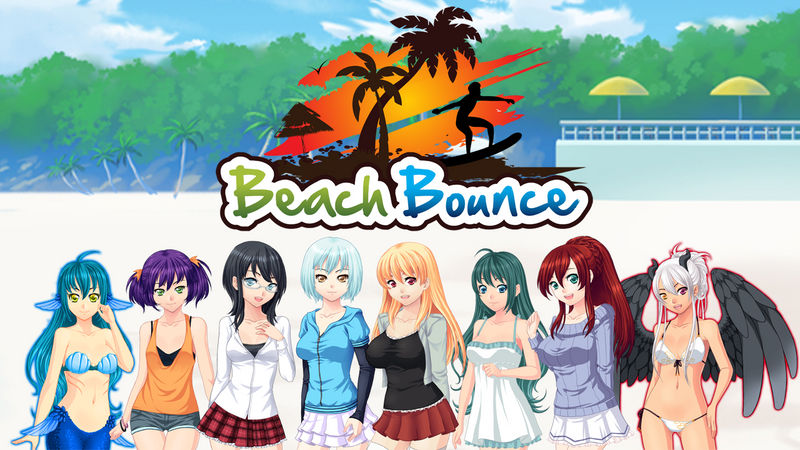 Beach Bounce starts with our unassuming protag-kun, Tomoyo, being summoned to a hospital by his ill grandmother, the owner of the titular summer resort. Not being able to perform her managerial duties, she asks Tomoyo to help her staff with handling the everyday affairs on the property – a dream come through for a guy who just dropped out from a law school and was thrown out for it by his apodictic father. To no one's surprise, all the employees on the resort happened to be beautiful, young women and while at first some of them were rather apprehensive towards the protagonist, seeing him as a loser who only got involved with the company because of his family ties, they're all soon enough ready to jump into his pants at his every word. And as we're dealing with 4 primary heroines and three secondary, "wild card" love interests, after the short introduction sex scenes are hiding literally around every corner, and as most of them are tied to choices, there's quite a lot of unique paths through the game's minimalistic story.