OELVN Developer Spotlight: ebi-hime (Interview)
For the last month, we were going through the impressive catalogue of free VNs by ebi-hime, one of the most celebrated creators within the Western VN scene. As a conclusion to this series, it's my great pleasure to bring you a short interview with none other than ebi herself. During our conversation, I've focused on the dominating themes in ebi's works and topics directly connected to the freeware titles I was reviewing lately – if you want a more general overview of her inspirations and questions connected to her other work, consider reading the interviews done in the past by The Yuri Nation and Sekai Project. Also, if you're not familiar with ebi's free VNs, check out my previous posts about them (Part 1; Part 2) – they should give you the context necessary to understand what we're talking about in the more context-specific questions. So, here it comes – hope you'll all enjoy it!
---------------------------------------------------------------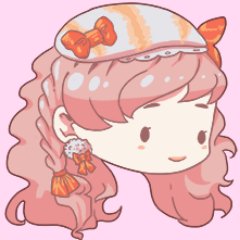 Plk_Lesiak: Thank you for accepting my invitation! I don't think there are many Western VN fans who wouldn't be familiar with your work, but can you share something about the person behind the ebi-hime label?
ebi-hime: I'm ebi and I like cute things, maids, and magical girl anime... And that's about it! Honestly, I'm not very interesting.
PL: As you talked about your inspirations and interests in other interviews, I would like to focus on the dominant themes in your games. You're one of the few EVN authors that frequently set their stories in the West. Do you have a favourite setting to write about?
ebi: I think England is probably my favourite setting to write about, because it's the country I live in and I'm reasonably familiar with it (though I don't know everything about England, of course). It's easier to place my characters in a setting I know relatively well, as I don't have to do as much research, and the end result feels more 'authentic'.
I also like setting stories in Japan because I got into VNs through reading a lot of Japanese VNs which were (what a surprise!) set in Japan. I also watch a lot of anime, and I went through a period where I exclusively read Japanese crime fiction, so I'm fond of Japanese settings! If I don't feel like setting my stories in England or Japan, I'll usually pick a European country I'm somewhat familiar with, like France or Italy.