Plk_Lesiak's Shovelware Adventures: Yuri Sakura Games, part 2
Hello again and welcome to the second part of our journey through the world of Winged Cloud's yuri shovelware!
The release of the Legends of Talia's was undoubtfully a small disaster for Winged Cloud, not only failing to kickstart the new non-ecchi franchise, but also being quite harshly rejected by WC's already-existing fanbase. It didn't, however, end the yurige streak which made the straight Sakura porn, once definitely the dominating format, surprisingly rare in last year and a half (and the het games that actually did show up in that time were all very much underwhelming, even by the series' standards). Still, whether this "Golden Age of Yuri" translated into us customers receiving anything of quality is, as always when we're talking about Winged Cloud, a bit more complicated issue. So, what exactly the latest yuri Sakura games have to offer, apart from an unreasonable amount of boob-centric CGs?
A Sakura game about making a Sakura game, Gamer is one of the first examples of Winged Cloud trying to include what would normally be the basic component of any ecchi VN: actual comedy and humour. This development undoubtedly connected to the hiring of a new writer, Waffle, who replaced the veteran Liberty, whose track record was progressively getting more and more awful. In the case of Gamer, the satire is mostly directed towards WC's own products, resulting in some highly-amusing and accurate episodes of self-ridicule. Although it might be slightly hermetic to an outside reader, with a lot of references to other Sakura titles, it's probably the first instalment in the whole franchise that on occasions was genuinely funny to me – and still remembering the jokes and references in Sakura Spirit, dryer than the Karakum Desert, this was a very welcome change.
            The plot of the game, if you can call it that, seems more like a semi-random set of interactions written to fit previously-drawn character sprites and CGs, but also features a fairly amusing cast of female characters (the protagonist, Nekohime, is probably my third most favourite Sakura lead after Dungeon's Yomi and Fantasy's Raelin) all of which receive traces of actual development and, when it goes to heroines, can be seen as serviceable romance options. Inma's character designs, while rather absurd, are also among the best ones she's ever made for Winged Cloud – those buying Sakura titles solely for the CG's (as much as I'm puzzled by that practice) will definitely have something to look at here. While this might not be, objectively speaking, one of the best WC titles ever, it was one of the most enjoyable ones for me and I can recommend playing it as strongly as it is ever possible with a Sakura game (that is, just watch Bosskwar's playthrough of it, it will be a lot of fun).
Final rating: Golden Poo!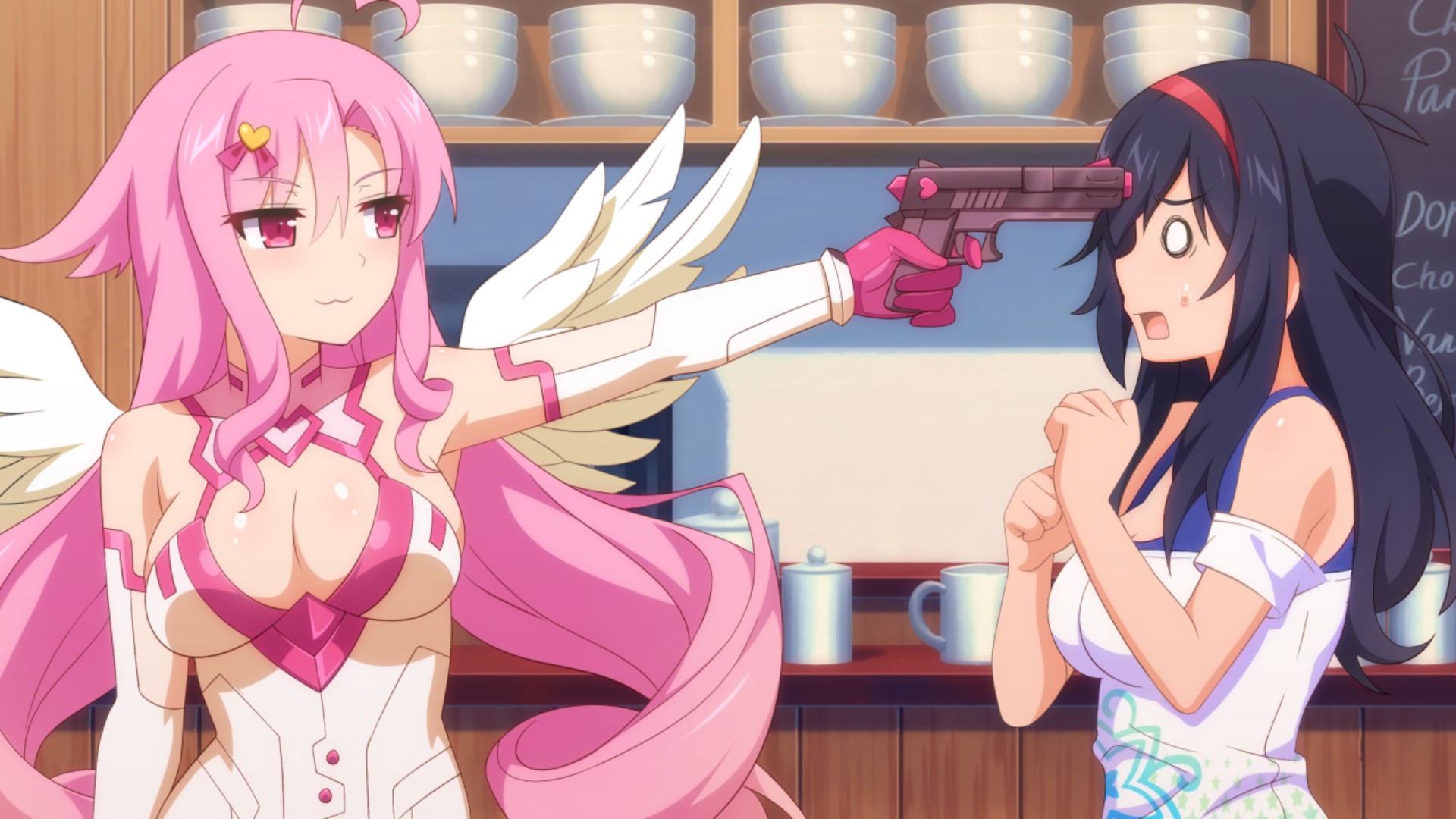 Winged Cloud's 2018 Valentine's Day surprise is, putting all the possible Gabriel Dropout inspirations aside, a relatively competent VN, once more utilizing the arcane art of comedy to make the Sakura formula slightly less stale and generic – this time mostly in the form of some over-the-top CGs and character interactions, that, especially in the opening segments, give the whole game some actual personality. Cupid also stands out by, very surprisingly, throwing the fanservice and hentai scenes at you in a way that is both logical and fits the story, and it's probably the only time I've seen this particular feature in the whole series.
            The actual plot and characters, however, are more on the bland side of the spectrum, mostly due to lack of any interesting development – especially Mitsuki, the waitress that out protagonist teases constantly in the café she frequently visits, starts as a pretty amusing, snarky heroine, but quickly turns into an over-the-top deredere, whose only clear quality is her obsessive love for our female lead. The endings also are among the more anti-climactic and dumb ones I've seen lately, making the whole VN rather hard to recommend. I have to admit though that the CG presented above and the scene associated are among the funniest things I've seen in WC's games – thanks to it and a few other highly-amusing moments I don't actually regret reading through the whole thing.
Final rating: Rabbit Poo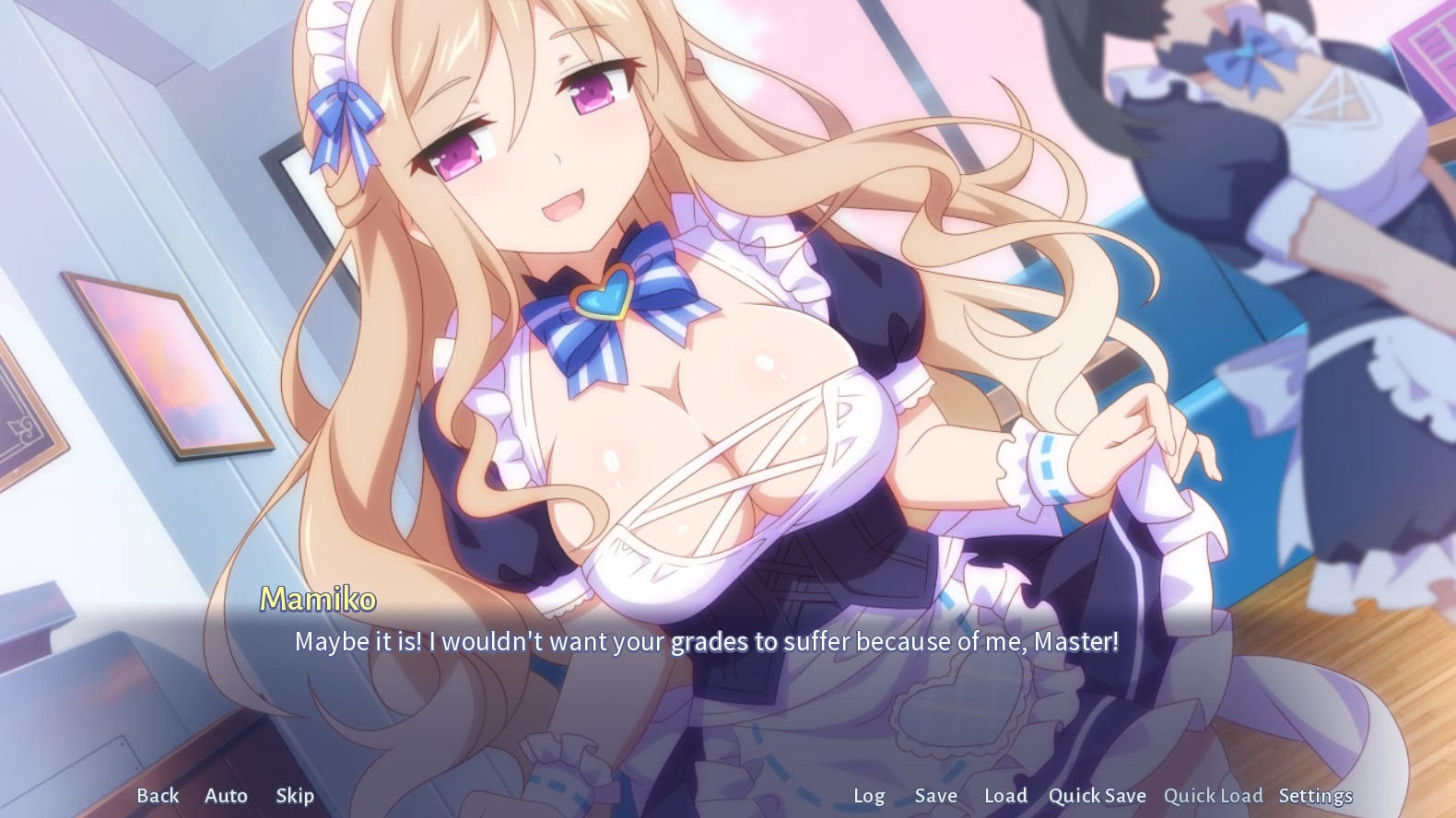 Sakura Sadist is another gloriously contradictory example of Winged Cloud's simultaneous progress and regress when it goes to quality – an initially nicely written and fairly funny VN that pretty much completely falls apart later into the story and is incapable to capitalize on its best assets. The game, following a female pervert protagonist, starts quite amusingly, with our lead constantly teasing and bickering with her childhood friend, Mari, who serves both as a straight man throughout the story and as one of two love interests (the second one being a certain beautiful, dignified star of the school, who we can instantly identify as the titular [closeted] sadist). The actually competent dialogue and nice chemistry between the main girls made me at first quite optimistic about the game and the possible direction it might go to.
            Sadly, if you thought that anything interesting would be done with the BDSM theme or there would be any kind of twist to the story that you couldn't easily predict after first 15 minutes, you'll be sorely disappointed. Not only the main premise is realized through a few episodes of pet-play and the second heroine trying to control the protagonist in vaguely BDSM-esque fashion, but it can also be… Skipped completely, by choosing not to be a total creep and in that way reaching Mari's route, with its 10 minutes of dialogue and 20 minute-long hentai scene (at least I have to admit it might be the most extensive porn segment in all of Sakura games, whatever that's worth to you). The already short game, ending an hour early in one of its main conclusions is not a thing I see every day, but also not something I ever want to see – just like I don't want to ever see more of Sakura Sadist.
Final score: Rabbit Poo
------------------------------
So, as we've reached the most recent instalment in the whole Sakura franchise, what the future might hold for these trashiest among trashy Western yurige? I would expect them to keep coming out, more or less, till the end of times – while not all Winged Cloud fans are happy about the switch to mostly f/f smut, the company's dedication to the theme shows that it's a viable niche and sells at least well enough to justify constantly spewing new iterations of the formula. I'm also pretty sure that Winged Cloud isn't going anywhere, considering it's stable Patreon support that at least partially compensate for possibly dropping Steam sale (obviously, with the effective death of SteamSpy it's very hard to say what the numbers look like for their latest titles). I'm very sure that before I'm done covering the whole already-available roster of Sakura games, they'll be new ones coming to keep the Shovelware Adventures alive.
SUCH JOY! SUCH HAPPINESS!
PS Once more, my special thanks go to Bosskwar, who made this series possible (or at least much more enjoyable to make) through his let's play videos.