Sounds of Her love (free VN review)

Check out my interview with the developer of this game, ds-sans!
Is there any merit to creating a tame, single-heroine romance VN in a market that seems to be flooded with cuteness and romance, often in much more "advanced" forms? Do a romance VN need to invent something fresh and original to be successful? Is it even possible to be innovative in the world of cute love stories with the kind of saturation the genre offers?
          Sounds of Her Love, a small freeware title published over a year ago by DEVGRU-P and created by ds-sans, an indie developer then pretty much unknown to the VN community, made me think about all these issues in a fairly substantial manner. And the answer it suggested to me, both due to my personal enjoyment and the warm reception it received from other readers, was: when making a romance story in the visual novel format, you don't have to create anything particularly new, as long as you do the basics really, really well. SoHL, in my opinion, managed to do exactly that.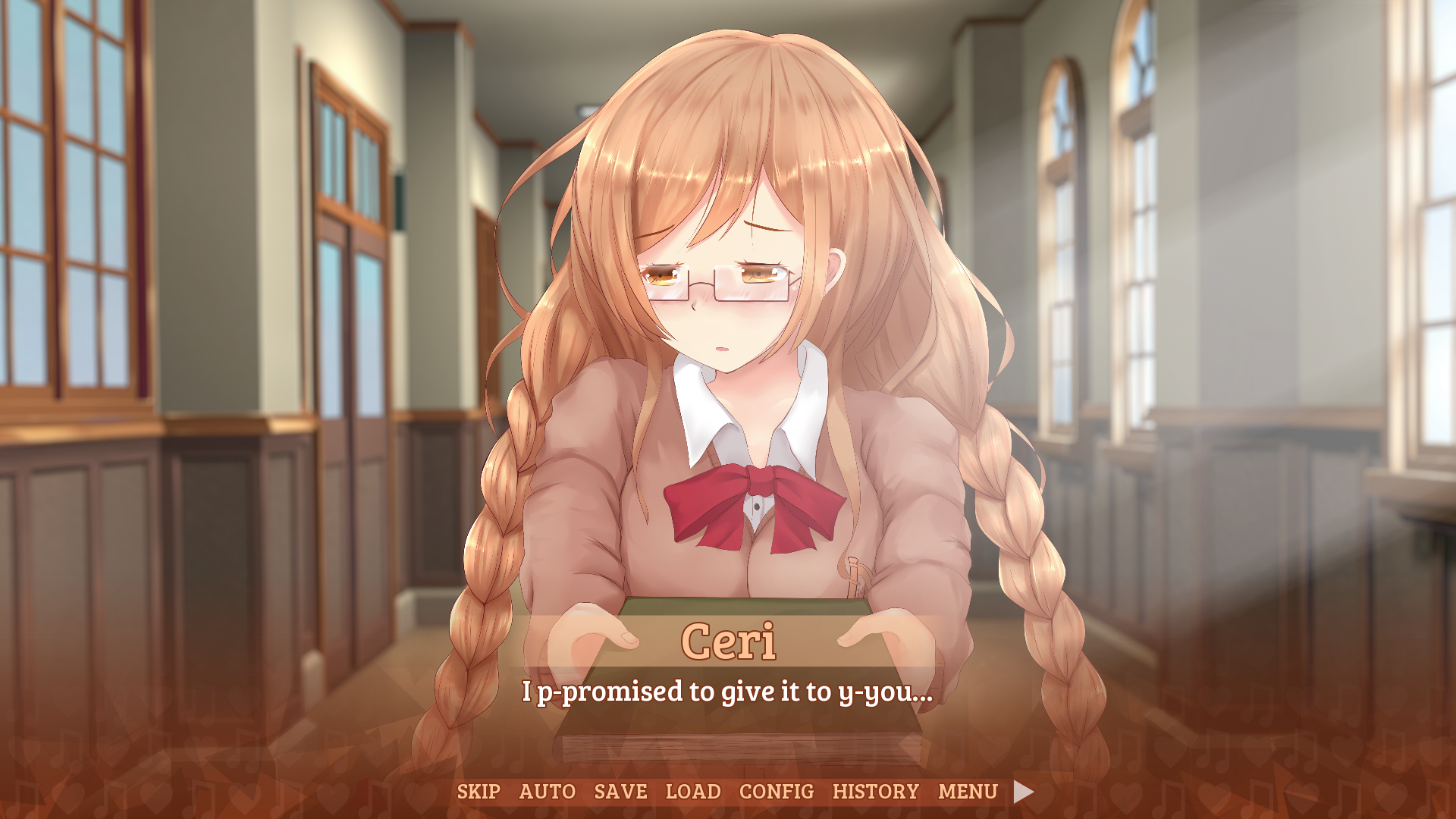 The heroine's genuine cuteness, enhanced by good VA work, is the game's biggest asset – and for the most part, it's used really well
The story of the game is as standard as it goes - our (nameable) protagonist starts attending an international school in Japan and on his first day witnesses a girl dropping her library card. This event swiftly introduces our sole heroine and the only voiced character – Ceridwen (Ceri for short), a shy and asocial Welsh girl, whose slightly dramatic backstory and developing relationship with the MC will be the main focus of the 5-hour long story. Both the visual design and voice acting on Ceri are the highlights of the game – it's clear that much, or maybe even majority of the tiny budget was devoted to making her an appealing romance interest and the effect is indeed pretty lovely. The rather transparent protagonist (although he's not completely bland and engages in some amusing interactions with his family) also works well in this case – he's simply an avatar of the player, while the focus of the story clearly falls on the heroine.
          The minimalism of the story also translate to the choices it offers to the player – most of them are very logical and offers predictable consequences. The game rewards being proactive, but tactful, in a very common-sense fashion leading you to three possible endings, including the "canon", romantic one – and I have to say, I'm more of a fan of this approach then cryptic, overly convoluted decisions typical for so many VNs. Even if you reach the good conclusion by not being a complete idiot, the romance is in the MoeNovel's KonoSora levels of "clean" – one thing that could be said in defense of this approach is that it fits Ceri's character - with how timid and insecure she is throughout the story, we can believe that a kiss after protagonist's confession was out of question. The romantic ending leads to a small epilogue game ~We'll always be together~, released on the anniversary of SoHS's premiere – 30 more minutes of cute interactions between the main couple, in the very same aesthetic as those from the main game.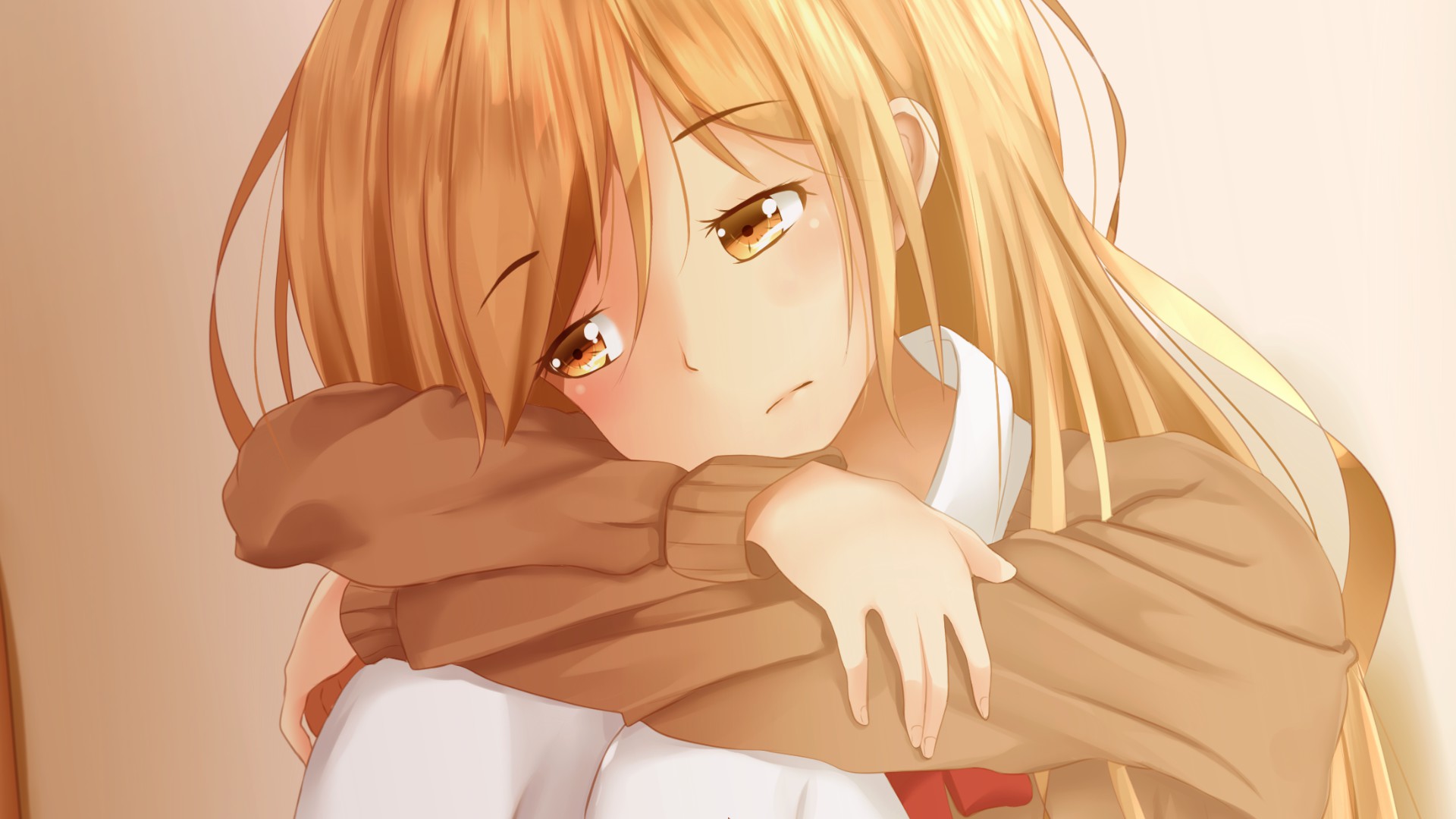 Some CGs are slightly below what the game makes you expect, but the general quality of art assets compensate reasonably for their limited number and variety
Ceri is not the only character with a voice, but also the only one with a sprite – like I've said, the fact that most of the effort on the part of the developer was focused on this one character is absolutely obvious. However, it definitely wasn't a bad choice, considering the obviously limited resources ds-sans' disposal – the variety of expressions on her is quite good and while CGs and other assets are not always on par with the said sprite, their quality is consistent enough to be satisfying. The stock background music might be nothing to write home about, but as in many no-budget indie projects, works pretty well in filling the acoustic void in moments when there's no VA present.
          In the end though, who is Sounds of Her Love targeted towards and is it worth your time? This, I think, very much depends on your taste on what you're looking for at that particular moment. It is a most basic love story, that can bore those tired of romance clichés or not fond of the formula in the first place. On the other hand, it's incredibly cute and nicely written and makes for a good, relaxing read that really can make you feel warm and fuzzy for one or two evenings. I've personally had a greatly enjoyable time with it – if I was to rate it solely on the fun I've had, the final score would be even higher. It's also a completely free product and checking it out will not cost you anything. Just be sure you're not expecting any twists or surprises when approaching it – there really are none.
Final score: 2,5/5
Pros:
+ Lovely main heroine with good voice acting
+ Solid writing
+ Decent art
Cons:
- Short
- Clichéd as hell
- Predictable plot
- Super-tame romance