Sweet Volley High (failed VN)
I usually try to avoid reviewing really bad OELVNs, unless they're especially interesting or notable despite its failure – after all, in any semi-amateur game development scene, the bad and horribly iterative titles will be far more numerous than those actually worthy of your attention. Writing about the former, especially when my goal is to promote OELVNs as a niche worth exploring, is simply a waste of time and possibly even counter-productive. However, just like Carpe Diem: Reboot, today's game is a great opportunity to look at some problems and tropes very characteristic of the Western VN scene, in a game that actually had the production values and traces of genuine effort that should at least make it an average, reasonably enjoyable product. And the sin that made it ultimately fail was not silly writing that plagued Carpe Diem, but something even worse – boredom.
            Sweet Volley High, developed by New West Games and released on Steam in October 2016, was marketed as a "yuri/otome Visual Novel", featuring a female protagonist and both female and male romance options. While some might already feel unease about such use of the terms "yuri" and "otome", both of which usually denotes a bit more than just romantic configurations available, it hints at a much deeper problems – game's utter lack of personality and very poor use of the themes it tries to tackle. Supposedly trying to appeal to a broad audience, it in reality wasn't able to replicate the appeal of neither yuri nor otome games, just as it didn't manage to create a satisfying alternative to those formulas. But, why exactly that is the case?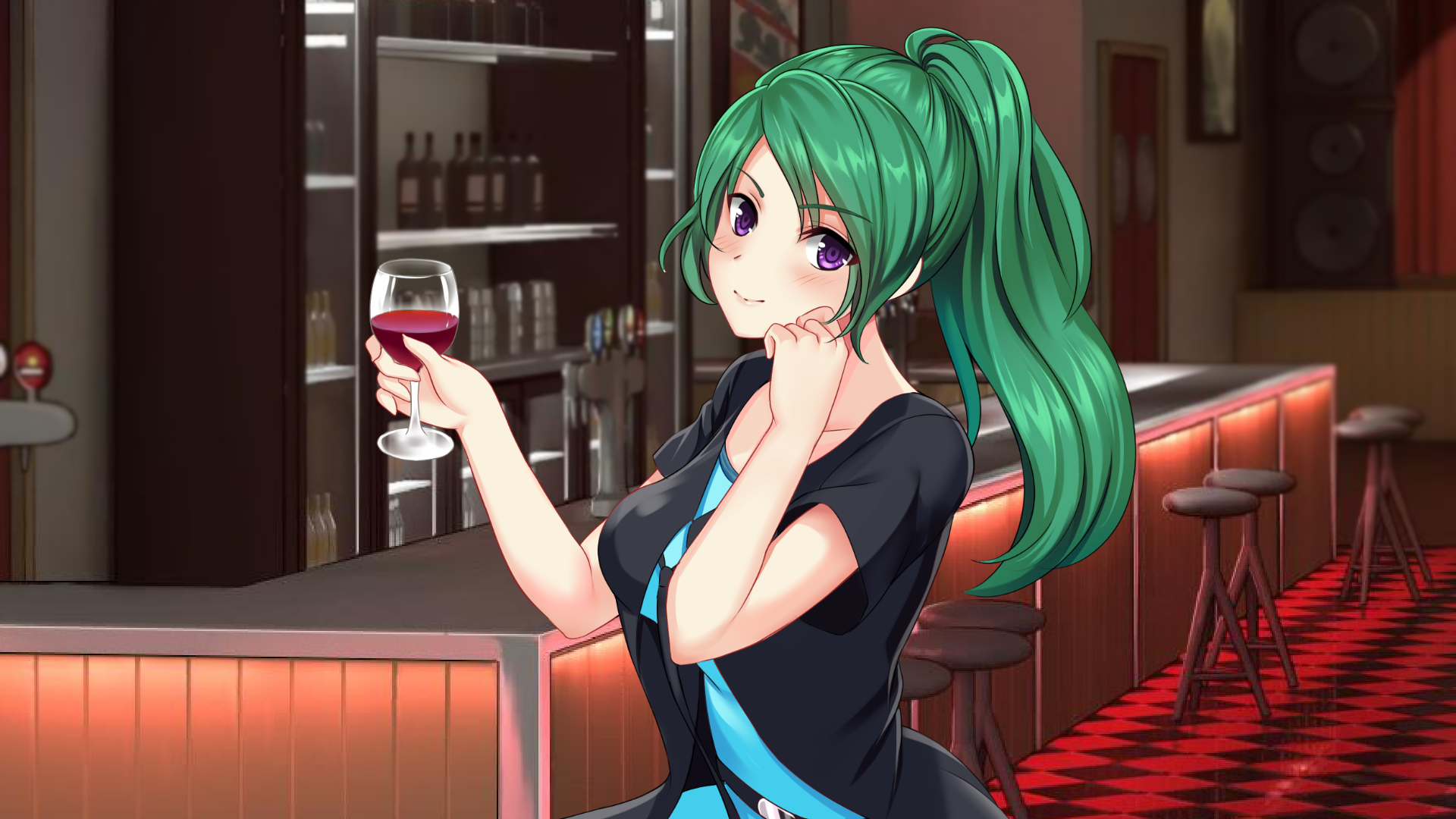 The game's art is inconsistent, but is far from being Sweet Volley High's worse element and occasionally the CGs can be quite pleasing to the eye
The game's biggest problem is most likely it's protagonist, Aya. This time, however, it's not about her negative, annoying or unrealistic traits and more about lack of any interesting characteristics whatsoever. An apparently average, even boring lead is not a rare occurrence in the world of VNs. There is one catch there though – normally, there's either some kind of secret that changes our perception of the MC drastically or something happens that forces them to rise above mediocrity and become a compelling character. Here the protagonist is simply dull, even in her better moments and also has a quality that for me personally was off-putting – she utterly lacks any charm or femininity that makes yuri VNs different from most of what's available on the market and interesting to read. Her dialogue and thoughts simply screamed "a guy wrote that", killing the last possible piece of appeal she might've had.
            This problem is deepened by the atrocious pacing of the pretty long common route, during which Aya discovers her passion for volleyball and, for the first time in her life, starts to work towards a goal. The romance options are mostly connected to her high school's volleyball team (apart from the male route, which features an aspiring soccer player), but it's hard to emphasize how obvious and uninspired all the plot-points and character introductions feel at this part of the game – surviving the 3-4 hours of reading, until the first choices appear and the romance arcs start to develop, can be a real challenge. There's a thin line between casual, slow-paced storytelling and showing things that are absolutely mundane and inconsequential and from the first, long episode of Aya looking out of the window during class and explaining how average and bored she is, Sweet Volley High is definitely on that second end of the spectrum.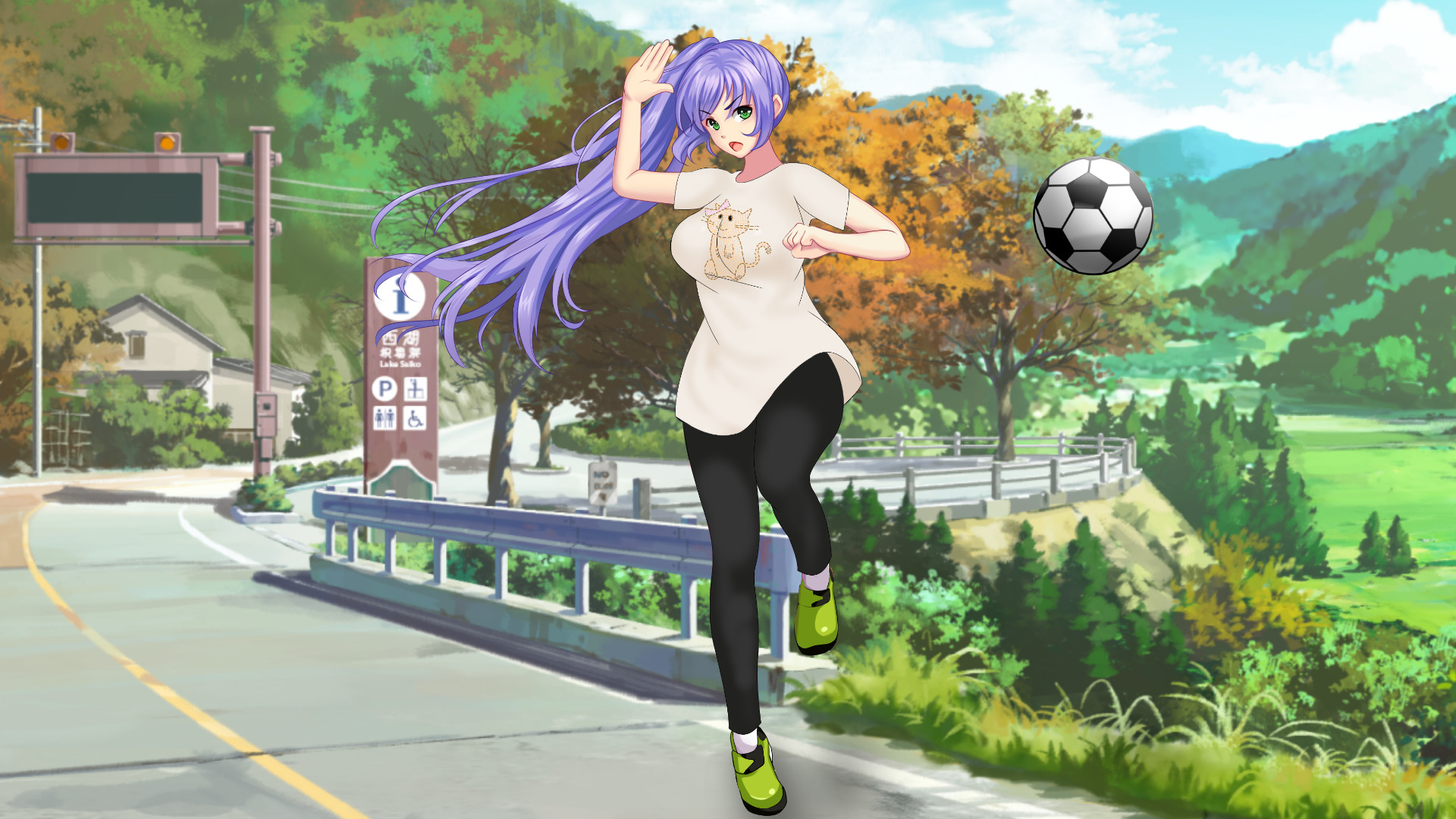 Maybe nothing drags Sweet Volleyball High down more than the fact how bland and uninteresting the protagonist is – a sad exception among the western yuri VNs
There's one interesting surprise waiting for those more patient readers though, and that's the structure of the romance routes. Firstly, when you would expect some of the romance arcs reaching a conclusion soon and giving you a happy ending, the game introduces plot twists and additional layers of drama, that expands the story significantly and giving it additional depth. This works especially well in the Nanami route, which also feels like the most developed and interesting part of the game. The really unusual elements show up in two smaller character routes, both of which only have a bad ending – one leading to your love interest cheating on you, the second one ending with a rejection. While this undoubtfully enraged many readers, it's probably the biggest positive I can find about this game – these "dead end" routes represent a form of realism and respect for the characters that is rarely seen in romance VNs. The failures of the relationships in them do not "come out of nowhere", but are strongly connected to the established traits and life situations of those involved – they're both possible to predict and in a way quite refreshing (even if the actual execution, especially with Eri's mini-arc, leaves a lot to be desired).
            When it goes to art, the game is fairly inconsistent – there are some very pretty CGs and the sprites don't look that bad, but they seriously lack variety and some assets are fairly laughable – including some of the hentai illustrations, which are supposed to be one of the game's selling points. Maybe the worst of it all is probably the user interface – it might seem petty to focus on something this "minor", but in a title where you spend most of your time reading, an aesthetic UI is very important. How it looks in Sweet Volley High, apart from a pretty nasty colour pallet, simply screams generic and uninspired, showing the general lack of attention to detail and ambition on the part of the devs.
The one good romance arc is definitely worth mentioning, but it can't nullify the absolute agony of reading through the common route
There's also one thing that could be counted among the game's redeeming qualities, but which really even worsened it for me personally – partial voice acting. While I'm already not a fan of that technique (really, either voice your game fully or let my imagination do its job, rather than randomly switch between silent and voiced moments), the way it was done here is even more distracting that it had to be – apart from fully voiced lines, there are voice cues that appear repeatedly in otherwise silent parts of the dialogue – after a few times of hearing "Aya!" at the beginning of an unvoiced sentence I was just tempted to mute voice acting altogether. The only reason I didn't do it is that whenever full VA is present, it's actually very decent, definitely above an average quality level for OELVNs.
            In the end, though, the relatively positive elements simply couldn't change the ultimate problems of the game – its poor pacing, uninteresting lead and utterly unappealing common route, that makes it impossible to really get immersed or care about the characters. What also might be worth mentioning, the game takes place in Japan, but there's not a single plot element that would really benefit from that fact – it's like if Sweet Volley High actively tried to be the most generic "weeb" title out there, making sure to avoid any originality or inclusion of dev's own cultural background. Because of all that, it proved to be a thoroughly unsatisfying title and I strongly recommend avoiding it at all cost.  
Final score: 1,5/5
Pros:
+ Good voice acting
+ Bold storytelling in some of the routes – not every romance will have a happy end
Cons:
- Horribly boring common route
- Unlikable, boring protagonist
- Annoying voice cues
- Poor visual design