[Review] Shingakkou ~Noli me Tangere~
Before I read this 2011 game from Pil/Slash, a developer infamous for doing weird shit, I heard several people in the BL community say that this game is like the kamige of BL games. Sure, I took it with a grain of salt, since fanbases in general hyper-inflate scores like no tomorrow. Even the most popular Nitro+Chiral BL games are good but nowhere near kamige level. I accepted it and started this game, one that felt very different from your average BL right from the start.
Turns out that they were right about the kamige-tier thing.
The cover with our heroes.
Written by Kusaka Matsuri, same scenario writer of Black Cyc's Gore Screaming Show, Shingakkou tells the story of Michael, a boy enrolled in a boarding religious school going back home for Christmas Eve... only to find his family murdered, an inverted cross painted with blood in the wall and the entire house burning down. And all of this is like, ten minutes into the game. With only his twin brother Gaby by his side, Michael turns his back on God and go back to the school only to get his revenge, because is there that the possible culprit is hiding, along with a secret cult that worships the devil.
Despite the anti-religious feel of the prologue, and good part of the common route where Michael mocks internally all his old habits that he's only reproducing not to be expelled, the message of the game is really one of love and forgiveness, a journey where Michael needs to learn to believe in God, other people and himself again. It's really incredible the amount of development he goes through the novel, I was almost shocked when I went back to the common route after finishing a route and saw irritable Michael again. And fortunately, said development isn't just him growing a spine, because he have one from the start. And I'm not a religious person myself, but even then I found the message (and the endings) extremely beautiful and touching, and not a propaganda of sorts, like some exorcism themed movies.
Gaby is the one on the left, Michael on the right.
But! Before we can go to those positive messages, we have to pass some horror stuff. And with "horror stuff" I mean: bizarre surreal images flashing, unknown sounds interrupting the conversation, jumpscares, cute (but in the end not really) laughing coming from nowhere, tons of allucination sequences, have to hear a character called Lucifer say things he wasn't supposed to know and even the music stops when he does so. Remember to play it in bright places! Seriously, the slice of life parts are the calm before the storm and you'll feel it. There's always that sense of dread after the story takes its turn for the worse so Michael (and you) is constantly unease. So the balance SoL/Plot is handled pretty well. And of course they have to turn it up the horror part for the bad endings, making Michael goes insane with some supernatural brainwashing, showing us all types of surreal scenarios. And when you're feeling all down for failing the choices, the Devil even appears on screen to laugh at you. My first bad ending was almost a traumatizing experience.
Speaking of the supernatural, lots of occurrences are blamed in the "powers of the Devil" and, lacking other explanations, Michael and you're kinda forced to believe that it exists and it can totally screw you over masterfully. If you're looking for a story where every single occurrence of mysterious shit is explained, better look elsewhere. Although I could argue that explaining stuff here would kinda ruin the atmosphere...
A thing worth mentioning is that the game have a "grotesque switch" to censor the worst CGs (even if there's nothing really gory here, just nightmare inducing). But this also blurry the text of said parts, so for the sake of the experience, bear it and leave it on.
Speaking of jump scares... This screams really pierces your ears.
Now to the routes. We have five guys to choose, but only three are available at start. My recommended order of the first three is Leonid (long white hair), Cecil (short brown hair), then Neil (red hair). While I agree the last two should be locked, forcing you to play all of the first three seemed a bit too much for me. Finishing the game once is enough. Sure, all of the routes offer you something nice to read, but this VN is not a multiple routes mystery. There's one culprit and he's correctly guessed in every single route. So why this huge lock is in place I have no idea. The first routes can be a bit slow, especially if you go with my recommended order, but the game REALLY picks up when you reach Neil's route. There's some repetition even in the characters routes, but this game features one of the fastest skips I ever saw. But at least the game provides you with some choices that you can pick whatever you want and see some different scenes (that are very far from the choice itself, and not just some "different hero reaction right afterwards") that don't really affect the outcome of the story.
So why did I put the two slower routes first? Because Leonid's twists works better if you read his route first. Cecil is a nakige-like (there's still horror parts, it's not all fluffy, but it's full of feels) route that can be read at any point. And Neil's the one most strongly connected with the main plot. So it feels a lot better to read all the plot at once, since the last two routes are also super plot heavy. And weird. Good weird stuff.
The relationship between the characters moves in a pleasant pace, with their romance gradually kicking in. There's plenty of time for them to know each other and the sex scenes are usually located in the end of each route. It's nice to see the romance actually growing and not starting out of nowhere leaving you to believe that the heroes fall for the MC at first sight. Maybe some of those interactions are kinda overlong, but nothing in an annoying level. And since the boys grew in a religious school and the story happens in the '50s or so, expect them to be a bit torn about liking other boys, "this is a sin" is a sentence you'll see multiple times.
Aaaaaaaaw...
Sex scenes are divided in three categories: vanilla, rape and weird shit. They aren't thaaat important to the plot so it's safe to skip them, just remember that they happened, but I must add that at least the ones in the weird shit tier (one in a character's route, another in a bad ending) are completely disgusting and involve some non-human beings (just allucinations, but still horrible to look at) and should definitely be watched for nausea reasons. Disclaimer: I'm a bit weak so maybe it's not that bad...
The vanilla ones are kinda charming since they are a bit awkwardly cute. Unlike most VNs that I read, the boys are a bit confused at how sex should goes. And that's perfectly normal, since they're innocent 16 or so years old boys that lives in a seminary with pretty much zero exposure to anything sex related (of course, because they're all goody two shoes, but the deliquent Neil is a completely different story and he actually have some experience). In one particular scene, the kissing just stops and Michael even wonders what he and his partner should do next. And also, you can pick who's the one that will be on top, a fine addition that pleases both people that want the MC to have the upper hand in the relationship and people that thinks it's weird tiny and cute Michael to top his tall senpai. And for sensitive people, look at these guys. Half of them are kinda girlish (Cecil is the most), so no excuses! Imagine some flats and play the damn game!
The rape scenes... In fact, this game have a rapist route. I had pretty low expectations for this route, since one thing I really hate is rape-turned-love (when brainwashing and drama are NOT involved). But this game surprised me yet again because the rape scenes were handled with the necessary seriousness. Some particular scenes were disgusting to see and a bit painful to hear the voice acting (and it wasn't because it was bad acting). It was very very heartbreaking to see the victims confused, avoiding other people, feeling guilty and crying of shame. So when the victim decided to actually end the relationship because there's no love in it, my opinion of the route improved greatly, because sadly this development is incredibly rare. And this route's ending is so beautiful, bittersweet and satisfying that was one of the best endings of the novel, even better than the true ending.
Another thing worth mentioning is that this game also contains incest. Twincest, in fact. And the excuse they gave to it is nothing like "but they're not blood related" (well, they're twins, that wouldn't work) or "it's fine because it's true love" and it was weirdly good for me. Just be prepared for some surreal, dream-like sex scene.
Cecil is asking who should top. And after this question they tossed a coin, seriously.
The art is a bit old shoujo manga style, and that maybe isn't for everyone, but it grew on me kinda fast. The sprites have lots of facial variation and even some minor characters have sprites, which is a plus. And we also have corpse-like-people sprites for some allucination sequences. It's super creepy.
The music are all very good, using chorus to some great effects, be to sound solemn or creepy. Except the ending song, that is some upbeat thing that have nothing to do with the game, except maybe the routes that end very happy, but oh well. Voice acting was also very good, everyone is full of emotion and even the side characters do a nice job. Michael is probably the best, but damn, that principal was two times more annoying because of the voice acting. Lucifer's chilling voice is another worth mentioning, since the secret society parts wouldn't be as terrifying without him.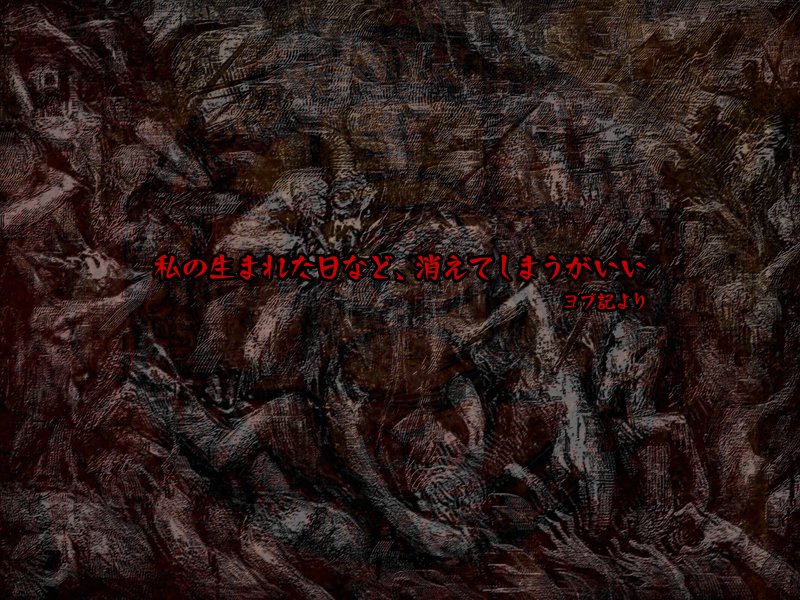 Quote aside, this is the kind of CG that keeps flashing.
Without spoiling too much, I need to share a few words about the ending(s). The villain was fearsome, I liked who they choose to be the culprit and see his plan working left me at the edge of my seat. But his motivation is really hard to get. His character as a whole is a bit hard to understand. The game gives you lots of backstory, and what happened to him over the years, for you to think about, but the workings of his mind was a bit beyond me. Of course, read with the possibility that maybe I'm a bit dumb.
In the end, Shingakkou was one of the best visual novels I ever read and I really wanted to find another that packs such a powerful punch. It was pure when it was supposed to be pure and scary when it was supposed to be scary. The characters were amazing and the plot was good not only comparing it with the other BL titles I read (that would be an overkill for them), but even with other bishoujo eroges I played. BL titles are a bit niche, I know, but I can't recommend this game enough.
Read it if you like horror and mind fucking in general.
Avoid it if you dislike long novels (some parts drags a bit), incest, pedophilia and some questionable religion talk (Lucifer is the worst offender, obviously).