VN of the Month February 1998 - Doukoku Soshite...
---
Doukoku Soshite... is the only masterpiece of the month and thus is VN of the Month.
Long ago, during the Edo period, those chosen to become ninja train in secrecy from youth, living in an isolated village to become a secret agent for the shogun. Here, a young girl is training to become such an agent; her name: Ran Sagajo. Along with her talking ninja squirrel companion Sasuke, she has begun a trip to Edo to continue her train
You generally choose destination and wait for events to happen. Battles are played in the way that you select a command and opponent selects and you watch the outcome, much like the other VN fightings. When energy is accumulated to the max, a special move can be used. There are stats and places to train them. Game's appeal point is a good balance between animated story sequences and picturesque battles.
In Autumn wandering in the forest of Karuizawa of autumn leaves, I met a girl in a white dress living in an old villa.
In winter three of my classmates and I came to ski and I had a vision of a girl in white dress again..
In spring I walked in the forest of Karuizawa to find a girl in white dress.
And in the summer I shall wander between reality and daydreaming.
Obscure work, mostly due to the fact that there is no save function in the game.
My name is Rika. I live with my mother. Today I sell Pantsu in town. Although it is already late, only two pieces have been sold. What shall I do...
One playthrough takes some 5 minutes and there are several scenarios. And most of them inevitably fall into H category.
Rumor's spreading of a hot new couple on campus! A professor is giving the sexy swim star some very special lessons. And this teacher's pet is hot to trot and learning all kinds of new tricks!
Yet another erotic training SIM, but this time it's kind of pure love bright training which is rare. The characters are also cute and easygoing. So this work represents shift from dark hardcore eroge to bright softcore ones in the years to come.
Lunar shadow was a legendary ultimate fighting school, but its last descendant lived 80 years ago.
Kusakabe Aoma is a bouncer of the street gang group in the city called Crown City. But he wants to get to know his true self. One day he arrives to the usual place, but instead of smiles of other members all he sees is a sea of blood.
Compared to the prequel text has gone better. Scenario is the debut work of Arakawa Takumi who gave us Ayakashibito, Bullet Butlers and several other interesting works. There is a good balance of seriousness and comedy. The atmosphere gone even darker than that of the prequel. Fighting system got more difficult. Animation is widely used. H events are densely packed, pretty much with every battle. So a good entertainment work, but not more.
A big pharmaceutic company develops a new medicine and sets experiments first on animals, then on humans. It seems to be a revolutionary aphrodisiac.
First Flying Shine works are so terrible. Blurred real-life photos plus NVL walls of texts are accompanied by HCG.
Masaharu is long in love with his childhood friend Yuki, but lacks the courage to tell her his true feeling. One day Masaharu's friend Takagi asks him to go on a ski trip together, telling him that he would also take Yuki for Masaharu, so that Masaharu would take Miki, his partner in their tennis club, for Takagi. Somehow their plan becomes known to other girls too, who start insisting on joining the trip - so the party now consists of seven boys and girls. Will Masaharu have a chance to tell Yuki his love during the trip?
There is an English review of this game.
Daughter of a famous deceased thief Aya Kisaragi teams up with her father's buddy Unko. They excel in whatever job they take. This time they aim at three Nobunaga sacred treasures hidden in remote area mansion, but they get into a trap...
There aren't reviews of this game and game's super rare, but chronological row of CG shows us first the CG from the prequel, then a spree of HCG, so I guess briefly the story of the prequel is retold followed by H fest.
In this game, you play the role of a high-school student (whom you can name as you like). A bus takes him and his classmates to the school every day. But this time, just when the hero was talking to one of his classmates, the lovely girl Riyo, a car drove up to the bus, there was a sound of a crash, and then the hero became unconscious. When he woke up, he found himself, his classmates (most of whom were girls), and a couple of unknown people in a locked room in a strange mansion. Soon the hero realizes something terrible is going on in the mansion. People are being killed under mysterious circumstances, their corpses hidden; he finds a memo soaked in blood and a photograph. Will he be able to solve the mystery and to protect the people destiny brought him together with?
There are three English reviews of this game.
Misa no Mahomonogatari - Heartful Memories tells the story of a young girl who got a mission from the queen of a magic world called Firimu, to travel to the human world, find a young girl and train her into a tarot magician so that she could defeat the evil forces willing to conquer both of the worlds.
The game takes place in that high school and will last 4 years of training, the main character of the game is Misa and during that time period she has to train her abilities, meet different people and classmates, and face the evil that endangers the world.
A raising SIM to train a justice magician girl. And that's enough already to stop discussing it.
11. 
Tour Party: Sotsugyou Ryokou ni Ikou
 ツアーパーティー 卒業旅行にいこう [980226] JAMP
Tour Party Sotsugyou Ryokou ni Ikou is a board game, that was also released for the Sega Saturn console, in which the player can choose at the beginning of the game to play as a girl or a boy, the theme of the board is to travel, and the game features at the 4 human players to play as the same time and compete against the others.
The gameplay is similar to Takara's the Game of life but in Tour Party, during the journey the players will meet different people and they can become friends with them, and different events that will make the trip more interesting.
The game features 8 different characters to choose from and a complete viewer mode with character profiles, musics, and other unlockables modes.
12. 
Yuukyuu Gensoukyouku 2nd Album
 悠久幻想曲 2nd Album [980226] MediaWorks
The Third Division Vigilante Corps have earned the trust of the people of Enfield, and under the popular Commander Neumann, they have worked hard to earn this trust. However, Neumann is now gone, leaving the third division with low morale and little work, and eventually the main character from the previous game is the only member left. The third division is to be disbanded, but he appeals to the director, and is given one year to restore the third division to its former glory.
Yūkyū Gensōkyoku: 2nd Album follows directly after the events of the first game, and is once more a traditional Japanese adventure game. You must gather your group to perform jobs for the people of Enfield, and interact with the various characters around town.
New teacher was suddenly invited to a girls' school as an advisor to the athletics division. The final goal is to win the tournament! Is it possible to train six champions?
Raising SIM with week as time unit. Apart of training routine there is summer and winter vacation training camps and various events. Period is one year. The biggest complaint about this game was that there is no H events in here, only peeping in the changing room etc. The worst part is that despite each heroine having unique profile, all the events and text are absolutely the same for each of them - zero personality. Also even with max stats (256) it's actually a game of luck whether you win tournament or not. A rare kusoge...
Tadashi Wakita lost his parents in an accident at an early age, but thanks to the assistance of his uncle Kanno Rotaro, he is a high school student and lives in a house. Uncle dies and leaves a will that nephew must marry one of his three daughters in order to inherit his property and he must do it before the deadline.
Depending on choices it can be either a pure love story or a tyranny story and choices aren't transparent at all. Game is not limited to three daughters, there are other, less profitable variants too. Each route takes about one hour and there is also a harem ending with five girls. Characters are cute enough, but H events are too frequent and dark side of the game constantly tries to pop up.
Three days after the first incident. But there's no time to rest - a new request awaits Ikuro Makita.
Nothing is being told about the first incident. Protagonist always talks about incoherent things. Capture degree is very high as you need to remember all the appointments and at exact time be at exact place out of 20 places.
16. 
Mars Ball
 マーズボール [980227] Studio Jikkenshitsu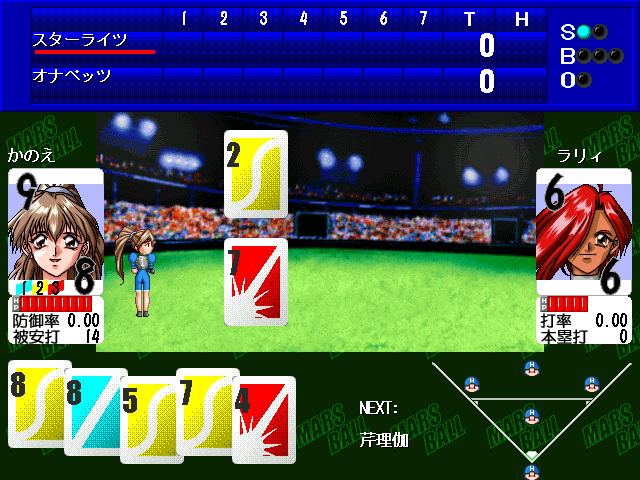 Humans migrate to Mars, where the description of ancient sport is found in the ruins and it becomes the new craze - the Marsball.
An ordinary salaryman gets fired and with his baseball experience in high school he tries his luck as a manager of a new Marsball team.
Baseball game with card battles and quite high difficulty. Most of the time you train and once in a while there is match. H-events are hard to unlock with flags and are over in a flash. It's weak as love story, weak as H-story... then it's probably just a gameplay oriented game.
When I woke up, I did not have a memory.
Who am I? Why am I here?
People around me do not have recollections about me as well.
I shall make my way with women using this position that I do not know anything.
And then I shall make my memory return... remember with my body!
Production values are good, but in the end it's just a mystery nukige with weak cast of characters and protagonist. There are multiple routes and memories show up consequently with routes clearing.
Boy drinks secret medicine "XYX" and and turns into a girl. The only way to get to original form is to have intimacy with girls. But that works only for a short time and there must be a permanent antidote solution... Will he be able to regain male form?
Medicine fantasies are pretty popular in 1998 as I see. And it's at least third game where gender is suddenly changed. Game is mostly of erotic nature, but with a comedy touch.