VN of the month May 1994 - Tokimeki Memorial
---
Tokimeki Memorial is the only masterpiece of the month.
1. 
Circle Mate
 サークルメイト [940513] Softhouse Bonbee Bonbon
Hide is a member of the Club where members that enjoyed sexual pleasures were gathering. One day he gets to know that another club member Yuko is killed by the train and another club member Asako stops going to school because of that. A hired detective suspects Hide in this crime, so Hide starts his own investigation.
This is an utsuge game full of depression and H scenes. The atmosphere resembles Crazy Fruit from 1992 the most. The mystery is quite shocking upon unwinding. This work has a lot of dark charm and is much less hardcore than contemporary utsuge, so should not be overlooked if you search for a good mystery story.
In "Twilight", the protagonist, who works for a mysterious magic-using organization, is set to Transylvania, to investigate the murder of a nun known as Sister Christa. A woman named Karen, who also specializes in black arts, goes to the monastery with the hero, but obviously has her own agenda. The goal is to find out the truth by questioning the suspects, keeping an eye on one's own safety...
In the beginning of the game, the player can choose any of the six possible scenarios, each dedicated to a different suspect (all female). They all take place in the same monastery, but dialogues, events, etc., are completely different. The interaction in "Twilight" is confined to periodical decision-making; many of the decisions are "wrong", leading to the hero's death or otherwise premature ending.
Atmosphere is created by live-photo images and monotone colors. It's a short one, possible to finish 6 stories in one hour. Drawing and character design are mediocre at best.
In this episode Lime, Bass and Kokona depart to the magical world for the final confrontation against two powerful demons and their horrifying fusion known as the Hellraiser.
The final episode the includes a serious battle and that also gives an epilogue for the whole series.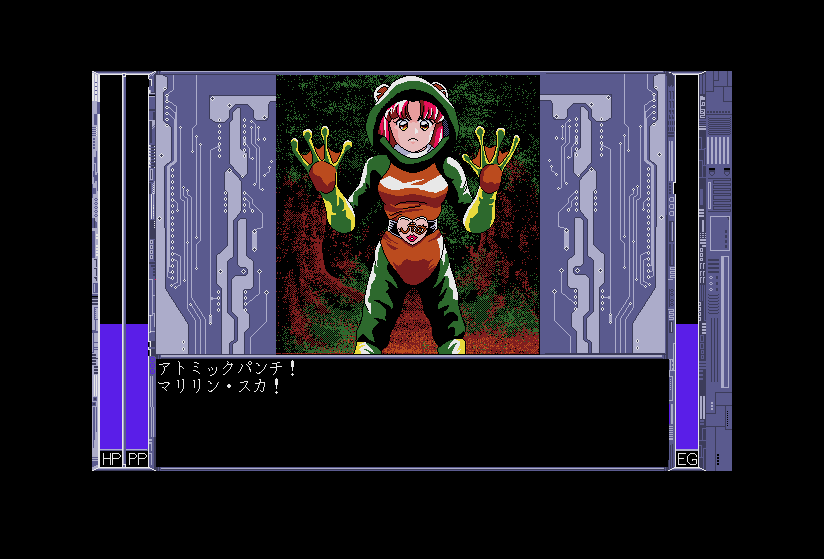 Kenji was just a regular teenage boy who had a normal life, which included a girlfriend. However, everything changes when one day he comes home and discovers that his insane father has created a female cyborg. His previous attempts failed because he used an artificial brain; this time, to avoid this mistake, he takes out his son's brain and puts it into the cyborg. Poor Kenji gains a second life - as a beautiful artificial woman, whose task is to oppose a dubious world government organization.
A bakage with RPG elements. RPG elements presented by physical strength and tactical fighting with enemies. Basically, the game has no plot apart of going somewhere with the aim to return initial body. Point and click system is used. So a weird work with a weird title it is.
You are a young boy who is going to study three years at the Kirameki High School in Japan. Your goal is to win the affection of one (and possibly more) of the twelve beautiful girls who also study with you, especially of Shiori, with whom you were in love some years ago. This is a simulation game with a high-developed statistics system. You have to increase your statistics in different disciplines, depending on the girl you are interested in. You communicate with people via your telephone, and date girls by going with them to various places. You have to keep your promises, otherwise a girl will become angry and even tell bad things about you to other girls, which will spoil your reputation.
There are tonns of English reviews on this game, so I'll only notice that it's the first classic dating sim and one of the first full voiced VNs. Its influence on following dating sims and galge was immense.
You play as a girl who has made it her goal to have sex over the summer holiday. She can accomplish this by either being passive or active at various points in the story.
There is an English review.
Hero comes to a town in search of adventures and gets to help different girls to get out of difficult situations.
Ero-centered doujin game.
8. 
Morina
 もりな [94] Active Gamers
Morina is a lively school girl. She has another busy day as usual when she reaches a mysterious world.
Only pc-88 version is free and available to get and I hardly understood anything out of it.
9. 
Raika
 蕾花 [94] Ringerbell
A stripping card game with five girls as possible opponents and reward after each three games won.
PC-98 version is a card game without visual novel mixes, but Win version might be different. H event is point-and-click with an additional reward of 2-screen CG for getting within time limit.
A collection of two short erotic stories.
Scenario 1 is about main character's childhood friend being insulted in front of him. Protagonist tries to step in, but is coerced to have sex with childhood friend himself.
Scenario 2 is about main character dating a quiet girl. But this girl has a dark secret - she is forced into a bad group where she gets into intimate relations with strangers.
One of the well-known doujin series notorious for its graphic.
You're an adventurer and your best friend is that girl on the cover. So, what do you want in your adventure? Treasure and excitement! What does your best friend want? Lesbian elf sex! And so, both of you go off on a quest filled with magic, mystery, wonder, and elf boobs. There is an actual plot in there somewhere about ancient ruins, but it gets ignored for the most part in favor of more lesbian elf sex.
There is an English review.