VN of the Month August 1991
1. Kimi Dake ni Ai o... VNDB
2. Metal Slader Glory VNDB
3. Shangrlia VNDB
1. Kimi Dake ni Ai o... VNDB
We play as Akio-kun who attends the wedding of his older brother Satoshi and his unrequited love Misa. But the newweds start to quarrel often and then Misa gets into a traffic incident and looses memory.
This is a drama and every actor in the love triangle has his circumstances. So the will to sympathize to main characters and dive into complex relations is to determine whether you like the game or not. Fortunately, Misa is very cute and - FINALLY - Technopolis shifted to 400-line graphics. Pure love dramas were still fresh at that time for VNs and setting of living with older brother and loving the same girl was really good. There were also multiple endings. There were other girls as well and many of them were older than protagonist, so can be also called an oneesan-ge. Story looks simplistic compared to nowadays nakige, but it was one of the first nakige and should be given credit for that.
2. Metal Slader Glory VNDB
8 years after the great space war orphan Tadashi Himukai buys a mecha robot to set construction business together with his girlfriend. Robot turns out to be a war unit and he keeps saying that the Earth is in danger and to save it they need to find Creator as soon as possible. And so the space adventure begins.
Game has achieved a legendary status, mainly due to 4 year development period and tragic fate. Game was issued at the same year as FF4 and surpassed it at graphics and animation. But it was released for NES and at the same year SNES machines started to sell so as few as 5,000 copies only were sold and company went bankrupt. Game was reinvigorated by SNES release 9 years later and Wii release even further. Plot is quality SF matter, but after Jesus, Jesus II and Snatcher it was not something special. But in addition to good plot game has great number of female characters drawn with love. It can be considered a first full-scale Moe game for NES platform auditory who had access almost ultimately to action games. 
3. Shangrlia VNDB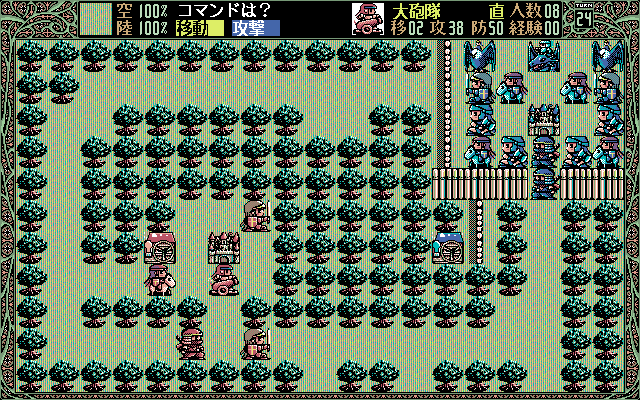 Ordinary high school student Tooru was shocked to know that the soul of parallel universe Erion prince Nyuckel possessed his body and in 25 days will gain full control of it. There's no time to loose! Give orders to your ten female officers armies and try to stop the invasion.
Elf's new game. Basically it's reincarnation of Foxy franchise in fantasy setting. Same TBS, as many as 10 types of units with advantages, disadvantages and a whole pack of characteristics. Complex rules and harsh penalties for withdrawal and defeat make this game quite difficult even for native speakers. And 10 campaigns are best to be played in particular order due to difficulty spikes. After each victory female general takes off one garment. After capture there are 20 more special maps that you can play with old units. Well, TBS is my favorite genre, but without even an interface patch it would be pretty harsh.