Random VNs: Gleam Garden no Shoujo
---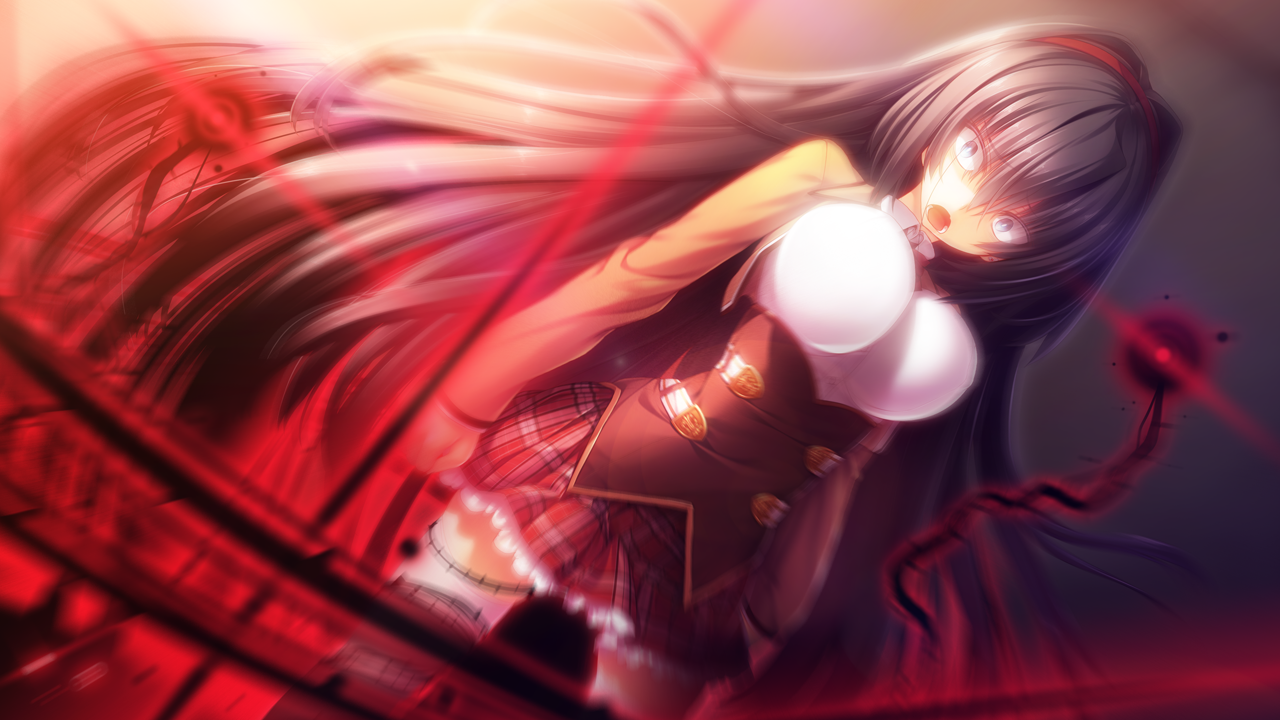 Gleam Garden is a semi-chuuni VN by the makers of Lovesick Puppies, Cosmic Cute.  While it isn't amongst the VNs I love the most, it was nonetheless a pleasant memory, so I chose to dig it out of the pile and play it again this week.  Edit: I should mention that while this VN does have action scenes, a lot of the VN is about the changes in the characters, especially the heroines, as they learn to accept their sins, their past, and the restrictions placed on their future by their situation.
First, the setting... in the world this is based in, some time before the story begins (there are no specifics as to when precisely things started) people began awakening to abilities called 'Gleam'.  These abilities ignore physical laws and common sense to manifest in response to the stress and pain of their hosts (think of Gleams as something like a parasite born of the human psyche).  These abilities are immensely powerful and often deadly.  Unfortunately, those who awake to these abilities are universally incapable of controlling them immediately, and as a result, they inevitably cause tragedies.  As a result, the 'Witches', as they are called, are social pariahs that are legitimately imprisoned and legally persecuted in order to keep them from harming the rest of society.
To be specific, immediately after they awaken to their abilities, Witches are sent to facilities where they either learn to control their abilities before the hypnotic suggestions and drugs that keep their abilities from running wild stop having an effect... or are lobotomized and turned into research subjects.  Even when they complete mastering their abilities, Witches live their lives under constant supervision (ranging from the equivalent of a probation officer to forced cohabitation with a non-Witch guardian).  To be blunt, it sucks to be a Witch in this setting, and all of the heroines in this VN are Witches, the protagonist being a former Witch-hunter whose job is now to teach them to control their abilities.
I'm inordinately fond of this game's protagonist... if only because the world through his eyes is so cool.  He is definitely the stoic type (ie. breaks his own fingers one by one and doesn't even change his expression) and capable of an amazing degree of ruthlessness when seeking a goal.  It isn't that he is cold-blooded precisely... he is actually a very compassionate human being.  However, his compassion doesn't impinge on his objectivity at all, as he is quite willing to be brutal with others if he thinks that is what is necessary to fulfill his duty.  When he sees the best way to fulfill those duties, even if it is morally reprehensible or personally distasteful, he won't hesitate to take action.
He is also a pervert... in the classic sense.  He loves nothing more than surfing ero-sites in his free time, and he doesn't have a drop of shame to his nature.   That makes him rather funny.
The VN is split into a common route and five heroine routes.  The first three routes available to you are Sakurako, Chitose, and Yuma.  When you finish those routes, you can play Shirayuki's route, which reveals the background of not only her but one of the major antagonists of the story overall, then Luna's route, which reveals everything, including the issues with the protagonist's own past.
Sakurako is a martial artist from a long line of such people, and her ability allows her to manifest shadows, make them solid, and manipulate them at will (an obviously dangerous ability, lol).  She is straightforward in personality, thinking in straight lines and more than a little narrow-visioned. 
Chitose is... an odd contradiction.  She is a sports-loving, cheerful girl... who is as lazy as hell when people let her be.  However, she is also capable of an extreme degree of devotion to those she cares about, to the point of ignoring her own well-being in the process.  Her Gleam is 'good luck', which it drains from other people to feed the luck of the user.
Yuma... is a kind-hearted otaku girl.  She is inordinately fond of BL literature and is constantly indulging in erotic fantasies inside her head.  However, she is also surprisingly unwilling to trust others, despite her seemingly kind and gentle nature.  Her Gleam is a type of empathy combined with psychometric aspects. 
Shirayuki is... inscrutable.  It's hard to get a good grasp of her personality, outside of an obsessive love of cute things (fuwafuwa na mono, as she puts it).  She tends to have even worse tunnel vision than Sakurako.  Her Gleam allows her to make objects invisible.
Luna is... a spoiler, lol.  Sorry, telling you anything about Luna whatsoever will spoil the game, so I'll leave her at that.  I can't even tell you her Gleam without spoiling things.
This game's paths are all solid in their own way, but it should be noted that the first three paths tend to be 'normal' in the sense that once the heroines' major personal issues are resolved, they just get on with their lives with the protagonist.  Shirayuki's and Luna's paths are... different, if only because they reveal a good deal of evil that lies behind the scenes in the other paths that is impossible to ignore and leaves nothing unchanged.
Overall, this is a good and solid VN, with a truly fascinating setting and set of characters.