Visual novels with the possibility to choose protagonist's gender are fairly rare and the usual focus on storytelling and romance makes it especially harder to pull off properly. Creating games such as Loren: The Amazon Princess, with a possibility to choose between two fully-fleshed characters, one male and one female, with their own personalities and set of romance options takes a lot of work and only fits certain kinds of stories. On the other hand, VNs in which that choice only changes minor details in the dialogue and overall have to struggle to make the narrative convincing – especially in the female version, which more often than not will be an afterthought created by slightly modifying the default scenario.
            Razzart Visual, the author behind highly-regarded yuri VNs Love Ribbon and Starlight Vega, is also the person behind much less critically-acclaimed ecchi games, which featured female love interests and the ability to choose protagonist's gender, making them in a way both classical romance VNs and yurige. On May 4th a third game in this formula, Wolf Tails, was released on Steam, featuring romance scenario with a rarely-seen kemonomimi variant, that is wolfgirls, and a new artstyle. How does it compare to Razz's previous projects and does it succeed in being both a traditional eroge and a yuri?
The gender-specific cut-ins and dialogue fragments are actually well done, although it's still easy to notice which variant of the story was the original one
The previous ecchi titles by Razz, Catch Canvas and Happy Camper did a fairly atypical thing, adding a possibility to play as a female while maintaining a very standard, Wing Cloud-esque structure of fanservice VN. As a fan of yuri, I rather enjoy that option in Catch Canvas, as it not only was fairly well implemented (with references to the protagonist being a woman in places where you would logically expect them) but also slightly changed the tone of what was originally a rather pervy game. Happy Campers, however, failed to deliver even to that extent – while the option to play as a female was theoretically there, its effect on the story was pretty much non-existent. What's even worse, some scenes and situations were in obvious ways written with a male MC in mind, shattering the already paper-thin yurige fantasy.
            Wolf Tails goes a step further than those previous games – apart from the gender-specific dialogue lines and some elaboration on f/f romance, it adds CGs in which the protagonist is partially visible. It's still hard to consider it a fully-fledged yuri, as the fact of the male protagonist being the default option and the other one being added by modifying it afterwards is pretty clear and the game is sometimes struggling to do so in a logical manner. Playing with a female lead is, however, a fully viable way of experiencing the story, especially if you consistently choose the same gender and are not aware of the workarounds that made the yuri version possible.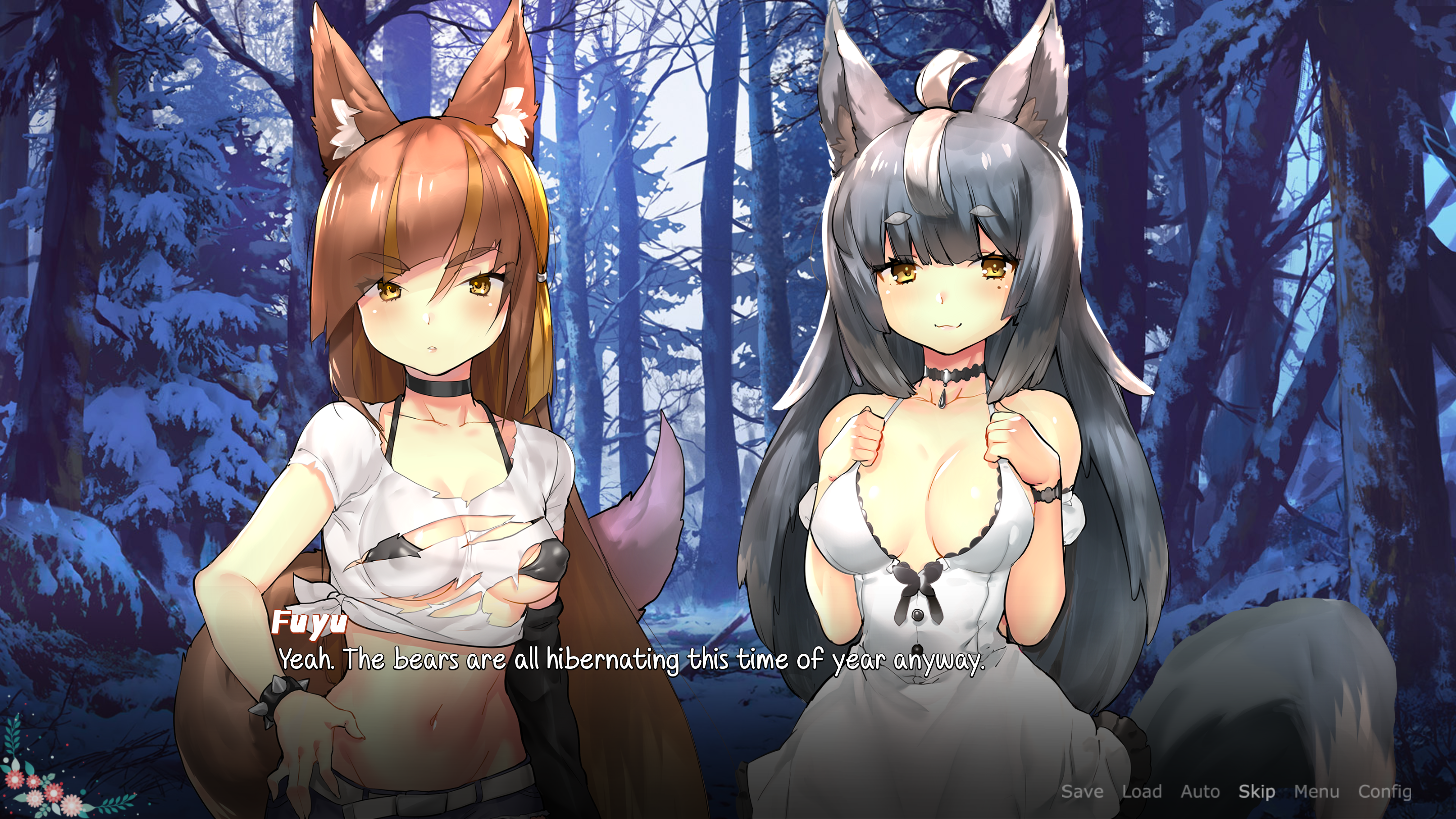 The romance and slice-of-life moments of the game are solid, but also generic to the point they wouldn't be out of place in a Sakura game
Wolf Tails is also more of an actual romance story than Catch Canvas and Happy Campers. The moment a near-frozen-to-death wolfgirl appear in your remote mountain cabin, disturbing your consciously-chosen solitude, the game start developing a fairly serious and touching storyline. Even though it's very short, taking up to 5 hours to 100% and not more than 2,5 hour for a single playthrough, it doesn't feel incomplete or particularly rushed. The heroines – nice, well-mannered Mirari and fierce (tsundere) Fuyu – could probably receive a bit more development, but the writing manages to make them appealing enough and their backstories and endings (the branching is minor enough that it's hard to really talk about separate "routes") have quite a lot of emotional impact.
            The downside of the short storyline is that because of how relatively shallow and simple it has to be, beyond the interesting visual designs and the brief feeling of novelty from the wolfgirls it comes out as very generic (with the corny concluding moments only strengthening that effect). My experiences with Razz's previous work probably made this problem even deeper – knowing well the style of Zestubou, the writer she consistently works with, I knew pretty exactly what to expect, including the wording and scenarios in the erotic scenes. For most readers, it shouldn't be a huge problem though, as the game more or less delivers on its main promises – being a cute, fun romance story with a decent portion of "sexy" elements (including the fully-fledged 18+ CGs unlockable through a free patch).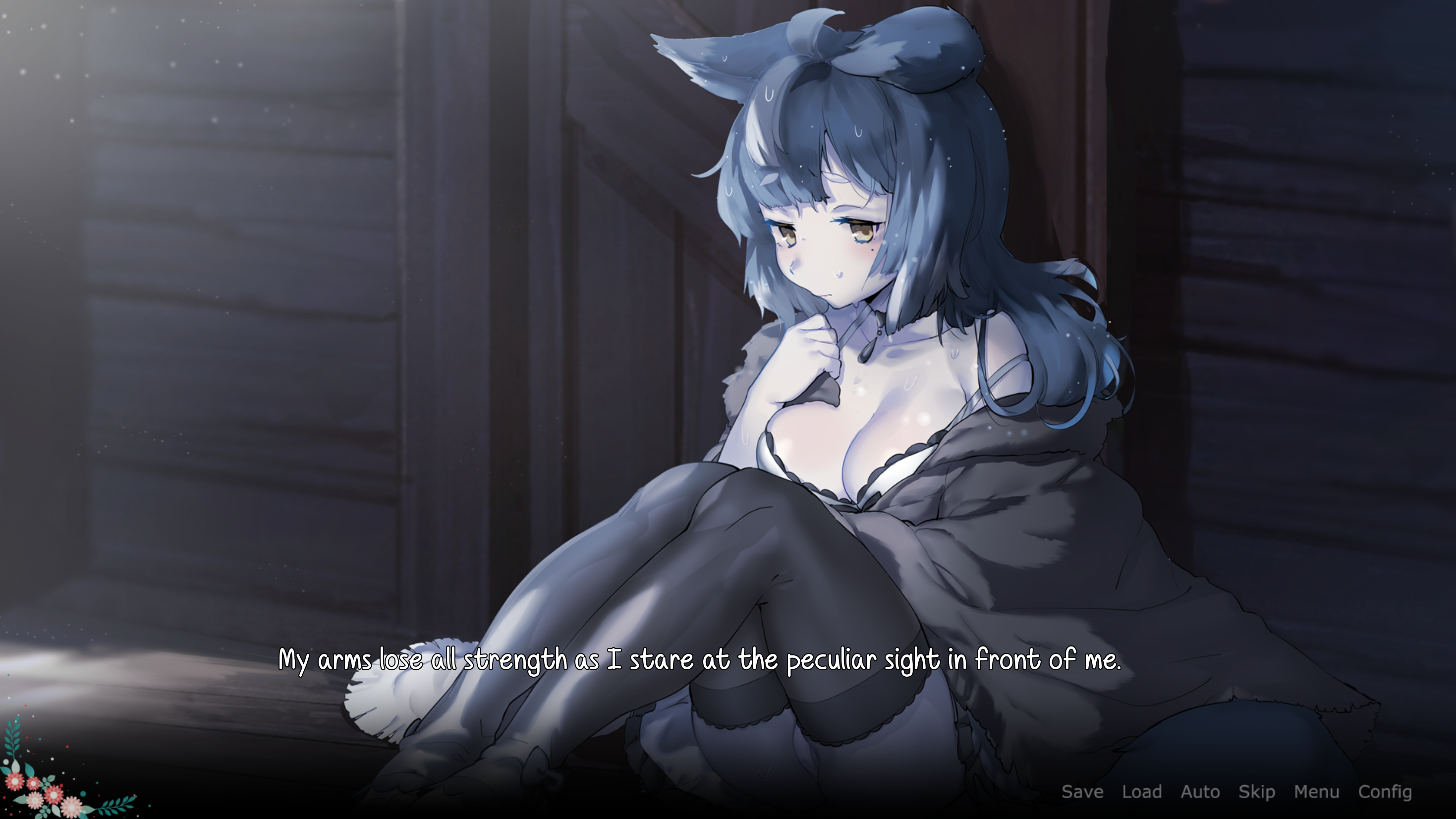 Although for the first time under the Razzart label the art was not drawn by Razz herself, the visual quality of the game is as solid as ever
What definitely helps the sexiness and cuteness becoming actual upsides of the game is the fairly unique and gorgeous art by Naso4. Being a bit of an opposite of Razz's style, with sharp outlines and a bit extravagant designs, it was something that took me a few moments to get used to, but the actual quality of sprites of CGs was impossible to dispute. As is all of Razz's game, the rest of production qualities was also high, with very pretty backgrounds and aesthetically-pleasing, functional UI. My personal plight of not noticing the music in most OELVNs, however, wasn't broken here and, as usual, I will interpret it as the soundtrack being serviceable enough to neither stand out nor get in the way of experiencing the story.
            So, in the end, is Wolf Tails worth your time? In my opinion, it's definitely a well-made, enjoyable little romance VN and I definitely don't regret my time with it. If you're into love stories and/or are looking for slightly different visual style and themes than in most romance OELVNs, it should definitely deliver. With how short it is, however, it might be debatable if it will be worth the full asking price of 10$ to everyone – if you're not sure whether you'll truly enjoy it, wait for it to go on sale. That way you really shouldn't ever regret picking it up.
Final score: 3/5
Pros:
+ High-quality art
+ Not overbearing fanservice and erotic scenes
Cons:
- Very short
- Cliched story