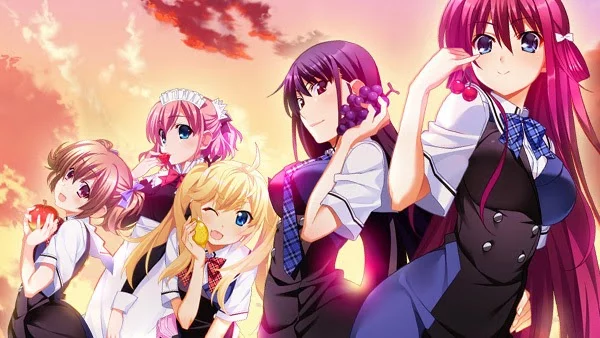 Grisaia no Kajitsu
Licensed by Sekai Project
Release at the end of May on Steam (Link Coming Soon!)
Summary

Mihama Academy - on the surface, a closed learning environment established to nurture students who find themselves at odds with the world around them; in actuality, an orchard-cum-prison built to preserve fruit that has fallen too far from its tree.

Whatever the circumstances behind its establishment, Mihama Academy is at present home to five female students, all with their own reasons for "enrollment." For better or worse, each girl has established a routine obliging of her current situation; life moves at an idle, yet accommodating pace within the walls of Mihama.

Yet with the arrival of the institute's first male student, the nearly preposterously opaque Kazami Yuuji, the students at Mihama begin to fall out of step with their predetermined rhythms. Will Yuuji prove to be the element the girls around him needed to take hold of their lives once more, or will the weight of their pasts prove too steep a wall to overcome?

And in the first place, just who is Kazami Yuuji? While the true nature of the "job" he is wont to alight to at the most haphazard of moments remains shrouded in secrecy, one thing is for certain - his encroachment upon the quiet orchard known as Mihama Academy will prove itself momentous in one way or another. And of course, one cannot discount the possibility that perhaps Yuuji himself carries the weightiest past of any of the students...

Ending Guideline / Suggested Route Order

The game has a similar structure to G-Senjou no Maou in that its plot branches into a heroine's route at certain choices, although each of them is valid in its own as there's no true end. After entering a heroine's route the choices boil down to a single one for good/bad end.

Following the flow of the story and entering each route as soon as you encounter them would lead to the following order: Makina -> Amane -> Sachi -> Michiru -> Yumiko.

That said,

Route Guideline
Amane
Good End
Bad End
Makina
Good End
Bad End
Michiru
Good End
Bad End
Sachi
Note: The final choice in this route hasn't been translated in the first version of the EN patch, though there's a Hotfix available.
Good End
Bad End
Yumiko
Good End
Bad End
Attribution

A mysterious source. Aaeru formatted the original version of this post. It has since been updated and reworked several times by various staff members and admins.